JALALABAD -- Eleven "Islamic State of Iraq and Syria" (ISIS) members and 26 Taliban fighters, overwhelmed by Afghan forces and disillusioned by the purported goals of their insurgencies, laid down their arms after a series of military operations in Nangarhar Province.
"The government's secured area is expanding from day to day," Nangarhar Governor Shah Mahmood Miakhil said at an event on April 4 at the compound of the National Directorate of Security (NDS) in Nangarhar.
The operations have forced "the two groups who were doing destructive activities in various districts of Nangarhar to stop fighting and surrender along with their light and heavy weapons," he said.
The surrendered militants will be provided "security and jobs so that they can live a life of dignity like others," Miakhil said.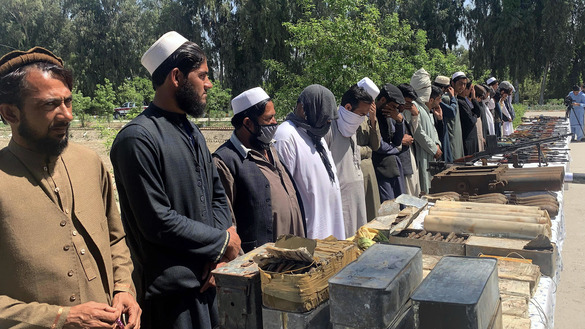 "They'll get vocational training programmes, and later they will get jobs so that their life can become better and they can live a peaceful life together with their children," he added.
False aims of insurgency
Militants who surrendered spoke at the news conference and expressed their fatigue with fighting and their desire to work and live in peace.
Ali Khan Shebar, 33, a resident of Dur Baba District and former commander of a Taliban group that surrendered, said he is glad to end the fighting against the government.
"At the beginning, I had secret ties with the Taliban, but then I was activated in the 27th, 28th and 29th areas of Ghani Khel District to fight against the government," he told Salaam Times. "After operations began and things became difficult for us and because it wasn't our fight, I decided to come and join the peace process."
"I want to be provided with a job, and then I will never destroy my country," he added. "I will serve these people and this country forever."
Abdullah Gul, who managed a building in Haska Mina District used by ISIS to plan operations, said he decided to lay down his arms after considering his family and realising the false aims of the insurgency.
Gul said he fought with the Taliban before joining ISIS in Kot District.
"As fighting increased, I concluded that there was no way out and that my children would be left as orphans," he told Salaam Times. He contacted the NDS and laid down his arms.
Fighting by both the Taliban and ISIS is not a fight for faith but rather just a "game", he added.
Opting for peace pays dividends
Maj. Gen. Nazar Ali Wahedi, director of the Nangarhar branch of the NDS, emphasised that he expects more fighters to come to that same realisation.
"Now, many Taliban and ISIS members have realised that the fighting is not a fight for Islam, because they are killing their own brothers," he said at the news conference.
"Some were forced to join such fighting. Luckily, now their minds have changed, and they see that it is not their fight," said Wahedi.
Giving up militancy will pay dividends for those fighters who lay down their arms, starting with jobs, he said.
"In many districts, when such individuals surrender or join the peace process, we provide them with vocational training opportunities," Wahedi added.
"We will provide those who surrendered now with jobs, and we will provide educational facilities for their children so that they can live a peaceful life."