JALALABAD -- More and more members of the Taliban and "Islamic State of Iraq and Syria" (ISIS) in Nangarhar Province are seeking a way to depart the battlefield as their confidence grows that surrendering to the government will bring peace and security.
A group of 18 Taliban fighters and another group of three ISIS fighters Tuesday (February 19) surrendered themselves to National Directorate of Security (NDS) personnel in Jalalabad.
They had been active in the Ghani Khel, Bati Kot and Haska Mina districts of Nangarhar.
'A better and peaceful life'
"My friends and I had realised long ago that [the Taliban's] war wasn't our war, but we weren't able to find an opportunity to leave the battlefield and defect," Jan Muhammad, commander of the surrendered Taliban group, told reporters.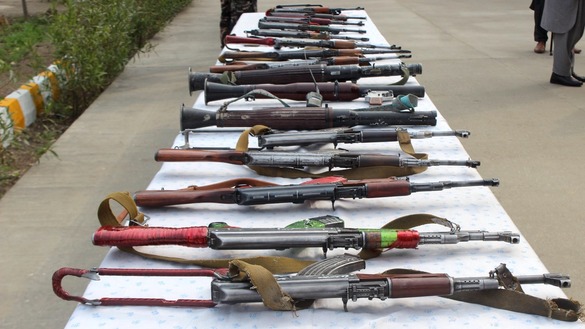 "When we spoke with the NDS, it assured us that it would provide us any kind of help we needed," he said.
"What encouraged us more was that our friends who previously renounced violence and surrendered have a better life now, and this assured us that we would have a better and peaceful life too," said Muhammad.
"I was leading a group of ten," said Abdul Rahim, another member of the group. "Some of my [fighters] have surrendered, and the rest haven't, but they'll come and will bring along more Taliban insurgents."
"All the Taliban are fed up with the war," he told reporters. "If the government makes some effort and provides jobs for those who want to surrender, it will help them earn a living and encourage others to [follow suit]."
Peace is the only way forward
"These 18 Taliban and three [ISIS] fighters, who renounced violence and will soon begin a normal life, had fought for years against the government," said newly appointed Nangarhar Governor Shah Mahmood Miakhil.
"[ISIS] has been annihilated in Nangarhar, and the Taliban's power has also waned," he told reporters at a ceremony to mark the fighters' surrender.
"Our president has sent them a peace offer, and we want to make peace," he said. "Peace is the one thing that can end the long war. We welcome those who truly have sympathy for this country."
"Those who lack sense, we know how to discipline them," Miakhil said. "Those who want to fight, our security forces know how to respond to them."
"In the past seven months, 400 fighters including 90 [ISIS] fighters either surrendered to the government or joined the peace process in Nangarhar," NDS Director in Nangarhar Province Lt. Gen. Nazar Ali Wahedi told reporters at the ceremony.
"A growing number of [ISIS] and Taliban fighters intend to join the peace process, and we'll soon hear more such news," he said.