JALALABAD -- Twenty-two Taliban militants and 13 members of "Islamic State of Iraq and Syria" (ISIS) surrendered to local authorities in Nangarhar Province and pledged to support the government, officials said.
The fighters, who handed over their small and heavy arms to authorities, encouraged other insurgents to renounce violence, the officials said while presenting the militants to the media on Saturday (May 4) at the National Directorate of Security (NDS) compound in Jalalabad.
Nangarhar Governor Shah Mahmood Miakhil thanked the militants for joining the peace process and renouncing violence. Now is the time for them to "rebuild your country", he said.
"Our country has suffered over 35 years of war, and we haven't achieved anything but deaths and injuries," he told the militants in the presence of media. "The right time has come to quit fighting. Those who try to ruin lives and public safety ... will be killed by the ANDSF [Afghan National Defence and Security Forces]."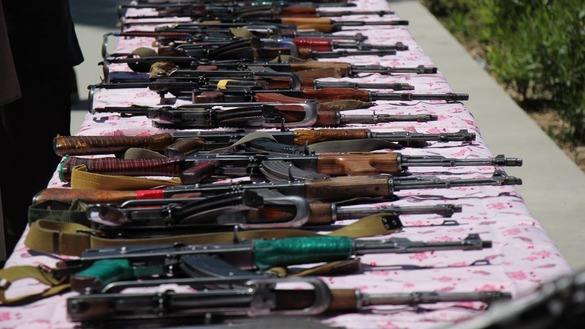 "Those who fight on the insurgent side aren't fighting for their faith," Miakhil added. "They fight because of poverty, tribal rivalries, ignorance and many other reasons that harm Afghans and benefit others."
Militants giving up in greater numbers
Insurgents cannot face troops on the battlefield, forcing them to resort to terrorist acts like suicide bombings to create instability, he said, adding that authorities will arrest the planners of such attacks with support from the ANDSF.
More Afghan members of ISIS are giving up fighting as Afghan security forces crack down on them, said Maj. Gen. Nazar Ali Wahedi, director of the NDS office in Nangarhar.
"They [the troops] have killed many ISIS members in Zawia Tangi of Khogyani District and in parts of Sherzad District, and air and artillery operations have been in progress there," he told reporters.
ISIS is led by foreigners, "but a growing number of Afghans fighting alongside them are defecting and surrendering," he said.
"We have been in talks with a number of other militant groups as well, and many of them will soon quit fighting and hand over their arms," he said. "We assure the surrendered fighters that they will be able to live like ordinary Afghans."
Security has improved in Nangarhar Province compared with the past few weeks, Nangarhar Police Chief Gen. Abdul Raqib Mubarez told reporters.
"We conducted operations in many districts that suppressed the Taliban and ISIS," Mubarez said. "These groups may try their best, but our brave forces won't let them rise up."