JALALABAD -- Disaffected fighters from the "Islamic State of Iraq and Syria" (ISIS) continue to surrender to authorities in Nangarhar Province, with almost 100 laying down their arms over the past week, officials said Thursday (December 5).
About 1,450 ISIS fighters and their family members have surrendered to the government over the past two months, Nangarhar Provincial Governor Shah Mahmood Miakhil told reporters at the Nangarhar National Directorate of Security (NDS) facility in Jalalabad.
He made his remarks during a ceremony on December 5 for 94 ISIS fighters -- along with 74 wives and children -- who surrendered to authorities.
"All these 94 are ISIS fighters who surrendered over the past week in Achin District," Miakhil said. "Among these ISIS fighters, only 14 of them are Afghans, two are Turkish citizens and the rest are Pakistanis."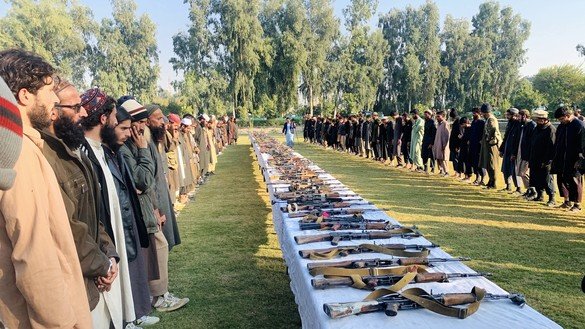 Of the 1,450 ISIS affiliates who have surrendered to the government during the past two months, 400 were militants with the rest comprised of their wives and children.
"ISIS has been destroyed in Nangarhar, and those 15 or 20 ISIS fighters who could be hiding somewhere cannot come out because of fear," he said. "If they come out, they will either surrender or be killed."
"I can say that ISIS fighters are on the brink of destruction in Nangarhar," Miakhil said.
An illegitimate war
Many of those who have recently surrendered are residents of Orakzai itribal district, Pakistan, and some of them speak Urdu.
"I came here from Pakistan three years and 11 months ago," Aamir Manzoor, a Pakistani who surrendered, told the media. "I was told there that we had to participate in jihad for Islam and that we had to stand up for it."
"After I came here, my family members -- women and children -- also joined me," he said. "We thought it was jihad and that we would be engaged in a war for Islam, but we now realise that it is not a war for Islam."
"In the final days, we were besieged, and it was very cold too, so we surrendered," Manzoor said.
The terrorists' war against the Afghan people is illegitimate from a religious standpoint, said Mawlawi Habibullah Jalalabadi, a religious scholar from Nangarhar.
"I challenge both ISIS and the Taliban that I can prove your war is illegitimate based on the Koran and Hadith, and Allah says in the Koran that he has prepared severe punishment for such murderers," he said in a speech at the ceremony.
Destroying the enemies of Afghanistan
"I call on all the fighters to quit this war and join our lawful and Islamic government," he said. "This will help you prosper in both this world and the hereafter."
"This country needs development," Jalalabadi said. "[The Taliban and ISIS] have to renounce the killing of their brothers and choose peace. If the war were a solution [to Afghanistan's problems], these fighters would be the winner. They lose because their war is not legitimate, and therefore, they should renounce violence and return to a normal life."
Governor Miakhil rejected the Taliban's claims that it played a role in eliminating ISIS.
"After the Taliban were defeated in clashes that broke out between the Taliban and ISIS in Wazir Tangi, Khogyani District, and in Oughz, Haska Mina District, we began our operations that destroyed ISIS, and the Taliban took the opportunity to remobilise in certain areas," he said.
"NATO and our forces jointly defeated ISIS, and as the Taliban are also our enemies, we will destroy them too," he said.