JALALABAD -- The Afghan branch of the "Islamic State of Iraq and Syria" (ISIS) has been "defeated" in one of the key eastern provinces where it first sought to establish a stronghold, a top Afghan security official said.
The claim comes after ISIS first burst into Afghanistan's conflict in 2015, when it overran large parts of Nangarhar and Kunar provinces, near the Pakistan border.
In the years since, it has claimed responsibility for a string of horrific bombings across Afghanistan, and has been continually attacked by US, Afghan and even Taliban forces.
ISIS "was defeated in Nangarhar, its centres were destroyed", acting Interior Minister Masood Andarabi told reporters in Jalalabad, capital of Nangarhar Province, amid operations against the militants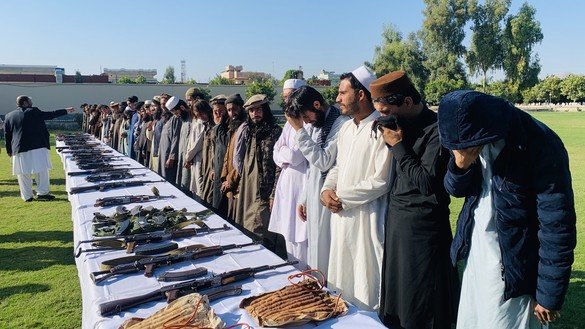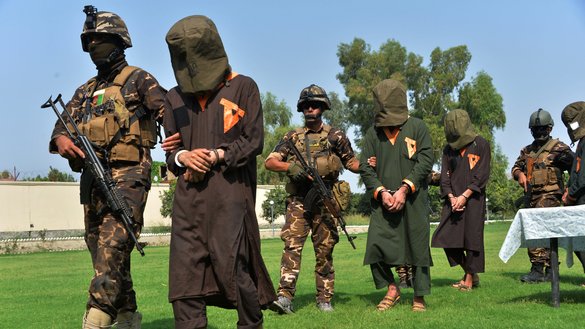 "We will soon destroy its last centres," he said Sunday (November 10). "With the people's help, we will eliminate it. Some of its smaller units are surrendering; other small units will be eliminated in other provinces."
ISIS is being "completely defeated" in Afghanistan, he said.
ISIS has suffered a string of major defeats in recent months, including the collapse of its self-proclaimed "caliphate" in Syria and the death of the group's leader, Abu Bakr al-Baghdadi, who was killed in a US raid in Syria last month.
Connections between al-Baghdadi and the ISIS affiliate in Afghanistan, better known as ISIS's Khorasan branch, or ISIS-K, have always been murky.
But al-Baghdadi's death has disrupted ISIS-K's command and control structure, said Khogyani.
"It has affected the fighters on the ground here; they are either surrendering to the government or going back to their ordinary lives," he said.
More ISIS fighters surrendered
Speaking with reporters on Saturday (November 9), Nangarhar Governor Shah Mahmood Miakhil also said Afghan forces have destroyed ISIS's centre in the province.
"Daesh's logistic paths have been cut off because our operations were successful. Its caliphate's centre [in Nangarhar, for Afghanistan] was destroyed. Now it has two options; either surrender or be killed," Miakhil said, using another name for ISIS.
At least 22 members of ISIS and seven Taliban fighters surrendered themselves to local authorities in Jalalabad November 9.
"Four years ago when Daesh came to our area, many residents left for secure places. I did not because I couldn't leave my land behind. I said to myself they are also Muslims; they wouldn't say anything to me," said Halimullah, 50, a resident of the Bandar area who was among those who surrendered.
"But Daesh came and forced me to take up a weapon and instructed me to accompany it in fighting. I had to choose because there was no way out of that. Once I had a chance, I surrendered," he said.
"We joined Daesh but later we saw that the group was on the wrong path. It has been killing ordinary Afghans. It made us feel disgusted about the group, but we were with them as we had no other options," said Muhamadullah, another member of ISIS-K.
"Now that it has come under pressure, we also found a way to come to the government and surrendered ourselves," he said.
ISIS is on the verge of elimination in the province and some of its other fighters will surrender themselves in the near future, said Maj. Gen. Nazar Ali Wahedi, director of the Nangarhar branch of the National Directorate of Security (NDS).
"The Bagh Dara and Bandar areas of Achin both were very important for Daesh, and now these areas have been cleared of it," Wahedi told reporters November 9 in Jalalabad.
"Daesh can not rise again in Nangarhar," he said.
'Doomed to fail'
ISIS members are giving up as security forces step up their clearance campaign, said Fawad Aman, deputy spokesman for the Afghan Ministry of Defence.
"Achin, Pacheragam and other parts of Nangarhar Province have been completely cleared of [ISIS]," he said.
"Because of military pressure, dozens of ISIS fighters in Kunar and Nangarhar provinces have surrendered themselves along with their weapons to the security forces," he said in late October, adding that many ISIS fighters had been killed throughout October in various military operations in Nangarhar Province.
ISIS was doomed to fail in Afghanistan from the start, said Nader Ahmadzai, a military and intelligence affairs analyst in Kabul.
"Afghans consider the Islam that ISIS tries to promote to be in conflict with original Islam," he said. "In addition, all the acts that ISIS commits are against the beliefs and traditions of Afghans."
"ISIS spent a huge amount of money to recruit many fighters, and it was able to bring many areas under its control, but all its efforts eventually failed," he said.
"The Afghan security forces and international forces are strongly determined to defeat and annihilate ISIS," said Ahmadzai.
"The Taliban, who didn't want to be replaced by ISIS in Afghanistan, also inflicted heavy strikes and casualties on them and killed many ISIS fighters -- including their key figures in Nangarhar and Badghis provinces," he said.
[Khalid from Nangarhar contributed to this report.]