NANGARHAR -- Heightened joint military operations by Afghan security forces and the NATO-led Resolute Support Mission in Nangarhar have driven hundreds of "Islamic State of Iraq and Syria" (ISIS) fighters to surrender and forced the group to admit its defeat in the region.
Nangarhar Governor Shah Mahmood Miakhil presented 183 ISIS fighters who surrendered to government forces in the Bandar and Mohmand valleys, Achin District, in the past week at a ceremony at the Nangarhar National Directorate of Security (NDS) facility on November 17.
Eighteen ISIS fighters surrendered to local authorities in Nangarhar on November 15, along with 24 women and 31 children, the Ministry of Defence said in a statement November 16.
Joining the surrendered fighters at the ceremony on November 17 were 190 women and 208 children. Some of the children lost both parents in the fight against government forces.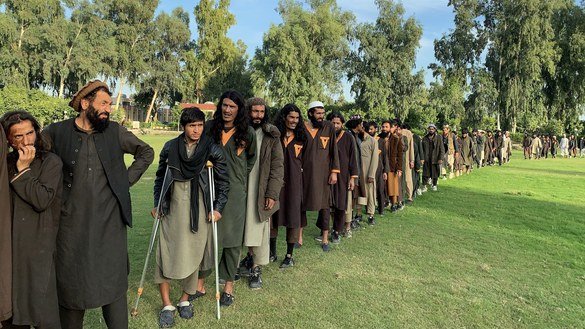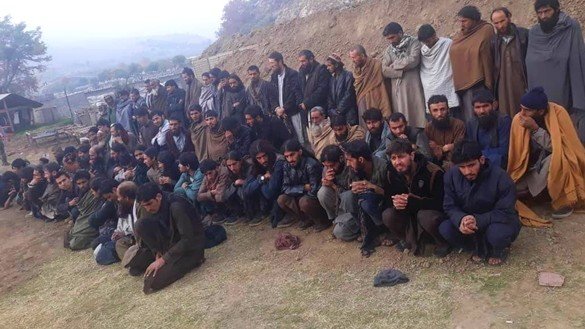 President Ashraf Ghani travelled to Jalalabad, Nangarhar Province, Tuesday (November 19) to assess the security situation in the region. He declared the defeat of ISIS in the area, according to a statement released by the provincial media office. He thanked Afghan security forces for their sacrifices.
Most of the surrendered fighters, women and children are foreigners and will be sent to Kabul, where the govenrment will hand them over to their home countries, said Miakhil.
"Most of the surrendered fighters are Pakistanis, but they also include ... insurgents from Iran, Uzbekistan, Turkmenistan, Chechnya [part of Russia] and other countries," he added. "The women and children will be handed over to wherever they are from by the central government, but the men who were involved in fighting will first be investigated, and then the central government will decide what to do with them."
"We treated women and children of the surrendered ISIS fighters really well," Brig. Gen. Mohammad Karim Niazi, commander of the Afghan National Army's 4th Brigade, told reporters. "We have fed them and satisfied their needs. We have treated them as ordinary Afghans and haven't been brutal to them."
ISIS admits defeat in Nangarhar
ISIS's Khorasan branch (ISIS-K), which is ISIS's affiliate in Afghanistan, issued a statement on November 17 admitting the group's defeat in Nangarhar and said its members have had nothing to eat for weeks.
"We resisted the American bombing until we escaped Baghouz [Syria], and we fought in Nangarhar until we had no ammunition," the militant group said in a statement released on Telegram, referring to ISIS's disastrous last stand in Baghouz, which ended in defeat by the coalition in March.
"Look at the guns of the caliphate's mujahideen [ISIS fighters]" and see "whether a bullet remains in them," the statement said.
One of the surrendered ISIS fighters confirmed that the group had had nothing to eat in its last days and that the militants had no other option but to surrender.
"I hail from the Tirah Valley [in Pakistan], and I had been with ISIS for two years," Rahmatullah, 37, told the media at the Nangarhar NDS facility.
"I was at a Pakistani madrassa where our teachers told us that there were infidels in Afghanistan, [and we had to go there] for jihad," he added. "But when I arrived in the Paikha area of Achin, it wasn't jihad -- it was killing Afghans. I had to stay there because they didn't allow us to go back."
"When the fighting escalated -- and there were drone attacks as well -- we lost control," he said. "In those last days, we couldn't get anything to eat. As death was just in front of us, we escaped and surrendered to the security forces."
"I was ISIS's logistics person," Abdul Malik, 35, another ISIS fighter, told reporters. "My friends and I would bring ammunition and other items on mules and donkeys to the members of the 'caliphate' (ISIS). Many of our members died, leaving behind their wives and children."
"These children were then given to other families to raise," he added. "Many women and children were left without guardians after the men died. As the operations surged, we had to leave and surrender."
The plight of families
One of the surrendering women, who gave her name as Noor Bibi, described the hardship that hit her family after her militant husband was killed.
"My husband wanted to join ISIS in Achin two months ago, and I came with him, she said at the ceremony. "It has been a month since my husband died in combat, and I was left alone. Then, I lived with these other women. And as life had become tough there, we had to run away and surrender."
"I had to come here with my husband," she added. "Now that my husband is dead, I have no relatives [here]. I want the government to send me back to my home [in Kunduz Province]."
Muhammad Ismail, whose sister was married to an ISIS fighter, said he went to the Momand Dara Valley to find her after she called him to say they had surrendered to the government.
"My sister was married to Zahir Shah," the young man said. "They had a good life, but he joined ISIS two years ago, and he secretly took my sister with him. I didn't know whether my sister was alive or dead. I have come here to take her home."
ISIS has been defeated and more ISIS fighters will soon surrender, Nangarhar NDS Director Nazar Ali Wahedi emphasised to media.
"ISIS has been destroyed in Nangarhar, and its remnants will either be killed or surrender," Wahedi said.