NANGARHAR -- Afghan National Defence and Security Forces (ANDSF) have cleared Bandar Valley in Achin District, Nangarhar Province, of "Islamic State of Iraq and Syria" (ISIS) fighters, officials say.
The military operations in the area began on September 10 and ended on October 15.
ISIS once declared Nangarhar Province the headquarters of ISIS-K, its Khorasan branch. The ADSF quickly quelled those ambitions.
"More than 50 ISIS fighters have been killed in these operations," National Directorate of Security (NDS) provincial director Gen. Nazar Ali Wahedi told reporters in Jalalabad on October 15. "All of ISIS's leadership in the area were foreigners."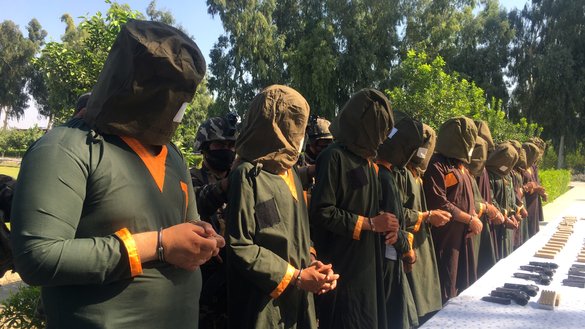 Omaid, deputy intelligence chief for ISIS-K, was killed in the operations, he said.
ANDSF teams have cleared land mines planted by ISIS in the area, Wahedi said.
Militants captured
Over the course of one week, the ANDSF captured eight ISIS and three Taliban fighters in various districts of Nangarhar Province, Nangarhar Governor Shah Mahmood Miakhil told reporters.
"Joint Afghan National Defence and Security Forces are fully capable of defeating the militants," he said, presenting the detainees to the media on October 15.
The provincial NDS also distributed a video to reporters in which the prisoners admitted to their crimes.
Security continues to improve throughout the province.
"We have so far formed nine checkpoints of public uprising forces in Bandar Valley, and we plan to create two more," said Achin District Governor Ashiqullah Sadat. "We will also build two bases here, and we have been promised [by the government] that they will deploy a platoon of border police in the area as well."
"Now that the checkpoints have also been installed, we want to return to our village," said Muhammad Gulab, a resident of Bandar Valley who fled from his home at the height of insecurity in the area.
"We lived an uneasy life for several years on other people's property," he said.
"I hadn't seen my house for five years, and now everything seems unrecognisable here," he said after visiting his home following the ANDSF operations. "Everything has been ruined, but I am thankful that the area is now secure."