NANGARHAR -- Local authorities in Nangarhar on Monday (November 25) showed to the media 40 more "Islamic State of Iraq and Syria" (ISIS) fighters who had recently surrendered to the security forces in the province.
Some of those surrendered were disabled and had lost their limbs in fighting with government and the Taliban.
"Among the ISIS fighters who surrendered with their weapons to the security forces between November 22 and 25 in Achin and Khogyani districts, there are 30 Pakistanis, two Turks and 30 more from various provinces of Afghanistan," Nangarhar Deputy Governor Tamim Arif told reporters in Jalalabad.
According to the authorities, 22 more fighters were not shown to the media because they authorities had not transferred him to Jalalabad by the time the surrender ceremony took place.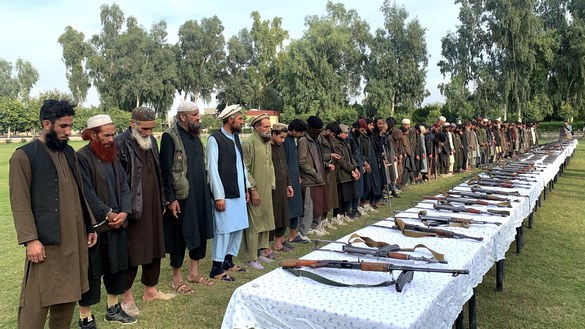 ISIS has been defeated in Nangarhar, though air and ground operations are still under way against the group, Arif said.
"There are still ISIS fighters in a few areas," he said. "They have been annihilated and won't be able to rise up again. [A small number of them] have taken refuge in some areas. They along with their women and children have all surrendered, and the rest will soon surrender."
"We have given ISIS the kind of lesson that won't allow this enemy to gain their strength again," said Gen. Nazar Ali Wahedi, Nangarhar director of the National Directorate of Security (NDS).
"We have defeated them to the extent that they don't know ... where to escape because our brave soldiers are chasing them," he said.
Earlier this month, 183 ISIS fighters surrendered to government forces in the Bandar and Mohmand valleys, Achin District. They were accompanied by 190 women and 208 children.
Time to surrender
Rasool Khan, one of the surrendered fighters from Kunduz Province, said that he operated in the Tora Bora area of Khogyani District and had joined ISIS for two years.
"I realised over time that ISIS was killing in the name of jihad, and I was a partner in sin, but I didn't have any other option," Khan said. "If I had left ISIS, it would have killed me, and that was why I had to stay."
"When we were besieged by the Taliban and government, we realised that it was the right time to surrender," said Khan. "We established contact [with the security forces] 15 days ago and told them that we were ready to surrender, after which we came and handed ourselves over."
"It was a rule there when one of our fighters was killed, his wife was married to another fighter," said Qamaruddin, another ISIS member who hails from the Orakzai tribal district in Pakistan. "There were women who had been married to three or four men [consecutively]. No retreat was allowed in the war."
"Anyone who withdrew from the battlefield was killed by other militants. They were forcing us to fight," he said.
"We escaped from the war in our area [Orakzai, Pakistan] and settled in Achin, and we lived a decent life," he added. "When ISIS came to the area, we didn't have anywhere else to live. They told us to join them; otherwise, they'd have killed us, so we had to join them."
"I joined ISIS two years ago, and I was in Achin," said Qaher Yaad, another fighter. "I was 16 years old at the time, and I didn't have beard on my face."
"One day our commander slept with me and sexually harassed me. Next, others follow suit. I escaped from ISIS a few days ago, and then the local police captured me and brought me here," he said.