KABUL -- Members of the "Islamic State of Iraq and Syria" (ISIS) are increasingly finding Afghanistan an inhospitable place in the face of constant military pressure from both Afghan forces and the Taliban, and ordinary Afghan citizens who reject the group's violent ideology.
Afghan National Defence and Security Forces (ANDSF) have annihilated many ISIS enclaves, while clashes with the Taliban have killed or forced out many more.
"Since ISIS has emerged in Afghanistan, it has been subjected to intense ground and air raids by Afghan and international forces," said Fawad Aman, deputy spokesperson for the Ministry of Defence. "Leaders and key figures of the group, including thousands of their fighters, were killed and hundreds of them captured."
"ISIS was defeated in their original strongholds in Nangarhar, Kunar and Jawzjan, and they currently have no core bases in Afghanistan," Aman said.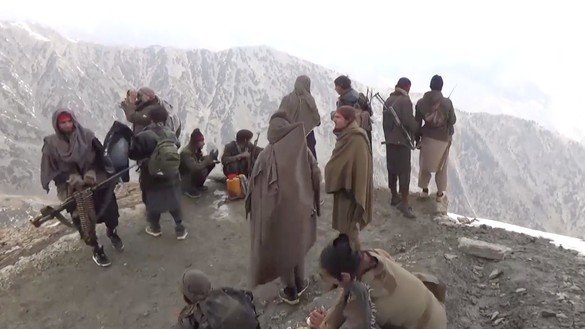 "This group is not in the position they were in two or three years ago," he said.
"A limited number of them are scattered in Nangarhar and Kunar provinces and operate very secretly, but we're intensely monitoring them," Aman said. "Anywhere we find them, we target and destroy them."
Even as military pressure has increased, ISIS still has succeeded in carrying out large-scale attacks in the country.
The terrorist group claimed responsibility for a horrific attack on August 17 on a wedding party. At least 63 people were killed and more than 180 wounded. After the attack, President Ashraf Ghani vowed to destroy ISIS in Afghanistan.
Aman says the government is on track to do just that.
Over the past month, dozens of ISIS members have been killed in air and ground attacks carried out by ANDSF with international support, he said.
"In the past 20 days, 52 ISIS fighters were killed, six injured and nine captured in Khogyani, Pacheragam and Surkh Rod districts of Nangarhar Province alone," Aman said September 3. "Another 17 ISIS fighters were killed in Chawki, Chapa Dara and Nurgal districts of Kunar Province."
Foreign agenda
Military operations against the group is helping to ensure there is no place in Afghanistan for ISIS to form a stronghold from which to carry out operations.
Moreover, ISIS leaders and their beliefs are exported from abroad, and Afghans say they will never pledge allegiance to this group.
"[ISIS] has limited activities in certain areas of Kunar Province, but they are being attacked by the Afghan forces," said Niamatullah Karyab, a representative of Kunar Province in the Wolesi Jirga (lower chamber of parliament).
"The leaders and beliefs of ISIS are from Syria and Iraq," hesaid. "Afghans will never pledge allegiance to a group that is led by foreigners and whose beliefs are in conflict with those of Afghans."
That sentiment continues to bring former ISIS fighters to the peace process.
Realising they were on the wrong path with no way out, 40 ISIS fighters laid down their weapons and surrendered in Asadabad, capital of Kunar Province, on September 4.
Maulawi Abdul Baseer, the ISIS shadow governor for Kunar, was among the fighters who surrendered.
"We have to come together for the unity and security of Afghans," he told reporters. "My friends and I will try to bring our other friends to join [the peace process] and lay down their weapons."
A message to the Taliban
With the increased military pressure on ISIS, Taliban members considering joining their ranks should think twice, according to Daud Kalakani, a former member of the Wolesi Jirga.
The Taliban must realise that ISIS is a globally-recognised terrorist group on its last legs, Kalakani said.
"[ISIS] has been beaten up in Afghanistan as it has in Syria and Iraq and has failed," he said. "The group's religious and political views are in conflict with those of the Taliban, and we have seen both groups involved in bloody clashes with each other."
"Daesh has completely lost its force as well as its combat capability," he said, using another name for ISIS.
"The group cannot get into a conventional war. They rarely take responsibility for some explosions and suicide attacks. The rest of ISIS fighters are in a situation of chaos and hesitation," he added.
"Taliban fighters must know that if they intend to join ISIS, a global terrorist group which the international community is trying to annihilate, it will result in their destruction too," he said.
"Security forces and people of Afghanistan are the biggest challenge in front of ISIS and their activities," Aman said. "The Taliban must know that joining ISIS, which is recognised as a global terrorist group, will have bloody implications for them because the security forces are determined to eradicate ISIS and those who join them."
A clash of ideologies
"ISIS's religious ideology and their political and cultural views are in stark conflict with those of Afghans," said Dawood Rawesh, a Kabul University lecturer and political analyst.
"The crimes -- for instance, forced marriage, attacks on mosques, places of worship and wedding ceremonies, assassination of religious scholars, and every other evil thing the group has committed in Afghanistan -- are not acceptable to any Afghan."
"In addition to this, a group that is not led by Afghans themselves cannot recruit Afghans as the Taliban do, and most importantly, Afghans never pledge allegiance to a foreign leader," he said.
"The achievements we have had fighting with the group in the past five years showed that they have chosen a wrong place for their activities," said Aman, the spokesman for the Defence Ministry. "Afghanistan is not a good place for ISIS because ... people don't accept ISIS and ... they have played a fundamental role in fighting against ISIS."
"The ANDSF have seriously defeated ISIS in Afghanistan, and as a result of recent attacks of the Afghan forces and the Taliban's clashes with them, ISIS has lost almost all of their fighters," said Mohammad Agul Mujahid, a military affairs analyst in Kabul.
After such defeats, ISIS has lost most of its military and financial capability, he said.
"The remaining members of ISIS are grappling with a lot of financial and combat problems," he said. "As they're not able to fulfil their basic needs, it is a lot harder for them to continue fighting."
"Daesh has received heavy and irreparable blows," Aman said. "They have lost almost all of their fighters. The limited number who are still alive have encountered a pressing need for basic things and they have completely lost their ability to continue fighting."