KABUL -- Afghan military observers and lawmakers are warning of the potential recruitment of disaffected Taliban fighters by the Khorasan branch of the "Islamic State of Iraq and Syria" (ISIS-K) as a peace deal with the Taliban becomes more likely.
Splits within the Taliban, religious radicalism and discontent with the possible deal could drive fighters to join ISIS-K and other terrorist groups, they say.
"The Taliban have split into different groups in recent years and not all of them obey Mullah Haibatullah [Akhundzada]," said Ahmad Behruz, an Afghan analyst in Kabul, referring to the Taliban's supreme commander.
"For example, Mullah [Muhammad] Rasool, one of the leaders of the group in the west of Afghanistan, seriously opposes the Taliban, especially those led by Mullah Haibatullah, and likewise, commanders of the Taliban group have divided into smaller groups," said Behruz.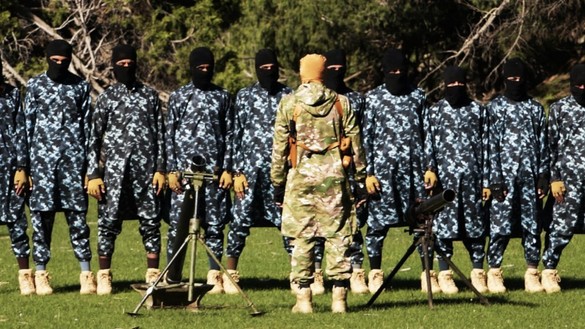 Some Taliban members may not accept a peace agreement, if one is reached, he said.
"It is obvious that Mullah Rasool and other offshoots [of the Taliban] won't accept Mullah Haibatullah's peace agreement, and similarly, dozens of the group's commanders will follow suit," he said.
"This is when these members will join other terrorist groups like Daesh," said Behruz, using another name for ISIS.
"Even if the Taliban sign a peace agreement and promise that they will implement certain terms, it is hard to trust them," said Asadullah Nadim, a military affairs analyst in Kabul.
"Most of the Taliban fighters are not under [their leadership's] control," he said. "Some of their commanders -- especially those on the front line -- may not accept the peace settlement. They may react to it and join Daesh or al-Qaeda. This is highly possible," Nadim said.
"The Taliban's settlement with the government will provide this group [ISIS] the opportunity to speed up its recruiting of the disgruntled and violent Taliban [fighters]," said Nadim.
"There are extremists and fundamentalists among the Taliban, and their [extreme] ideology poses a big problem," he added.
Violent Taliban joining ISIS
Some Taliban fighters have already joined the terrorist group.
Not all Taliban factions believe in peace, according to Shafiqa Sakha Yolchi, a member of parliament from Faryab Province.
"Most of those members of the Taliban have joined Daesh and now operate under them," she said, referring to the ISIS presence in Faryab.
"Members of this group do not want peace," added Yolchi. "They have created problems for travellers on highways in the province and prevented education activities [in the province]."
The Taliban have raised the ISIS flag in three areas of the district, said Muhammad Rasool, a resident of Shib Kuh District in Farah Province.
"The Taliban have replaced their flags with Daesh's black ones in Shib Kuh District, but people don't know what really is going on here," Rasool said.
"Even if a peace agreement is signed with the Taliban, it is possible that some disgruntled and violent members of the Taliban may join Daesh," said Gen. (ret.) Muhammad Taher Yarghal, a former Ministry of Interior officer who is now a military analyst in Kabul.
"Forty terrorist groups including Daesh are active in Afghanistan, and these violent individuals will join one of those groups," he added.
Rejecting ISIS
"Unfortunately, a big number of terrorist groups operate in Afghanistan, and we witness the trouble they cause," said Najia Anwari, director of strategic relations and spokesperson for the Ministry of Peace Affairs.
"If the Taliban want to negotiate with the Taliban, their internal rifts are their own problems," said Anwari. "But if they really have rifts among themselves and one of their groups comes and joins us, and some of them go and pick another side, that [internal discord] will hurt the group severely."
"We hope that the Taliban come as one group and talk with the government so that we can prevent activities of other terrorist groups after the peace agreement is reached," added Anwari.
ISIS has not gained any ground among the public for its flawed interpretation of Islam and Afghan culture, said Muhammad Musa, a student of law and political science at a private university in Kabul.
"Daesh perpetrates violent and extremist acts that do not have a place in Islam, and because of this, Afghans don't support its view of Islam. They hate Daesh and distance themselves from it," said Musa.
"Daesh already has picked up most of the violent Taliban in Afghanistan," added Musa. "Targeting civilians exemplifies the group's atrocities and un-Islamic acts."