KABUL -- Taliban militants have ramped up attacks across Afghanistan even as representatives of the group are meeting with US negotiators in Qatar in an attempt to broker a peace deal.
A Taliban attack in Kabul early Monday (July 1) wounded almost 100 people, more than half of them children, according to Afghan officials.
A powerful car bomb sent a plume of smoke into the air above the Puli Mahmood Khan neighbourhood and shook buildings up to 2km away. Following the blast, gunmen battled special forces in an area housing military and government buildings, AFP reported.
"At first, a car bomb took place, and then several attackers took over a building," said Interior Ministry spokesman Nasrat Rahimi. "The area is cordoned off by the police special forces, and [they] are bringing down the attackers."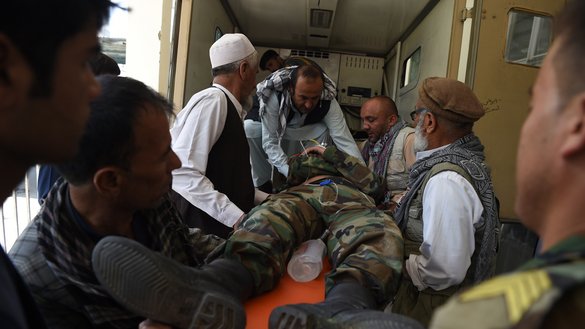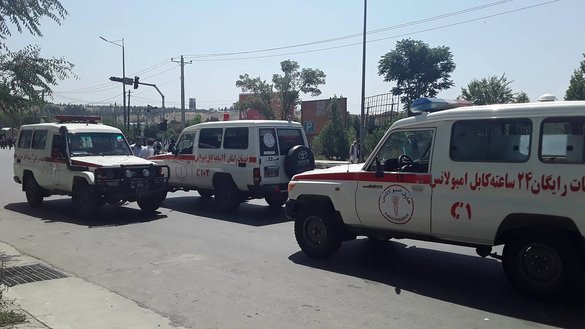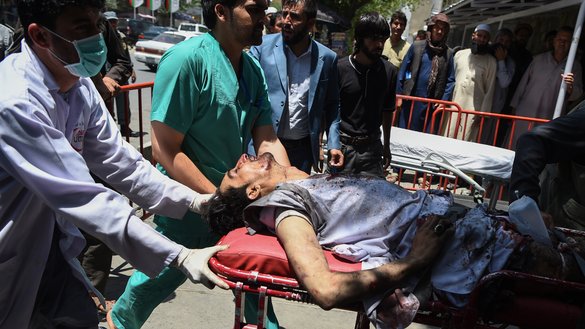 At least two militants had been killed, he said. "Security forces also rescued 210 civilians from buildings nearby."
At least one person had been killed and 93 wounded, said the Health Ministry. Among them were 50 children, the Education Ministry said in a statement, adding that most had been hurt by flying glass and were in stable condition.
Some social media images purportedly taken at a hospital showed wounded, stunned children in school uniforms, still clutching books as they arrived for treatment.
In its statement, the Education Ministry said five schools had been damaged and asked "all sides involved in fighting to guarantee the safety of students, teachers, education workers and schools".
'The world turned upside down on us'
Taliban spokesman Zabiullah Mujahid released a statement saying the militants had targeted a Defence Ministry building in the area, which was quickly blocked off by Afghan forces and ambulances, with helicopter gunships seen overhead as firing continued.
Authorities have not confirmed the target.
The heavily secured neighbourhood is home to some military and government buildings, including one shared by the National Directorate of Security and Defence Ministry, as well as offices for the Afghanistan Football Federation (AFF) and Cricket Board.
"We were sitting inside the office when the world turned upside down on us," said Zaher Usman, an employee in a Culture Ministry branch that he said stands just 150 metres from the blast.
The blast appeared to have occurred near Gulbahar Tower, which contains a shopping mall and residential units and is next to a Defence Ministry building, he said.
"When I opened my eyes, the office was filled with smoke and dust and everything was broken; my colleagues were screaming," Usman told AFP by telephone.
The blast occurred near the AFF headquarters' gates, Shams Amini, an AFF spokesman, told AFP.
"Some of our colleagues are trapped inside; we have reports of some injuries. We don't know if the attackers have entered the building," he said.
Nearby Shamshad TV station, which was attacked in 2017, aired images of broken glass and damage to its offices.
"I was terrified," Shamshad anchor Hashmat Stanikzai told AFP, adding that Shamshad had been filming a live programme when the blast occurred. Security forces evacuated the station, he said.
Seven Shamshad journalists were among the wounded, said a media watchdog.
More Taliban attacks
The Taliban on Saturday (June 29) killed at least 25 members of a popular uprising force in Baghlan Province, officials said.
The attack occurred in Nahrin District before dawn when members of the force attempted to rescue a group of Afghan soldiers surrounded by Taliban militants, said Fawad Aman, a Defence Ministry spokesman.
Meanwhile, militants drove four armoured vehicles packed with explosives into a government compound in Maruf District late Saturday, according to Qasim Afghan, a police spokesman in Kandahar Province.
"Unfortunately 11 policemen were martyred and 27 more injured," he told AFP.
Eight election workers who were stationed at the centre to register voters ahead of the presidential polls in September were killed, said Zabiullah Sadaat, a spokesman for the country's Independent Election Commission (IEC).
Afghanistan's twice-delayed presidential election is now slated for September 28.
The Taliban claimed responsibility, with a spokesman tweeting that their fighters had captured the district centre, killing 57 security personnel.
The Interior Ministry rejected the claim, saying in a statement that troops drove back the militants and killed 25 of them.
President Ashraf Ghani condemned the "barbaric and unforgivable" attacks, which are the latest in a relentless wave of assaults by the Taliban.
Peace talks and 'jihadi tourism'
The attacks come as the United States and Taliban opened fresh peace talks on Saturday.
There was no immediate confirmation if they would continue negotiating for a third day after Monday's blast. With the attack under way, the Taliban spokesman in Doha again insisted that the insurgents would not negotiate with Kabul.
"Once the timeline for the withdrawal of foreign forces is set in the presence of international observers, then we will begin talks with the Afghan sides, but we will not talk to the Kabul administration as a government," Suhail Shaheen tweeted Monday.
The negotiations have so far centred on four issues -- counter-terrorism, the foreign troop presence, an intra-Afghan dialogue and a permanent ceasefire.
The "seventh round of talks between US representatives and the negotiation team of the Islamic Emirate have begun in Doha", tweeted the Taliban's Mujahid Saturday.
An hour and a half after announcing the resumption of talks, Mujahid tweeted again, posting a video of a group of men, some armed and with covered faces, gathered around a waterfall singing, "Beautiful Afghanistan".
The video was captioned "jihadi tourism in Farah", a region that has previously been touted as a possible tourist draw.
Last Tuesday (June 25), US Secretary of State Mike Pompeo paid an unannounced visit to Kabul and said he hoped for a peace deal with the Taliban "before September 1".