KUNAR -- Forty-two members of the "Islamic State of Iraq and Syria" (ISIS) have surrendered to local authorities in Kunar Province as US forces continue to pummel the group with air strikes.
Authorities presented the surrendered fighters to the media in a ceremony March 1 in Asadabad, the provincial capital.
The militants had been fighting government forces in the Dewagal Valley, Sawkai District, said Kunar Governor Abdul Sattar Mirzakwal.
One commander and three team leaders were among the fighters who surrendered, said Mirzakwal.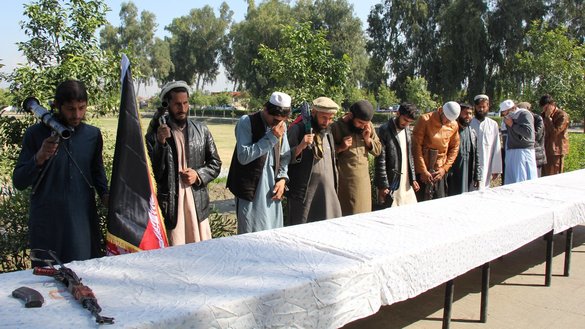 "Daesh is defeated and is about to be wiped out in Kunar Province," he said, using another name for ISIS.
"More than 40 Daesh fighters surrendered three days ago, and now 42 more joined them," Mirzakwal said.
Several other ISIS members also have contacted the government about surrendering and he expects them to give up soon, he said.
"These Daesh fighters were active in the Yawgul Valley in Sawkai District. That area is under the influence of Daesh, but they are abandoning it and are coming to us in large groups to surrender," the governor said. "Hundreds more Daesh fighters will surrender in the near future."
No safe havens
Afghan forces had largely defeated ISIS, said the Afghan government last November, when hundreds of fighters and their family members surrendered.
However, some of the group's members fled from Nangarhar to bordering Kunar.
The latest surrender follows a series of air strikes by US forces that killed 18 ISIS fighters in Kunar Province over the past six days, US Forces-Afghanistan spokesman Col. Sonny Leggett said on Twitter.
"USFOR-A will continue to deny safe havens to terrorists who seek to disrupt #PeaceinAfghanistan," he said.
The leader of the surrendered ISIS group, Rahmatullah aka Rocketi, told reporters that he and other ISIS fighters saw no point in continuing their insurgency in Afghanistan.
"We were part of the 'caliphate' for the last three years," he said, using ISIS's name for its shattered territorial ambitions. "We could see that Afghans were being killed in the name of 'jihad'. Now, we have realised that we should not kill our own people and that instead we should live our lives."
"In the area where I was in charge, most of the fighting we had was with the Taliban, but we would also attack the government forces," he added.
"There were foreigners with us who mostly led the fighting. We do not want to fight anymore," he said.
Members abandon Taliban
Taliban members in the area also are handing over their arms to the government.
Fourteen Taliban fighters surrendered and handed over their weapons on March 1 at the Nangarhar provincial department of the National Directorate of Security (NDS).
"These fighters were operating in Khogyani and Sherzad districts. They have abandoned the fight and will now live an ordinary life," Nangarhar Governor Shah Mahmood Miakhil told reporters. "We are hopeful that the peace talks will advance and the way for intra-Afghan talks will be paved. We do not want war; we have always wanted peace."
Mohammad Wali Arman, one of the surrendered Taliban insurgents, said that the militants were fed up with the conflict.
"We were tired of fighting and therefore contacted the government. We are now here and want to live an ordinary life like other Afghans," he said.
The surrender of the ISIS and Taliban fighters comes just days after a peace deal that was signed on February 29 between the Taliban and the United States.
As part of the agreement, the Taliban pledged to guarantee Afghanistan would never again be used by insurgent movements such as al-Qaeda and ISIS to plot attacks abroad.