KUNAR -- The remaining fighters of the "Islamic State of Iraq and Syria" (ISIS) who escaped from defeat in Nangarhar Province and are hiding in Kunar will be destroyed, say officials.
Afghan officials in November declared the defeat of ISIS in Nangarhar Province, where it first sought to establish a stronghold.
"When ISIS was defeated in Nangarhar, a small number of these fighters and their wives and children -- tens of them -- went to Kunar Province and settled with former ISIS fighters there," Kunar Police Chief Gen. Abdurraqib Mubariz said on December 15.
"There are now a few ISIS fighters left in some remote areas of Chawki, Nurgal, Watapur, Manogai and Chapa Dara districts," said Mubariz.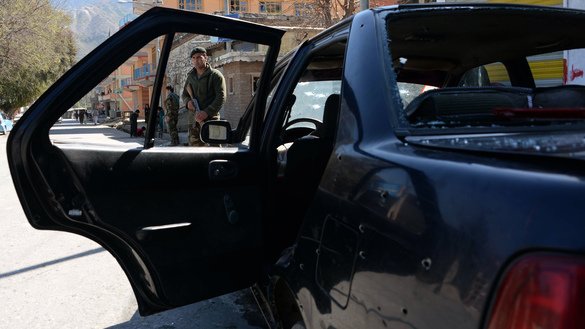 "As they don't have the ability to fight with our brave forces, they are hiding in remote areas. We have been chasing them, and wherever we see ISIS fighters, we kill them," he said.
A small number of ISIS fighters exist in Kunar, confirmed Kunar governor's spokesman Ghani Musamem.
Some of them have been killed in drone strikes, while others have escaped into the mountains, said Musamem.
"ISIS and the Taliban are fighting with each other as well, and many of them are also killed in these clashes," he added. "Both ISIS and the Taliban are our enemies, and we fight against them day and night. Battles between the Taliban and ISIS still break out sometimes in Chapa Dara and Manogai districts."
"We have provided food and winter items to those [civilians] who have moved to secure areas because of their fear of ISIS," he said.
"We, the National Army, and other security forces began... joint operations in Manogai District on December 17," said Lt. Col. Haroon Yousafzai, spokesperson for the 201st Silab Corps.
"We will fight against ISIS fighters in suspicious parts of Manogai District until we bring security to all the areas," he said.
"We will continue these operations until we clear the [entire] area of the Taliban and ISIS," Yousafzai added. "ISIS fighters exist in remote areas, and we are trying to destroy them. We will expand our operations to other districts after [we clear] this district."
Hatred of ISIS
"I was living in my village when ISIS came and told me that I would either join ISIS or provide it with weapons, money and food," said Nazar Muhammad, a resident of the Shoraik area of Manogai District who now lives in Asadabad, the provincial capital.
"But I told them that I was a poor farmer and would neither join them nor buy them weapons as I didn't have any money," he said. "Therefore, I had to escape with my children at night and leave my home full of everything. So, tell me, will I forgive them? No, never. They have destroyed my life."
"Here, I live in one room [with my entire family]," said Muhammad. "I leave early in the morning to look for work, and I come back in the evening. Sometimes I find work; sometimes I don't, but I am happy that I am alive."
"I hope things will get better with God's mercy. These people will disappear, and I will return to my home," he said.
"Daesh operated in our area a few months ago; it would seize civilians at night and demand they quit their jobs, like teaching [at school]," said Hekmatullah, a resident of the Qamcha area in Watapur District, using another name for ISIS.
"Then government forces launched operations two or three times, and ISIS escaped," he said.
"It is better now. They [ISIS] don't come to our area. They are in the mountains, and they don't come down to the lowlands," said Hekmatullah.
"If ISIS fighters were not afraid of the government, they would have killed many residents of our village because many of our villagers work with the government," he added.
"Local residents asked ISIS not to come to their village and warned it that they would kill its fighters. The government and civilians joined forces and expelled ISIS [fighters]."