KUNAR -- Fighting between Taliban militants and members of "Islamic State of Iraq and Syria" (ISIS) in Chapa Dara District, Kunar Province, has forced up to 2,000 families to leave their homes and migrate to neighbouring areas, according to local officials.
The battles began March 23 in the Daigal, Garangal and Landa Laam areas and are still raging, according to provincial officials.
"According to our information, about 2,000 families had to leave their homes and move to secure locations," Gul Mohammad Bedaar, deputy governor of Kunar, told reporters Wednesday (March 27).
"We have begun helping these displaced families. A small amount of this assistance has so far reached those in need, and soon we will help the rest," he said.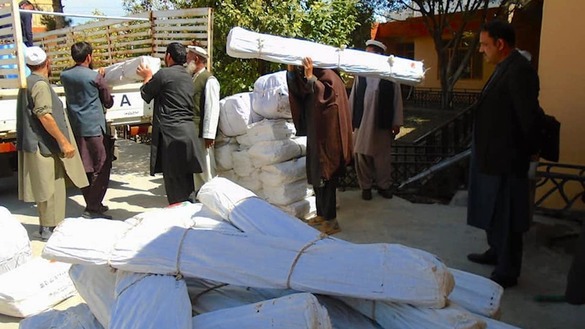 Bedaar called on non-profit organisations to help.
'Dying of hunger'
The number of families displaced by infighting between the two groups could increase, said Abdul Rashid Sapai, director of the Kunar Refugees and Repatriations Department.
"There is war, and because civilians are being affected, many families have moved out -- most of whom are sleeping on the ground," Sapai told Salaam Times. "Some are staying in other civilians' homes."
"All international agencies are ready to help these families," he added.
"We came here yesterday," Mohammad Rahim, 43, a resident of the Daigal area in Chapa Dara District who has moved to a relative's house near Manogi District, told Salaam Times Tuesday (March 26).
"Every other vehicle you see on the road is loaded with the belongings of displaced families," he said.
"They are trying to escape to a safer area. The fighting is between the Taliban and ISIS, but it affects the general public," Rahim said. "Children are crying as there is no food. They're almost dying of hunger."
"The fighting intensified, and we thought if any group succeeded, it would oppress ordinary Afghans," Faqir Mohammad, a resident of the Chalas area in Chapa Dara District who was forced to move to the provincial capital, Asadabad, told Salaam Times.
"We moved out because we were scared. We don't care if we don't have anything to eat, but at least we can remain alive here."
Government forces to join fight
More than 20 Taliban and ISIS fighters have been killed so far, said Lt. Haroon Yousafzai, a spokesperson for the Laghman Province-based 201st Silab Corps.
"Our artillery... has killed about 17 ISIS and Taliban fighters," Yousafzai told Salaam Times March 26.
"We haven't fought them directly, but we are attacking ISIS and the Taliban from far away, and this has caused them casualties," Faridullah Dehqan, spokesperson for Kunar Police, told Salaam Times.
Government forces are preparing offensives against both groups as they continue to fight each other, said Ghani Musamim, a spokesman for Kunar's governor.
"Security and defence forces are ready to launch operations and destroy these groups," Musamim told Salaam Times.
"Air and ground operations will soon start in this area and will destroy both the Taliban and ISIS," he added.