KUNAR -- More than 100 Taliban militants, as well as members of the "Islamic State of Iraq and Syria" (ISIS), surrendered to authorities in Kunar Province on September 4 and vowed to join the peace process, officials say.
Of the former fighters who surrendered in the provincial capital of Asadabad, 110 were Taliban members. Another 40 ISIS fighters who were active in six districts of the province laid down their arms.
"In the past one-and-a-half months, thanks to joint efforts by the government and public, these 150 Taliban and Daesh fighters laid down their weapons," Kunar Deputy Governor Gul Muhammad Baidar told reporters at a ceremony marking the surrender, referring to another name for ISIS.
He expects more Taliban and ISIS fighters to join the peace process soon, he said.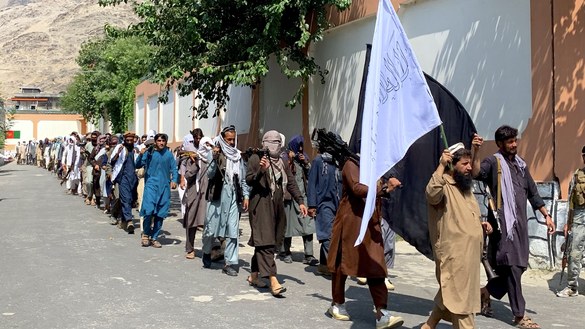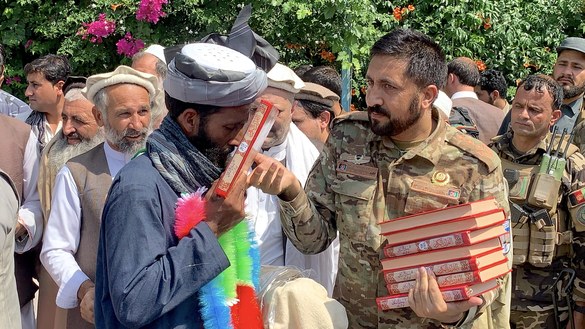 "They were forgiven, and now these fighters have become ordinary people. We'll try to create jobs for them in the government as well as in the security sector," he added.
ISIS shadow governor surrenders
Maulawi Abdul Baseer, the ISIS shadow governor for Kunar, was among the fighters who surrendered.
"Maulawi Abdul Baseer was the founder of Daesh in Kunar Province," Baidar said. "He was first the commander of Daesh's stronghold in the Chalas area of the Dewagal Valley in Sawkai District, and later became the governor -- or the overall chief -- of Daesh in Kunar."
Baseer was previously a local Taliban commander who in 2010 abducted British national and US Agency for International Development contractor Linda Norgrove, who was killed in a rescue operation.
Now, Baseer said that he would work for unity and try to convince other milittants who kill their fellow Afghans to renounce violence.
"We have to come together for the unity and security of Afghans," he told reporters at the surrender ceremony. "My friends and I will try to bring our other friends to join [the peace process] and lay down their weapons."
"When we fought, we called it legitimate, but we later realised that the people of this country are our brothers ... why should we kill them?" Muslim Khan, another surrendered member of the Taliban who operated in the Karwang village in Watapur District, told reporters.
"I was with the 'emirate' [the Taliban] before," he added. "We were told at the time to kill people. Then, I joined the 'caliphate' [the local name for ISIS], and I thought they were on the right path, but they all proved themselves wrong."
"Foreigners like Arabs, Chechens, Pakistanis and speakers of other languages were our members," Khan said. "The overall command [of the war] was with them."
Sheikh Talib Jan, another former Taliban militant, also said he would try to encourage other insurgents to join the peace process.
"We fought, but we didn't get any advantage [from fighting]," Talib Jan said. "We haven't come here [to surrender] for money, but we joined and laid down our weapons, and we will no longer kill Afghans. We'll try to encourage others to put an end to the war."
Those who fight the government have taken the "wrong" path, said Mawlawi Najibullah Haqyar, a religious scholar who spoke at the ceremony.
"I invite those who fight against this government and call it jihad to sit with me and provide reasons [for their claim]," he said. "If they are able to convince me, I will join their group, but if I convince them, they will have to return to a peaceful life."
"The path they were on was wrong," he added. "It is good news that they joined and switched to a peaceful life."
Military pressure in Badakhshan
In addition to the Taliban militants who laid down their arms in Kunar Province, eight Taliban fighters led by Sofi Hakim -- who had operated for more than seven years in Jurm District, Badakhshan Province -- surrendered to Afghan security forces on September 2.
These individuals renounced violence amid increased military pressure from Afghan security forces, said authorities in Badakhshan Province.
"As a result of military pressure on the Taliban from the air and ground, eight Taliban fighters who operated in Kaib village of Jurm District joined the security forces, with their eight Kalashnikovs in the Pol-e-Sooch area of the district," said Sanaullah Rohani, a spokesperson for the Badakhshan police.
With the group's surrender, security in Jurm District and neighbouring districts "will improve by 80%", Rohani added, without explaining his calculations.
Military operations have been ongoing since August 30 to clear Jurm District of the Taliban, say Afghan forces. On the first day of the operations, four Taliban fighters were killed and four more were wounded in the Dahan Aab-e-Khustak area of the district.
"The operations launched by security forces will continue until Jurm District is fully cleaned [of the Taliban]," said Rohani. "The security forces haven't received any casualties so far in this campaign."
The clearing operations in Badakhshan, called Pamir 207, have proceeded since August 30 and have led to heavy Taliban casualties, officials said. Commando squads, special police squads, the national army and local police are just some of the security forces involved in the push.
"As a result of the cleaning operations led by the joint Afghan security forces, more than 120 Taliban fighters were killed and injured in Jurm, Baharak, Warduj, Keran Wa Manjan and Yaftal-e-Bala districts," said Naik Muhammad Nazari, a spokesperson for the Badakhshan governor.
"The joint security forces, with support from the people's uprising groups, cleared the Yardar area of Baharak District, a number of villages of Warduj District, the villages of Farghamiro and Aab Raghak in Jurm District, the Anjuman area of Keran Wa Manjan District, and more than five villages in Yaftal-e-Bala District from the Taliban," he said.