KANDAHAR -- Helmand officials and tribal elders are raising concerns over the activities of the "Islamic State of Iraq and Syria" (ISIS) in the province, including the group's recruitment efforts.
ISIS has settled in certain areas so that they can recruit new fighters in the province, said Attaullah Afghan, head of the Helmand provincial council.
"ISIS have started their recruitment drive," said Afghan. "In many areas, they have mobilised women who have asked people to join them [ISIS]."
ISIS is trying to bribe people into joining, according to Muhammad Nabi, a Helmand tribal elder who also expressed concerns about the terrorist group.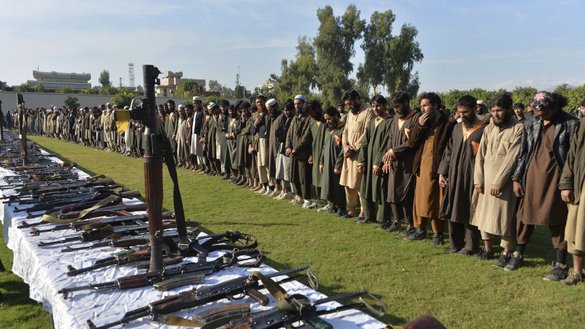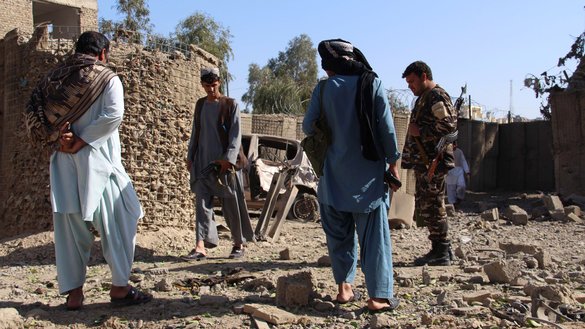 "They [ISIS] have started building caves... in large mountains in Kajaki District," said Nabi. "Another important thing is that the black flag [of ISIS] and everything else [that proves ISIS's presence] are quite visible in the Chaman and Angoor Adda areas on the other side of the border in Pakistan."
Muhammad Karim Atal, a member of the Wolesi Jirga representing Helmand, also confirmed ISIS's recent activities in his province.
ISIS is secretly inviting people to join their group, he said, citing local residents.
"We have heard about ISIS's activities in Kajaki and Baghran districts as local people have told us," said Atal. "Local people say that ISIS have come to these districts and want to recruit people."
Helmand Governor Maj. Gen. Yasin Khan said security forces will not allow the group to challenge security in the province.
Helmand's culture and geography won't allow ISIS to infiltrate in the province, he said.
"[Helmand's] environment and religious ideology, and people's views in Helmand don't match those of ISIS," he said.
"When a group by the name of Daesh emerged in Helmand six years ago, it was destroyed by the people, the Taliban and the government," he said, using another common acronym for ISIS.
Facing defeat
Concerns in Helmand come after Afghan officials declared the defeat of ISIS in Nangarhar Province, where it first sought to establish a stronghold.
ISIS "was defeated in Nangarhar, its centres were destroyed", acting Interior Minister Masood Andarabi told reporters in Jalalabad, capital of Nangarhar Province, amid operations against the militants
"We will soon destroy its last centres," he said November 10. "With the people's help, we will eliminate it. Some of its smaller units are surrendering; other small units will be eliminated in other provinces."
ISIS has suffered a string of major defeats in recent months, including the collapse of its self-proclaimed "caliphate" in Syria in March and the death of the group's leader, Abu Bakr al-Baghdadi, who was killed in a US raid in Syria in October.
Connections between al-Baghdadi and the ISIS affiliate in Afghanistan, better known as ISIS's Khorasan branch, or ISIS-K, have always been murky.
But al-Baghdadi's death has disrupted ISIS-K's command and control structure, said Khogyani.
"It has affected the fighters on the ground here; they are either surrendering to the government or going back to their ordinary lives," he said.
"The remnants of the group who are hiding sporadically in some areas are under constant pressure," said Fawad Aman, deputy spokesman for the Ministry of Defence.
"Their few remaining fighters are being tracked, and the security forces receive intelligence about their whereabouts every day that is followed with immediate ground and air operations to destroy them," he said.
ISIS members are giving up as security forces step up their clearance campaign in Nangarhar, said Fawad Aman, deputy spokesman for the Afghan Ministry of Defence.
"Achin, Pacheragam and other parts of Nangarhar Province have been completely cleared of [ISIS]," he said.
"Because of military pressure, dozens of ISIS fighters in Kunar and Nangarhar provinces have surrendered themselves along with their weapons to the security forces," he said in late October, adding that many ISIS fighters had been killed throughout October in various military operations in Nangarhar Province.