JALALABAD -- Afghan authorities have started efforts to help the wives and children of "Islamic State of Iraq and Syria" (ISIS) militants who surrendered to authorities in Nangarhar Province to reunite with relatives in Pakistan.
Extensive operations carried out by the Afghan National Defence and Security Forces (ANDSF) late last year in Achin District, Nangarhar Province, resulted in the surrender of hundreds of ISIS members and forced the group to admit its defeat in the region.
President Ashraf Ghani travelled to Jalalabad on November 19 to assess the security situation in the region.
Most of the surrendering militants, women and children were foreigners and would be sent to Kabul, where the government would begin the process of repatriating them, said Nangarhar Governor Shah Mahmood Miakhil at the time.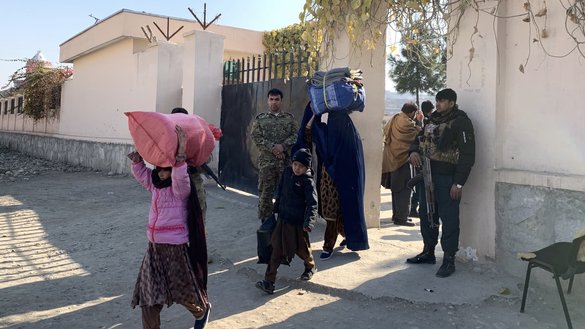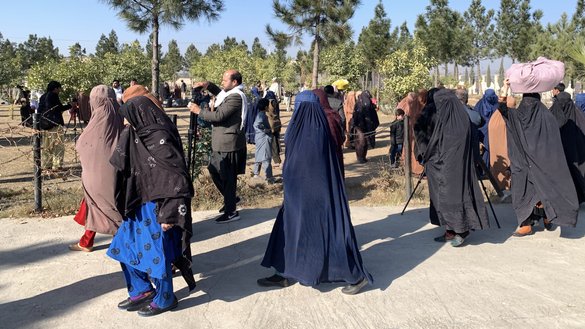 "Most of the surrendered fighters are Pakistanis, but they also include ... insurgents from Iran, Uzbekistan, Turkmenistan, Chechnya [part of Russia] and other countries," he said.
"The women and children will be handed over to wherever they are from by the central government, but the men who were involved in fighting will first be investigated, and then the central government will decide what to do with them," Miakhil added.
Efforts begin
On January 8, Nangarhar elders and Pashtun tribal leaders living on the Pakistani side of the Durand Line gathered in Jalalabad to discuss the fate of the Pakistani women and children.
Participants of the jirga decided that they would, in the first phase, help scores of women and children from Khyber Pakhtunkhwa (KP), Pakistan, who surrendered to return to their families.
The following day, local Afghan authorities helped 55 women and 76 children reunite with their families who had come to Jalalabad to receive them.
The women and children were residents of the Tirah, Orakzai and Khyber tribal districts of Pakistan and they said they were happy to go back to their homes.
"We have come here to hand over the wives and children of ISIS members who have surrendered to the government to their families in an Islamic way," Malak Saboor, a member of the jirga and a KP resident, told reporters on January 9.
"They [ISIS] are groups that created trouble for Pashtuns on both sides [of the Durand Line]," he said. "They have oppressed us all. They use the name of Islam, but the things they do are against Islam."
Authorities will hand over the wives and children of ISIS militants to their families after identifying their relatives, Miakhil told the jirga.
"We will hand these children and women over to their relatives, and they have to promise that they will no longer support the militant groups, and they have to resume a normal life there," he said.
The jirga concluded that the women and children returning to their families would no longer sympathise with militant groups, said Malak Osman, a Shinwar tribal elder.
"Based on Islamic principles, we hand these women and children over to their close relatives whom they can recognise; otherwise, we won't hand them over to anyone [if we can't find their close relatives]," said Osman.
Tough days
"My father was killed in fighting with the [Afghan] government," said Ahmad, 15, a resident of the Orakzai tribal agency in Pakistan.
"My mother, three sisters, two brothers, an aunt and I were stuck in Achin. As clashes and bombardments broke out there, we could no longer live there, so we escaped," he said.
"Now our relatives have come, and we will go with them," he added. "We are happy to go back to our village. When I came here, I was so little. I want to reunite with my relatives."
"We suffered tough days there, but I am glad we got out of there," said Ahmad. "I am happy that we're going back to our hometown in Orakzai."
"My husband died, and my brother learned that I am here," said Aisha, the widow of an ISIS fighter, as she sat with two packs of her belongings. "He has come [to receive me]; he is waiting outside. I have packed my stuff, and I will go home. I am very happy."
"We're grateful to be Muslims," said Mawlawi Habibullah Jalalabadi, a religious scholar, as the women and children reunited with their families.
"The religion is upheld here; our soldiers pray and fast, so how could anyone call us infidels and legitimise 'jihad' against us?" he asked.
"You have seen our religiosity and sympathy," he told the women. "You have to tell your areas what kind of Muslims we are. We don't have to taint the name of Muslims and Afghans any further."