JALALABAD -- Fighting is escalating again between the Taliban and "Islamic State of Iraq and Syria" (ISIS) in the Wazir Tangi area of Khogyani District, Nangarhar Province, with ISIS suffering major losses, local residents say.
"The Taliban's Red Unit has been fighting with ISIS in Wazir for the past seven to eight days," Speen Gul, a native of the area, said on October 9.
"The Taliban have captured Wazir Tangi, Mailawa and other areas, and ISIS fighters have left the areas," he said.
The stench of dead bodies
Speen Gul moved to Kaga town in Khogyani District a year ago when fighting erupted between ISIS and the Taliban, but he said he has many family members who still live in Wazir.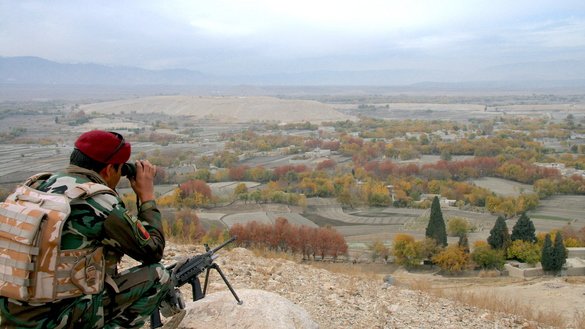 "Many dead bodies are still scattered there -- some are of the Taliban and some are of ISIS fighters," he said. "Ordinary civilians have left the areas. The Taliban have come from other areas and have launched an offensive against ISIS. They have captured many areas so far."
"They are fighting each other, but they have destroyed the local population," said Mahmood, a resident of the Koz Behar area in Khogyani District.
"There is no life there, and livelihoods have been ruined," he said. "When you go to Wazir and smell the dead bodies, you'll start to hate your life. They kill each other as well as the local residents. They even kill farmers if they find a reason."
"The Taliban have captured most areas of Wazir Tangi and a fierce battle is still going on," Malak Maki, a local police commander in Khogyani District, said October 9. "This fighting is taking place in remote areas, but according to my information, both sides have used heavy weapons in the fighting."
Taliban fighters have advanced toward the Tora Bora area, capturing some areas from ISIS, according to Muhammad Rahim, a resident of Khogyani District.
"ISIS and the Taliban have been fighting for months in Wazir in Khogyani and other areas," confirmed Sohrab Qaderi, a member of the Nangarhar provincial council.
"According to my information, dozens of fighters have been killed from both sides -- ISIS and the Taliban -- in recent clashes," he said.
"We call on the government to launch comprehensive operations in Khogyani District similar to those it conducted in the Bandar Valley of Achin," Qaderi said. "It then needs to put checkpoints [throughout the district] so that residents' lives can return to normal and so that those who have moved out of here can return."
Afghan forces, backed by the NATO-led Resolute Support Mission, on September 10 launched a series of military operations to clear ISIS hideouts in the Bandar Valley.
Afghan security forces strike
Afghan National Defence and Security Forces are launching operations against the feuding groups to protect the civilians in the area, said Ataullah Khogyani, a spokesman for the Nangarhar provincial governor.
"Our forces sometimes conduct air strikes and artillery attacks on both groups," he said, adding, "Both sides have sustained heavy casualties."
"We will soon launch operations there as it is the responsibility of our security and defence forces to annihilate both of these groups," Khogyani said.
Tens of families left the area after the fighting began on October 4, and more families are preparing to leave, he said.
"We have started our survey, and we'll soon deliver support to the displaced families," he said. "Most of the families have moved to various parts of Khogyani District, but some have come to [Jalalabad] city and other areas."
Muhammad Faqir recently fled the clashes in the Wazir Tangi area and now rents a house in Jalalabad.
"We had a decent life there," he said of his life in Wazir Tangi. "My kids went to school."
"I have no livelihood [in Jalalabad], no money. Everything I had I gave for my rent," he said. "I wonder when our Wazir will become secure so that we can live in peace."