NANGARHAR -- Afghan forces forced 38 Taliban fighters to surrender after recent military operations in Nangarhar and Faryab provinces.
An operation has been proceeding against the Taliban for the past week in Sherzad District of Nangarhar, Ataullah Khogyani, a spokesman for the Nangarhar Governor, said on February 9.
The operation cleared a number of villages of the militants, he said.
Authorities in Nangarhar presented 28 surrendered Taliban fighters to the media on February 8 at the National Directorate of Security (NDS) compound in Jalalabad.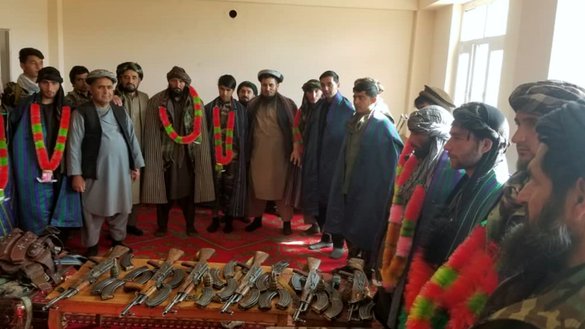 The fighters had until recently fought in Khogyani, Sherzad, Momand Dara and Lalpur districts.
"We eliminated Daesh and have now started our fight to eliminate the Taliban too and we are successful," said Nangarhar Governor Shah Mahmood Miakhil, using another name for "Islamic State of Iraq and Syria" (ISIS).
"These 28 Taliban who have now surrendered had no other option. They will now live an ordinary life, and others will also follow them and surrender," he said.
"In the past, we could not maintain our presence in areas that would be cleared after an operation, but now when we conduct an operation, we establish posts in the cleared areas," said Miakhil.
"They fought for so many years, but they achieved nothing except killing civilians and making them homeless," said Nangarhar NDS Director Brig. Gen. Nazar Ali Wahidi.
"They fight under the name of religion, but many of them have no knowledge of the religion. If they knew how big of a sin it is to kill a Muslim, they would have never done so," he said. "But it is still good that they now realised the truth and laid down their arms."
"Our national defence and security forces have the strength now to destroy their enemies anywhere now," Wahidi said.
"We want these people to realise the reality -- give up fighting and live," he added.
"Weapons would come, and we would use them to fight, but we did not know that we were doing all this for the interest of others," said Sediqullah, one of the former Taliban members from Sherzad District.
"It was in the interest of those who gave us money to kill our people. Now I have realised that this was the wrong path; therefore, I put down my weapon and I want to live an ordinary life," he said.
Ali, a 35-year-old surrendered Taliban member, said he had fought with the group for three years, mostly in Khogyani District.
"Now I have realised that fighting is not the solution and that I should worry about the education of my children instead of giving them a gun," he said.
"I don't want to do so anymore; I want to live," he added.
Military pressure in Faryab
Meanwhile, intensified military pressure on Taliban bases in northern Afghanistan has forced the militants to surrender, said Mohammad Hanif Rezayee, a spokesman for the 209th Shaheen Corps in Mazar-e Sharif.
Mullah Jabar, a local Taliban commander, surrendered together with his 10 men on February 6 in Garziwan District of Faryab Province, according to Rezayee.
"These men were fighting against the government for years, and finally, because of military pressure and disorder within the Taliban ranks, they laid down their arms," he said.
"They have promised not to commit terrorist acts anymore," he added.
"Our air attacks and ground operations have increased lately in the northern provinces, especially in Faryab Province, and this shows the increasing capabilities of our security forces in conducting independent operations," Rezayee said.
This [solar] year was one of the bloodiest years for the Taliban, he said.
In the past month, 23 Taliban leaders, four shadow district governors and 230 other fighters have been killed in the north of Afghanistan, according to Rezayee.
"National Army forces conducted nine joint operations in January in Balkh, Faryab, Jawzjan, Sar-e-Pul, Baghlan, Kunduz, and Takhar provinces," he said, adding that 147 militants were wounded and 37 surrendered.
"With increasing military pressure on the Taliban by government forces, Taliban fighters have lost the ability to fight Afghan forces in most parts of the country," said Abdul Karim Yoresh, a spokesman for the Faryab Police.
On February 9, a Taliban fighter named Qari Jan Mohammad, aka Hanzala, who had been serving in Taliban ranks for three years, surrendered to the National Police after he killed a Taliban leader named Wahdat in Ghormach District, according to Yoresh.
The militant justified the killing by saying that the Taliban beat up civilians and seize food from them, said Yoresh.
Hanzala also told Afghan authorities that Taliban commanders ordered insurgents to destroy schools, roads and public infrastructure.
The local government welcomes every group that lays down their weapons and joins the peace process, said Faryab governor's spokesman Ahmad Javed Baider.
"The government's doors are open to all groups that are tired of fighting or have realised the reality and don't want to fight anymore. We are committed to finding jobs for surrendering fighters," he added.
"The local government tries to keep those who join the peace process and return to ordinary life employed ... so that they become part of rebuilding their country," he said.