KUNDUZ -- Two groups of Taliban insurgents surrendered their weapons to police in Faryab Province, renouncing further violence against the government and pledging to join the peace process.
Seven Taliban fighters of a group led by Mullah Sher Muhammad turned themselves in to Faryab police February 15, Abdul Karim Yoresh, a spokesman for the provincial police, told the Salaam Times.
The insurgents were involved in fighting in several districts, he added.
"This group of seven had been involved in destructive activities and fighting against Afghan National Defence and Security Forces [ANDSF] in Qaisar, Ghormach, Almar and Pashtun Kot districts of Faryab Province," Yoresh said.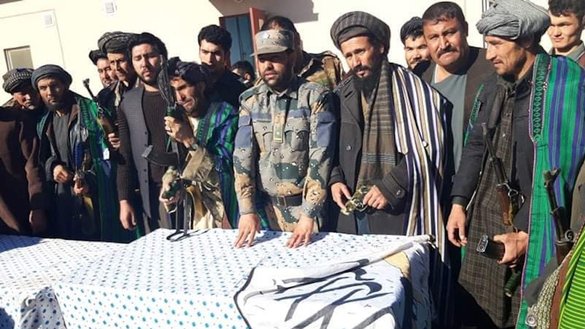 "They have now renounced violence, and they regret their acts" of the past, he said.
The group came to the Afghan National Police station in Faryab and turned in six Kalashnikovs, one handgun and other weapons and ammunitions, Yoresh said.
A second group that included Taliban leader Mullah Abdul Halim and his bodyguard also surrendered to the police, handing over a rocket launcher, a handgun and a hand-held radio.
"The information we gathered from the surrendered Taliban shows that they had become fed up with fighting," Yoresh told the Salaam Times.
'Brutal' Taliban attacks
Calls by Afghans for insurgents to lay down their arms have accelerated amid ongoing peace talks.
More Taliban members are becoming disillusioned by the group's brutal tactics and the involvement of foreign fighters, said Mullah Sher Muhammad, the leader of the group of fighters that turned themselves in.
"The Taliban want to defame the sacred religion of Islam under the name of jihad," Muhammad told local reporters in Faryab February 16. "They take orders from neighbouring countries to conduct destructive activities.
"We operated together with Uzbek, Chechen, Iranian and Pakistani fighters," he said.
"I witnessed them forcing children, women and elders out of their homes, and accusing them of having relatives who worked for the government," he recalled. "The Taliban were very brutal. They didn't have mercy on anyone."
"When I noticed that they were going in the wrong direction, I defected from them with my group," he said.
Muhammad said he fought against the government and security forces for two years.
"We suffered a lot. Most of the Taliban are waiting" for the peace negotiations "to result in an agreement so that they can stop fighting", he added.
More surrenders expected
Muhammad's vow to renounce violence against the government comes amid a call from a number of residents of northern Afghanistan for the Taliban to join the national peace and reconciliation process.
"We see that the peace negotiations have recently sped up, and the public welcomes these talks," Ahmad Farid Qayumi, 36, a civil society activist in Faryab, told Salaam Times.
Local residents have contacted elders from various areas for the past few days to invite the Taliban to the peace process "because peace should come true one day in the country," he said.
Some Afghan tribal leaders say they expect more insurgent groups to join the peace process.
"The Taliban are optimistic for the peace talks," Haji Abdullah, 58, a tribal elder in Qaisar District, told Salaam Times. "We expect that more groups will surrender to the government in the coming days. Afghans are thirsty for peace. They're tired of war."
That sentiment was echoed by Abdul Hameed, 34, one of the subordinates of Mullah Sher Muhammad.
"The government should ensure our security and create jobs for us," he told reporters.
"I call upon the Taliban to follow our steps and begin an ordinary life. We have had enough of war," he said.
Military pressure intensifies
Taliban members in Faryab Province have faced increased military pressure after Acting Defence Minister Asadullah Khalid and US Gen. Scott Miller, commander of NATO's Resolute Support Mission, visited the area on January 7 to survey the security situation in the region.
Afghan forces killed 18 Taliban fighters, including group leader Esmatullah Esmatyar, and wounded eight others on February 17 in Faryab Province, according to a statement by the provincial police.
No civilians were injured, it said.
"Insurgents attacked security checkpoints in Arkalik village of Qaisar District, but they were pushed back and defeated" after auxiliary forces arrived from the district centre, the police said.