KABUL -- Recent contradictions in Taliban interviews and in stated positions amid a constant stream of false information indicate a fractured and divided group, according to Afghan media activists and analysts.
"Contradictory views expressed by the Taliban show rifts and differences of opinions and positions among the group," Sayyed Hamed Anwari, a Kabul-based political analyst, told Salaam Times.
"Meanwhile, the Taliban's conflicting interviews and positions on issues depict a lack of co-operation among the members of this group and prove that the Taliban have problems controlling their information," Anwari said.
The Taliban itself has acknowledged its lack of co-ordination and the group's struggles to control its own narrative.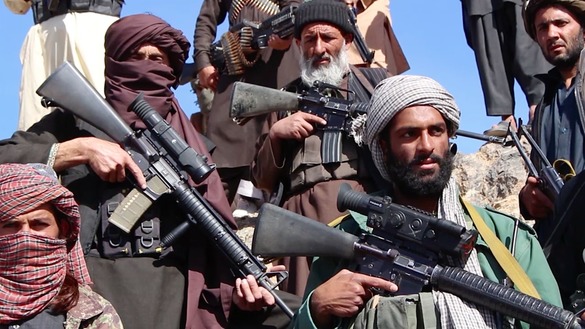 The militants' media operation can be dizzying, a senior Taliban source with links to the insurgents' media wing told AFP.
High-profile interviews have taken place without the media wing's knowledge, sparking hurried denials along with confusion over the identity of the interviewee and whether he can really claim to speak for the Taliban. Unverified leaks to media outlets from alleged Taliban sources are frequent.
Unauthorised or fake accounts sprout often on social media, while their official Facebook pages and Twitter handles are regularly banned only to be restarted under another name.
Even the official spokesman, Zabiullah Mujahid, is widely suspected of being not one man but a shared nickname used by the Taliban media wing to issue statements.
The Taliban leadership gives orders to a handful of high-ranking militants responsible for the group's media strategy, the militant source said.
They work across five different language services -- Pashtu, Dari, English, Urdu and Arabic -- with dozens of volunteers who produce multimedia content. Print magazines target rural audiences without mobile phones, while propaganda videos and songs reach the illiterate.
A lack of centralisation
"The fact is that members of the Taliban don't have a shared hub of information and cannot control the flow of their information... and that's why they say one thing in an interview one day and reject it the next day," Haris Jamalzada, a media analyst and journalism professor at Rana University in Kabul, told Salaam Times.
"A number of Taliban members have often expressed views in their interviews with the media that their leadership did not agree with, and we have later seen that the spokespeople for the Taliban contradicted the accounts and positions of these Taliban members," said Jamalzada.
"For example, [Sher Mohammad] Abbas Stanekzai, one of the peace negotiators, said in one of his interviews that the Afghan National Army must be dissolved after the peace has been achieved, but after a short while, he recanted his initial views," he said.
"Likewise, one of the Taliban members had told Reuters that Mullah Baradar could not travel to Qatar, but he did go to Qatar," Jamalzada said. "All these examples show that there is no co-ordination within the Taliban and that they have many problems controlling their information."
"The Taliban aren't an independent group," Gen. Dawlat Waziri of Kabul, a former spokesman for the Defence Ministry and a military analyst, told Salaam Times.
"The Taliban's reliance on [neighbouring] countries and on intelligence agencies has blocked them from expressing their independent views, and they have encountered problems in controlling and delivering their information," he said. "Their supporters advise them which positions to take ... and this dependency has caused them to deliver conflicting messages."
Lies all around
"As the Taliban have failed on the battlefield, they have taken to a propaganda war. They disseminate inaccurate and exaggerated information on their websites and propaganda Web pages," Waziri said.
The erroneous information is used "to promote their propaganda war and reduce the morale of the security forces, and they use this approach to enhance their fighters' morale on the battlefield", said Jamalzada, the journalism professor.
"The Taliban are pursuing psychological warfare by disseminating flawed and inflated information," Sikander Asghari, a Kabul-based military analyst, told Salaam Times.
"This group has been involved in destroying Afghanistan; it spreads phony news in its statements and on its news websites, and it exaggerates its strength," he said.
"To benefit from the public's feelings for Islam, the Taliban always claim in their press statements that the foreign or Afghan forces have bombed religious schools, mosques and civilians' homes," Asghari added.
"But later, we find out that the buildings that were bombed were Taliban training centres and bases," he said. "They also spread false claims of killing various numbers of security personnel in provinces all over Afghanistan."