JALALABAD -- National Department of Security (NDS) forces in Nangarhar Province rescued an 11-year-old boy on October 6 in a special operation in the Tangi area of Sherzad District.
The boy, identified as Massoud, was abducted by the "Islamic State of Iraq and Syria" (ISIS) almost three months ago on charges of spying for the government.
Massoud told reporters about the atrocities he endured in ISIS captivity at a ceremony marking his release.
"Three months ago, I was grazing animals when ISIS members kidnapped me," he said October 7 at the NDS compound in Jalalabad.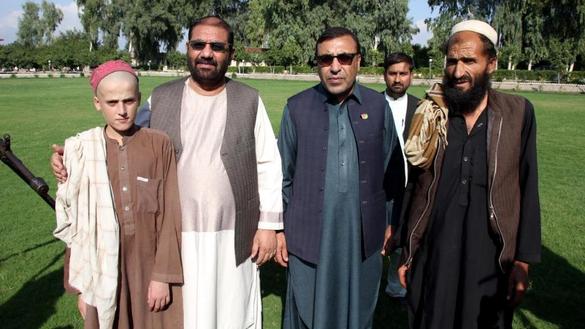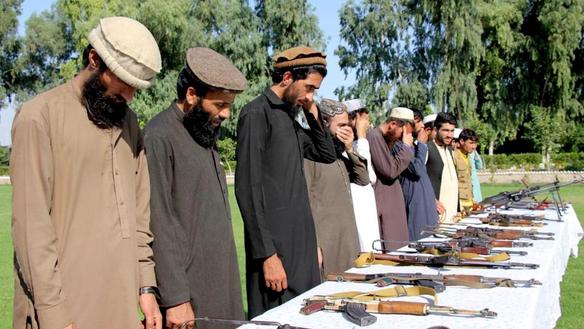 "They took me to Tora Bora and told me that I was spying for the government," he said. "They beat me up, and my ribs still hurt. They choked me with a rope and ordered me to confess that I was a spy, but I wasn't a spy and they were torturing me."
"ISIS detained this child, but our NDS forces were able to rescue him from them," said Nangarhar Governor Shah Mahmood Miakhil while handing over the child to his family. "I would like to thank our NDS forces for being able to release him unhurt."
Massoud's father, Adam Khan, thanked the NDS for bringing his son back home.
"We had no idea where he was and whether he was alive or dead," Khan told reporters at the ceremony. "The NDS attacked ISIS and killed some of them, and they were able to release my son."
"I am thankful to the NDS forces for rescuing my son from ISIS," he said.
Taliban, ISIS fighters surrender
At the same ceremony, Nangarhar provincial authorities presented to the media 17 Taliban and ISIS fighters who have recently renounced violence.
"As a result of efforts by the NDS officers, 10 Taliban fighters joined the peace process and seven ISIS fighters, including three Pakistani nationals, surrendered," Miakhil said. "These fighters have handed over 15 Kalashnikovs" and other weapons including a machine gun.
"These surrendered fighters were engaged in anti-government activities in Khogyani, Batikot, Chaparhar, Pacheragam and Achin districts, but they joined the government after understanding the reality and coming under pressure from the NDS forces," he said.
Ziaullah, a former member of the Taliban, explained why he joined the peace process.
"We had fought in the ranks of the Taliban for two years, but when we realised that our leaders residing in Pakistan were misleading us, we renounced [armed] opposition and joined the government," he told reporters.
"Previously, my sons used to operate in the Taliban's ranks, but after one of my sons was killed and the Taliban left the area, we switched to ISIS," said Chaman Gul, a former ISIS fighter.
"ISIS and Taliban fighters have recently been weakened, and now they live under harsh conditions," he said.
The ongoing cycle of reprisals between the Taliban and ISIS has continued for a year and a half, and recent fighting between the two groups has flared up in Kunar Province, where Taliban fighters torched the homes of ISIS fighters a few weeks ago.