NANGARHAR -- More than 150 residents of Pacheragam District, Nangarhar Province, have taken up arms against the "Islamic State of Iraq and Syria" (ISIS) in support of the Afghan government.
Residents of the Tora Bora area of the district December 25 prepared to join Afghan National Defence and Security Forces in an operation to root out ISIS and secure their area from further terrorist attacks.
"We have always supported the government and do it because this government belongs to us and we are theirs, but ISIS and other enemies have come to create problems in our areas," said Khan Mohammad, 40, leader of a 20-member popular uprising group in Tora Bora.
"Therefore, we [decided to] stand united ... and start securing our areas," he told Salaam Times. "If the army sacrifices its lives for the sake of the country, we should also do so. It protects us, and we should also show our honour by supporting it."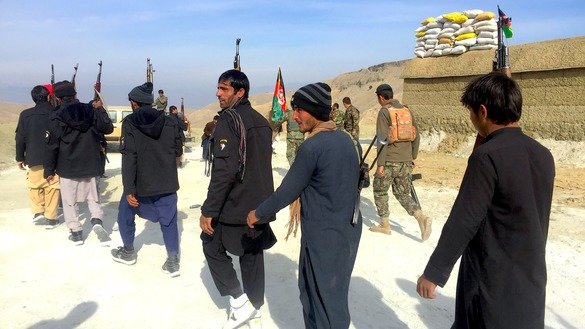 "For this reason, we came and lifted up our old weapons to support our forces and stand beside them against the enemy," he said, calling on the government to supply the popular uprisings with ammunition.
"We have pledged to fight ISIS as long as we are alive," Mohammad said.
Fighting a common enemy
"We have pledged to not let any of our enemies in our villages and neighbourhoods," said Malik Lawandar Khan, the overall leader of the popular uprising members. "For this reason we have taken up arms, and we are fighting the common enemy."
"There are some among us who previously fought the government and [who] were insurgents, but now they have realised that they were fighting for [foreign interests]," Khan said.
"They were destroying the country, and they were killing their own brothers," he said. "For this reason they joined the peace process, and now they are fighting back [against] that enemy because this is a matter of pride for us."
"We have faith, and we are firmly following Islam," he said.
"The government must equip us," he added.
Officials welcome popular uprising
The number of popular uprising members continues to rise and the government gives them full support, according to Ataullah Khogyani, spokesman for the Nangarhar provincial governor.
"The 1,500 members of the popular uprisings [throughout the province] have helped us crush and push back ISIS," he told Salaam Times.
"[ISIS] still exists in a limited number of villages of some districts, but they will soon be demolished," he predicted. "From one side the Afghan and Resolute Support Mission Forces launch air attacks against them, and from the other side the ground forces and popular uprising members fight against ISIS."
"Therefore, we are sure that ISIS can no longer resist in Nangarhar," Khogyani said.
"In most of the areas, the local uprising members have helped us," Brig. Gen. Mohammad Nasim Sangin, commander of the the 201st Silab Corps' 4th Brigade in Nangarhar, told reporters December 25. "They have shown us the areas where the enemies exist. We have taken immediate action, and we have crushed ISIS, the Taliban and other terrorist groups."
"We will be capturing [more] areas, and the [popular] uprising members will not allow terrorists to attack again," he said.
"We will leave the captured areas to the [popular] uprising members so that they can protect their villages," he said. "We will provide them with heavy weapons too, and our military will cleanse the remaining areas of ISIS and other terrorists in order to bring security to the public."
"We will open the schools again, and patients will get treatment in health centres," Sangin said.
"ISIS is already defeated," he said, adding that the group has dwindled to fewer than 1,000 members, down from more than 3,000 a few years ago.
With ISIS's leadership damaged, the remaining fighters will either renounce terrorism or be demolished, he said.