NANGARHAR -- A group of ten Taliban militants earlier this month renounced their hostilities and joined the peace process in Khogyani District, Nangarhar Province, through the efforts of National Directorate of Security (NDS) personnel.
The militants, led by Mohammad Jamil (also known as Shaheen), announced their surrender in a ceremony with local security officials December 17.
"They gave up their destructive activities and joined the peace process," Jamiullah Nuristani, deputy director of the NDS in Nangarhar, said at an event marking the group's surrender. "After today, they will continue their normal lives."
"These individuals have surrendered 10 light weapons and ammunition to NDS personnel," he said. "They have promised that afterwards they will not perform any terrorist activities and will work with other compatriots for the reconstruction of the country."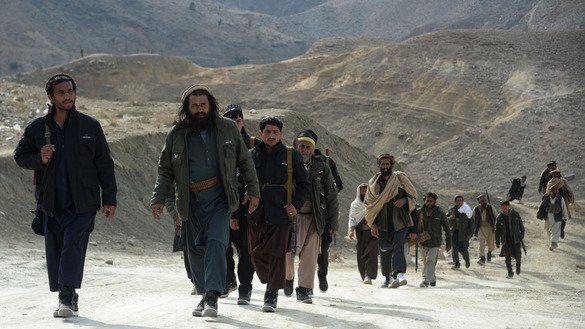 Former militants want 'real life'
"We have been fighting the government in Khogyani District for the past ten years," Jamil told reporters. "We committed many destructive acts."
"We were told that all those who work with the government are infidels," he said. "We believed that only we are Muslims because we were illiterate, but now we realised that all those who work for the government are Muslims."
"Therefore, we came and surrendered our weapons and joined the peace process," he said. "So far, we have not seen anything -- we spent all our lives in the mountains with guns. Now we will live a real life."
Mohammad Omar, another member of the group, described their violent past.
"We did not allow schools and other infrastructure to remain sound," he told reporters. "We were destroying them as much as we could. We were told that these buildings belong to infidels and that they should be destroyed."
"Now we realised that we were deceived," he said. "We were killing our own brothers, and we were fighting them. Now we will stand against our former comrades."
Hundreds of Taliban, ISIS surrendering
Over the past few years, 846 insurgents have joined the peace process in Nangarhar thanks to the efforts of NDS personnel, said Ataullah Khogyani, spokesman for the Nangarhar provincial governor.
This year alone, 151 militants, including 33 members of the "Islamic State of Iraq and Syria" (ISIS), gave up fighting and joined the peace process, he told Salaam Times.
"The government has prepared work opportunities in various sectors for those who have joined the peace process," he said. "This year alone, the [NDS] employed about 100 [former militants] in the ranks of popular [counter-insurgency] uprisings who defend their areas in accordance with the law."
"These people were placed [among the popular uprisings] in Khogyani and Pacheragam districts of Nangarhar," he said. "They have received ammunition from the government to keep their areas safe."
Another group of seven Taliban fighters who were active in Khogyani District surrendered their weapons to government officials December 3, expressing regret for their fighting.
Jamil said he would urge other Taliban insurgents to lay down their arms and join the peace process.