KABUL -- Since September 2010, almost 12,000 insurgents across Afghanistan have joined the peace process, according to the Afghan High Peace Council, and that number is continuing to rise.
Then-President Hamid Karzai formed the HPC in September 2010 to encourage nationwide reconciliation.
"On November 10, a group of Taliban comprised of nine members, including Hafizullah Haqqani, a well known Taliban commander in Baghlan Province who fought troops for years, joined the peace process and handed in their weapons in Burka District," Mahmood Haqmal, a spokesman for the Baghlan governor, told Salaam Times.
"Among the nine were two boys, ages 10 and 13, who received suicide attack training outside Afghanistan and were ordered by their commanders to carry out suicide attacks in Burka District," he said.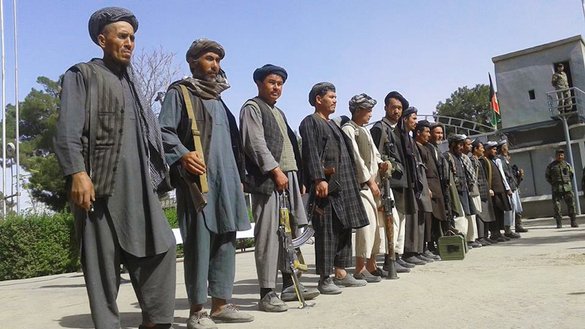 Haqqani said he and his followers came to realise their fight was unjust.
"The Taliban's oppression of our compatriots caused us to leave them," he told Salaam Times. "After many years, it was proven to us that the Taliban are enemies of Afghans and Afghanistan."
"All their activities oppose our people and our homeland, and during this time most of the Taliban's victims were innocent Afghans," he said. "In fact, they feed off civilians' money and property."
Children trained as suicide bombers
The two boys among the group said they were trained to carry out suicide attacks on Baghlan provincial officials.
"The Taliban sent us, as well as many other children, abroad to undergo suicide attack training," Kamaluddin, 13, told Salaam Times. "There, we underwent six months of suicide attack training. We recently returned to Burka District."
Kamaluddin and Mohammad Anwar, 10, both said Taliban commanders had ordered them to carry out their suicide missions so that they could become martyrs and go to paradise.
The two boys told Salaam Times that they came to the city twice with the intention of targeting the Burka District police chief but did not succeed.
The Afghan Independent Human Rights Commission (AIHRC) and Save the Children in Afghanistan condemned the use of children by terrorist groups.
"The recruitment of child soldiers by insurgent groups and training them to conduct suicide attacks are against the principles of Islam, the laws of Afghanistan, human rights and international conventions on children's rights," Bilal Sediqi, a spokesman for AIHRC, told Salaam Times.
"We condemn the recruitment of children by insurgents," said Mariam Atayee, a spokesperson for Save the Children in Afghanistan.
"Moreover, we ask the parties involved in this war to refrain from sacrificing children to achieve their own objectives and we urge them to instead protect them during armed conflicts," she told Salaam Times.
'The greatest mistake of our lives'
Two groups of Taliban and "Islamic State of Iraq and Syria" (ISIS) members recently surrendered in Jawzjan Province, according to Raza Ghafuri, a spokesman for Jawzjan's governor.
"On October 17, Qari Ebrahim, a Taliban commander who for years had been fighting government forces in Qush Tepa and Darzab districts, along with nine of his men and their weapons, joined the peace process," he told Salaam Times.
Gafuri called the surrender of the Taliban group "an effective development in securing the areas in which they were once active".
"On the same day, four ISIS fighters joined the peace process," he added.
"The [Afghan] government provides good living conditions, a range of financial privileges and incentives, as well as employment opportunities, for those insurgent units who denounce the war and join the peace process," Ghafuri said.
Ebrahim admitted his errors and called on others to join the peace process.
"I, as well as all those Afghans who have sworn allegiance to the Taliban, have committed the greatest mistake of our lives," he told Salaam Times. "Being a member of the Taliban means hostility towards the Islamic nation of Afghanistan."
"I call on other Afghans who are in the ranks of the Taliban and are fighting the Afghan nation to lay down their arms and work for the peace and security of their homeland," he said.
Peace process is only way forward
In Bamiyan Province, Qari Noorollah, another Taliban member, surrendered to security forces October 23.
"I was a member of the Taliban for six years, and I was working in northern provinces, especially in Baghlan Province," he told Salaam Times, adding that he spent some time outside Afghanistan training to carry out a suicide attack.
"I came to Bamiyan Province to conduct a suicide attack against a mosque during the month of Muharram," he said. "Upon the realisation that suicide is prohibited in Islam, and following the advice I received from members of my family, I surrendered to security forces."
"In the six years that I was a member of the Taliban, I saw nothing good from the Taliban, only killing, oppression and the destruction of Afghanistan's infrastructure," Noorollah said.
Joining the Afghan-led peace process is the only way to stop the war and for Afghanistan to succeed, he said.
Ordinary Afghans feel the same way.
"Once the Taliban join the peace process, war and violence will disappear," said Mohammad Naseem, 45, a resident of Kabul, adding, "The cessation of war is the sole guarantee for the success and stability of our country."
"If the Taliban quit fighting and lay down their weapons, all Afghans will see them as their compatriots," he told Salaam Times. "If they continue their unlawful war, however, we will consider them enemies of our people and our country."