HERAT -- Dozens of Afghan women from six provinces convened last week for a Peace Mothers conference in Herat, a programme created by Afghanistan's High Peace Council (HPC) to promote peace in society.
The women, some of whom came from insecure areas and regions, gathered in Herat city December 23-26 to discuss ways to help advance the peace process in the country.
The objective of the Peace Mothers conference is to create a network of women who can share experiences for the purpose of creating a peaceful society, according to Habiba Sarabi, deputy head of the HPC.
"Ninety women from nine Afghan provinces are members of Peace Mothers, and this programme will expand to include all provinces of the country," she told Salaam Times.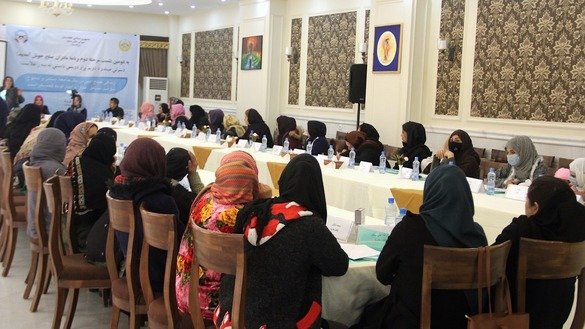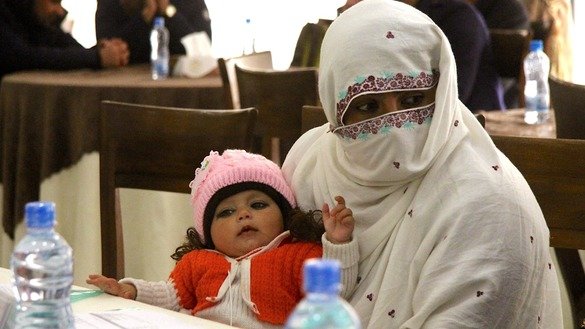 "This network is made up of women who work in our society specifically for the purpose of achieving peace," she said. "We are determined to promote social peace in Afghanistan and to have more women who are active in pursuit of social peace."
The HPC launched the Peace Mothers initiative last year. So far meetings have occurred in Kabul, Bamiyan and Herat provinces.
Women from six provinces -- Kapisa, Baghlan, Jawzjan, Herat, Laghman and Kunar -- participated in the latest meeting of the Peace Mothers, Sarabi said.
"Ten women have participated in the programme from each of these provinces," she said.
Dozens of women from civil society and women's rights advocates from Kabul also participated in the conference.
"This network can be very influential ... as these women are trying to promote the culture of peace in their areas," Sarabi said.
"We should not forget that women are respected in Afghan society and culture," she said. "As mothers, women are respected and play an extremely vital role in the family."
"It is the mother who manages the order in a family, and it is through this family order that a mother can play a crucial role in preventing her children from taking up arms or stirring ethnic and religious tensions."
"It is the mother who can bring up and train her children to accept others and be a peaceful individual," she said.
Mothers for social peace
The women who participated in the conference explained their motivations for working towards social peace.
"As a Peace Mother, I want security to be provided to us and we want war in our province to stop so that Afghans can live, study and enjoy their lives in peace and security," Hamida Taheri, a resident of Baghlan Province, told Salaam Times.
"We have done a lot of work on social peace and have achieved many results, and we are optimistic that peace will come to Afghanistan," said Farzim Fahimi, a resident of Jawzjan Province.
"I was born in Afghanistan during war," she told Salaam Times. "I went through my youth during wartime, and, as a mother, I am growing old in this war."
Fahimi said she wishes for the war to be over in Afghanistan, especially knowing the lifelong suffering of mothers who are widowed or who have lost children in the war.
"I want Afghan mothers no longer to suffer, their children not to be killed, and peace to come to Afghanistan," she said.
"After spending time with and speaking to many other Afghans, I have realised that Afghan mothers are truly concerned about this situation," Fahimi said. "They told me, 'We will encourage our husbands and children not to join the Taliban.'"
"The mother makes up the foundation of a family," Sima Stanikzai, another resident of Jawzjan, told Salaam Times. "Therefore, I am certain that soon we will reach peace if a proper role is given to [mothers] in the peace process because no child -- including those who are in the ranks of the opposition -- rejects his mother's demands."
Mothers stand to suffer the most in the Afghan war and play an indispensable role in promoting peace, she said. "Mothers do not want their children to get killed whether they are in the Taliban or in the Afghan security forces."
"We have joined the Peace Mothers voluntarily because all of us -- men and women alike -- need peace in our homeland," said Zarifa Yusufi, a resident of Baghlan Province. "All Afghans need peace because we simply cannot live without it. Mothers have lost their children and want peace and security to prevail in our country."
"We call on war-stricken mothers to prevent their children from taking a step in the wrong direction by joining the Taliban ranks," she told Salaam Times. "They should guide their children towards the path of virtue and teach them peace."
Ending the culture of war
"Unfortunately, the past 40 years of war in Afghanistan have affected many families," Sarabi said. "The culture of peace must be institutionalised in society and must replace the culture of war and fighting."
"We can start this culture through women as well as through families," she said, adding that "Eliminating domestic violence will have a positive impact on society."
The Afghan government and its allies have made significant progress in reaching a political solution to the war, thus preparing the grounds and conditions for talks with the Taliban, said Sarabi.
"The Afghan government and other countries involved are trying to provide and prepare this ground," she said, referring to efforts by Afghanistan, the United States and other international players to reconcile with the Taliban.
"However, we strive for women to play a part in political peace, as well as in social peace," Sarabi said. "We believe that sustainable political peace cannot be realised until social peace is achieved."
"Mothers shape the foundation of families," said Sajiya Baygum, a senior advisor to Afghan Chief Executive Abdullah Abdullah on women's and youth affairs.
"When a mother raises a child and presents him or her to society, he or she will play a vital role in the social structure provided that the child was properly raised," she told Salaam Times.
"The Afghan government provides women and families the opportunity and the necessary role to become involved in the peace process," she said. "In this peace process, the Afghan government is not the only responsible party because Afghans, and especially families, are also involved and accountable for this process."
"When a mother tells something to her family, the family members quickly accept it," she said. "This is even true about families of the armed opposition, which can eventually lead us to peace."