KUNAR -- A 45-strong Taliban fighting unit, Da Mashreqi Mahaz (the Eastern Zone's Front), has joined the peace process in Kunar Province.
The group had fought against the government over the past 15 years in Khas Kunar, Sarkano, Nurgal and a number of other districts in the province. It is the largest group to surrender in the province in more than a decade.
Provincial government officials arranged for a convoy of vehicles to escort the former Taliban insurgents from Khas Kunar District to the provincial capital, Asadabad, where a ceremony to welcome them took place on November 1. Salaam Times witnessed the event.
A welcome to peace
"We say welcome to these brothers who gave up fighting and joined this Islamic and legitimate government to help bring security and stop further bloodshed in the nation," Kunar Governor Wahidullah Kalimzai said at the ceremony.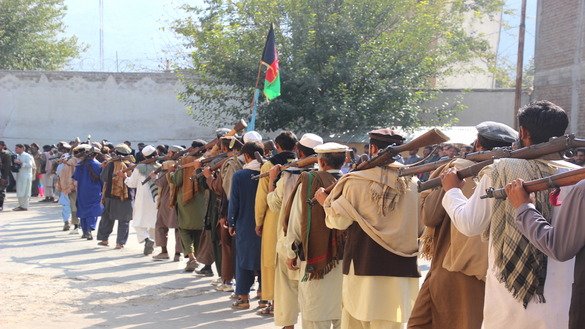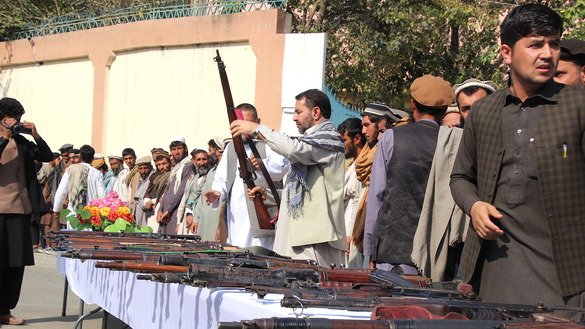 "If Kunar is a door to jihad, it is also the door to peace, and other groups are prepared to join the peace process," the governor said.
"We had been fighting so far, but we did not know that we were destroying our own country," Samiullah Malangyar, the commander of the group, said during the event.
"We thought that it was a fight for Islam. We were told that all government workers must be killed, and for this reason, we were fighting," said Malangyar.
"However, now we realise and understand that this fight is not for Islam, but instead ... for foreigners and politics," he said. "Therefore, we came and surrendered our arms and we will try our best to take part in the reconstruction of the country."
Jamaluddin Sayar, the chairman of Kunar's provincial council, urged Afghans to come together and for militants to surrender. "If we do not unite, our country will be destroyed further, and I am calling on other armed men to come and not fight for the benefit of others anymore. This country needs unity and reconstruction; it does not need the gun and the sword."
Now is not the time of the sword -- it is time for construction and peace, he said, adding that the government has to provide former militants with work opportunities so they can have a peaceful life.
More insurgents expected to seek peace
Malangyar will receive a monthly payment of 8,000 AFN ($117) for six months; those under his command will get 6,000 AFN ($87) per month, Kunar Provincial Peace Council Chairman Mohammad Ismail Andalib said.
"We are trying to provide [them] with vocational training and work opportunities so that their lives improve," he added.
More Taliban militants will join the peace process in the near future, said Malangyar and Kalimzai both.
Malangyar said that he had spoken with a number of other Taliban commanders who expressed intentions of surrendering soon and living as civilians.
"So far, 465 insurgents who opposed the government have joined the peace process in Kunar Province and 45 others are here who [surrendered] today, which brings the total to 510 who have joined the peace process in Kunar," said Kalimzai, without specifying the period in which the 465 surrendered.
"We have spoken to another 180 [militants] who will soon stop their armed activities," he said. "We are busy preparing for their arrival."