NANGARHAR -- The National Directorate of Security (NDS) on May 23 presented four detained "Islamic State of Iraq and Syria" (ISIS) would-be suicide bombers and seven Taliban militants to the media in Nangarhar.
The ISIS members planned to strike a government building in Jalalabad but were arrested by Afghan forces, the NDS said at its regional office in the provincial capital.
The detained militants included one in charge of training the group's members, said Nangarhar Governor Shah Mahmood Miakhil at the event.
One of the detainees was from Pakistan, he noted.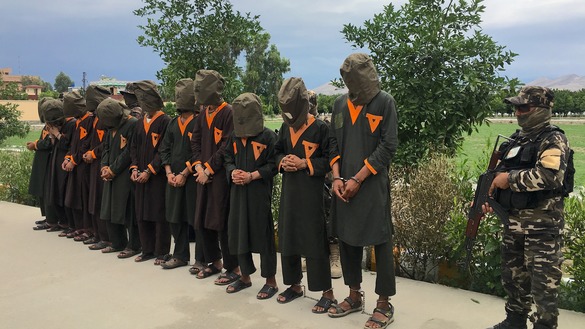 Maj. Gen. Nazar Ali Wahedi, director of the NDS office in Nangarhar Province, rebuked the ISIS militants for planning to attack innocent Afghans.
"Who is the infidel here whom you have come to kill?" he asked. "Islam is a religion of peace. It does not say that you should kill each other. Do not destroy your country."
Arrest of Taliban fighters
The NDS also presented seven Taliban fighters whom security forces captured in several districts of Nangarhar in the past week.
The insurgents were arrested in Jalalabad as well as in Khogyani, Ghani Khel, Momand Dara and Behsud districts, according to Miakhil.
Some of the insurgents were attempting to plant land mines when troops nabbed them, he added.
Abdul Manan, one of the arrested Taliban members, admitted to attacking security forces while also fighting against ISIS members.
The group was "fighting mostly against ISIS, and sometimes we attacked government security checkpoints", the 28-year-old said at the event.