JALALABAD -- During the past few months, Afghan National Defence and Security Forces (ANDSF) have increased their efforts to arrest militants operating or hiding out in Nangarhar Province.
Afghan forces have captured about 200 members of the "Islamic State of Iraq and Syria" (ISIS) and of the Taliban in the past three months, Ataullah Khogyani, spokesperson for the Nangarhar provincial governor, told reporters Tuesday (September 18).
"Seven ISIS militants and one Taliban member were arrested in the past week," he said as he presented a group of detainees to the media at the National Directorate of Security (NDS) provincial compound in Jalalabad. "One of the ISIS members was too young [to be tried as an adult], and we sent him to the children's training centre. Two more were sick and could not come here."
The suspects were arrested in various parts of the province, he said.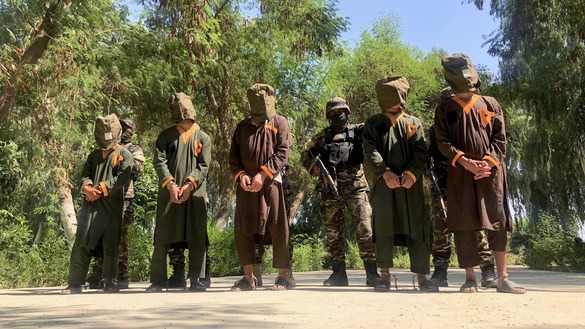 "Among the arrested ISIS militants, three were residents of Bati Kot District, two were residents of Rodat [District], one was a resident of Kaama [District] and one was a resident of Manogi District [Kunar Province]," Khogyani said. "The Taliban member once lived in [Khyber Pakhtunkhwa, Pakistan]; however, he originally comes from Azra District, Logar Province."
Suspects confess
The detainees have confessed to their crimes and face further investigation and prosecution, according to Khogyani.
Afghan forces seized a cache of weapons and roadside bombs as well as a number of Afghan National Army (ANA) uniforms during the operations. Authorities presented the items to media at the NDS's facility in Nangarhar.
Nangarhar residents lauded the ANDSF's resolve to defeat ISIS.
"In the past, [ISIS] fighters were killing more [Afghans] and they were more powerful, but now their forces are eliminated," Obaidullah, 32, a resident of Haska Mina District, told Salaam Times. "There may be some [fighters] remaining in the mountains, but the rest of them either left, escaped or were bombarded."
The Taliban and ISIS suspects will be tried in court, so they become an example and so that the public can learn about the real face of such groups, Nangarhar Governor Hayatullah Hayat told a tribal gathering on September 15 in Jalalabad.