HERAT -- Afghan border forces Monday (July 8) arrested two Iranian military personnel after they illegally entered Afghanistan in Lash Juwin District, Farah Province, local officials said.
The individuals were captured on Afghan soil, far from the border with Iran.
"Two Iranian citizens who were wearing military uniforms and were carrying one DShK machine gun were arrested by Afghan security forces," said Mohibullah Mohib, spokesperson for Farah provincial police. "They were driving a military vehicle."
"We have launched an investigation ... as it is not clear what these individuals were after inside Afghanistan," he said.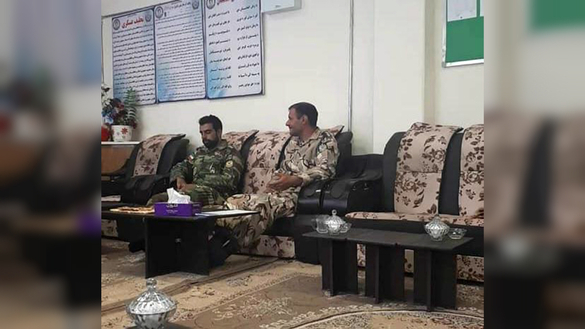 "Perhaps the detainees intended to attack Afghan forces or were spying on our forces," Mohib said. "If this is the case, we will bring them to justice."
Local authorities alerted the Interior Ministry about the security breach, Mohib said. "We are seriously investigating, and the Iranian embassy in Kabul has already been notified."
The suspects are being held near the Iranian-Afghan border in Sheikh Abu Nasr Farahi Port, Farah Province, he said.
Ghulam Farooq Barakzai, a spokesperson for the Farah governor, confirmed the arrests.
"They were far from the border in Lash Juwin District," he said. "We are investigating."
"Until we clarify this matter, the Iranian soldiers are in the custody of Afghan security forces and will not be released," Barakzai said.
"Iranian authorities have not yet reacted or spoken with local authorities in Farah," he added.
Support for the Taliban
The Iranian regime has long been accused of supporting Taliban militants and equipping them with weapons. The United States in April designated Iran's Islamic Revolutionary Guard Corps (IRGC) as a terrorist group for exporting terror around the world.
The Iranian government, via the Taliban, is trying to achieve its political, intelligence and economic goals in Afghanistan, say Afghan officials.
Last November, former Farah Province police chief Gen. Fazl Ahmad Sherzad accused Iran of being behind a Taliban attack on Afghan border forces in Pusht-e-Koh District.
The November 6 Taliban attack, one of the deadliest against Afghan border forces, killed at least 20 troops. Another 20 were captured.
"Because our borders are [not fenced], interference by our neighbouring countries, especially Iran, has always existed, and we have repeatedly expressed our concerns," said Dadullah Qani, a member of the Farah Provincial Council. "This interference was proved by the arrest of Iranian soldiers inside Afghanistan."
Qani accused the Iranian military of flouting Afghanistan's sovereignty.
"We have heard many times that wounded Taliban fighters are being taken to the other side of the border for treatment, and the Taliban are moving freely in Iran," he said.
"There are no restrictions on them inside Iran," he added.
"Perhaps, these two military personnel entered Afghanistan to help Taliban commanders," he said, referring to the two Iranian soldiers in custody.
"The Taliban alone cannot manage the war in Farah Province; they have nothing," Qani said. "But behind them are foreign generals who plan and manage their war."
Disrespecting Afghan sovereignty
Gen. Nurullah Qaderi, former commander of the 207th Zafar Corps of the Afghan National Army based in Herat Province, accused Iran of playing a double game with Afghanistan.
"We have an external enemy, and we are struggling on many fronts," he told Salaam Times in July 2018.
Even though the countries share a 921km-long border, "Iran is our enemy," he said.
"Iranian interference has been taking place for many years now," said Sayed Ashraf Sadaat, a civil society activist based in Herat Province.
"When the Iranian soldiers entered Afghanistan, it was not by mistake," he said. "They crossed the border to commit destructive acts and to assist the Taliban."
"This act of the Iranian military could have a negative impact on the relationship between Afghanistan and Iran," he said, urging the government to "investigate this matter seriously".
"Iran has always portrayed itself as a good neighbour, but behind the scenes, we have proven that the Iranian government has been involved in sabotage in Afghanistan," he said. "Iranian-made land mines and weapons obtained from Taliban militants inside Afghanistan are the evidence."
"There is no doubt that Tehran has increased its support for the Taliban against the United States and the Afghan government," said Abdul Qader Kamel, a political analyst in Herat Province.
"When Iranian soldiers enter Afghan soil in broad daylight, it indicates that Iran has no respect for good neighbourliness and Afghan sovereignty; therefore, such irresponsible and provocative acts must be dealt with seriously," he said.