LAGHMAN -- About 200 religious scholars and tribal elders from Nangarhar, Kunar and Laghman provinces have renewed their support for the Afghan National Defence and Security Forces (ANDSF).
They pledged their support at a gathering December 6 at the headquarters of the 201st Silab Corps of the Afghan National Army in the Gamberi area of Laghman Province.
They called Taliban and "Islamic State of Iraq and Syria" (ISIS) fighters "a disgrace" and said their fight against the government is "illegitimate".
"We are proud of all of our security forces, and we trust them," religious scholar Mawlawi Mohammad Yunus said at the event. "The government's opponents have started an illegitimate fight, and they have to stop it. Our army is an Islamic and pro-religion army."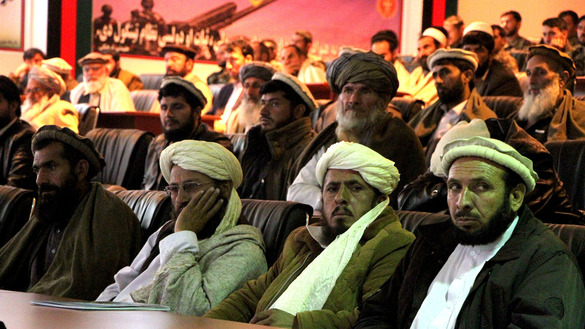 ""We call on all of the [country's] opponents -- come over to us and do not martyr your compatriots while fighting for foreign intelligence," he said.
All Afghan religious scholars should support the government and take part in strengthening this system, he said.
"ISIS members are absolutely Kharijites, and the Taliban are also puppets of others," said Mawlawi Abdul Zahir Haqqani, director of the Hajj and Religious Affairs Ministry's office in Nangarhar, referring to an ancient Muslim extremist sect. "They want to disgrace our religion, and we should fight them."
"The government's opponents have started an illegitimate war," he said. "Our country is an Islamic country, and our security forces defend both our country and religion; therefore, everyone is obligated to support his security forces. This is our obligation, and we have to fulfill it."
ANDSF, the pride of the nation
Shah Mard, a member of the Laghman Provincial Council, also spoke at the event. He reiterated calls for all Afghans to support the security forces.
"We have supported our forces before, and we support them now," he said. "We will continue this support because they are defenders of our country and dignity. Their existence is our existence."
"I am very proud of my dozens of relatives who serve in the police and army," he said. "This is a great source of pride for me and my family."
"Rest assured that without these forces, theft, robbery and killing would have increased beyond our imagination," he said. "It is a blessing of Allah that he has given us an army, he has given us police and he has given us frontier forces. There is no bigger reason for pride than this."
Maj. Gen. Mohammad Zaman Waziri, commander of the 201st Silab Corps, thanked the participants of the event for expressing their support for Afghan security forces.
"The armed forces have also relied on the nation, and it is the nation that has supported us," he said. "Whatever we do, we do it for you and for this soil. We assure you that we have defeated the enemy and that it will never rise again with any strength. If it rises, we will crush it."
"We have killed up to 1,447 ISIS, Taliban and or other terrorist group fighters this year [2017] alone," Waziri said.
"We will defend our country with full courage. We are stronger and more equipped than we were in the past," he said.