NANGARHAR -- Religious scholars in eastern Afghanistan, under recent authorisation from Afghanistan's High Peace Council (HPC), have begun speaking with Taliban militants to persuade them to join the peace process.
About 500 religious scholars from Nangarhar, Kunar, Laghman and Nuristan provinces pledged their support for an Afghan-led peace process in a consultative meeting with a delegation from the HPC's leadership held February 27 in Jalalabad.
Together they called on the Taliban to cease fighting, saying violence will not solve the militants' problems and that only peaceful means will enable them to attain their goals.
"You may talk to insurgents in your areas to [urge them to] come and join the peace process," HPC Deputy Chairman Mawlawi Attaurahman Saleem told participants.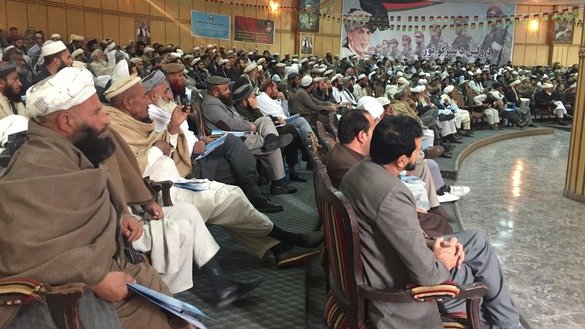 The newly authorised effort already has yielded results.
"Religious scholars have been in contact with the Taliban and ['Islamic State of Iraq and Syria' (ISIS)] in the past, but after the Jalalabad meeting, they have doubled their efforts for bringing peace," Malik Nazir, chairman of the Nangarhar Provincial Council, told Salaam Times Friday (March 16).
"Some religious scholars have put some Taliban militants in touch with us, and we are working on how to bring them into peace process," he said.
Afghan President Ashraf Ghani proposed a plan for peace talks with the Taliban during an international conference in Kabul February 28. He called for a cease-fire after which the Taliban could become a political party.
Importance of religious scholars
"The purpose of this meeting is to express the role of religious scholars and to gain their support throughout the country," Saleem said during the February event.
"We will conduct such meetings and gatherings of religious scholars in various provinces so that we can raise a united and national voice among all the scholars for peace," he said.
"The fighting going on in the country is imposed by foreigners, and only the religious scholars can rescue Afghans from these miseries," Nangarhar Governor Mohammad Gulab Mangal said at the meeting.
Religious scholars have an essential role in making peace, he said. He called on participants to deliver the call of peace to the rest of Afghanistan, especially to insurgents.
Islam is the religion of peace and the militants' fight for Islam in Afghanistan is illegitimate, said Mohammad Amin Waqad, a member of the HPC's executive council.
"If the fighting in Afghanistan is for preserving [legitimate] Islamic and national values, then tell me which neighbouring countries have kept national and Islamic values better than [the Afghan government]," he said during the meeting. "This fighting serves others."
A dignified peace process
"All of the religious scholars of this province, and especially the preachers and imams of mosques, are supporting efforts for reaching peace," Mawlawi Abdul Basir Basirat, a representative of religious scholars from Nangarhar, told the gathering.
Religious scholars are independent and can easily go to insurgents to conduct peace negotiations and express the value of peace to them, he said.
Mawlawi Rahimullah, a representative of Kunar Province religious scholars, urged transparency within the HPC.
"The council should not have members who have fought insurgents," he said, meaning that it should have individuals without grudges or grievances against the Taliban. "Independent and trustworthy [Afghans] should become members of the peace council."
The peace process should be arranged in a dignified manner, said Mawlawi Gul Nabi, a representative of Laghman Province religious scholars.
Militants who join the peace process should receive legitimate opportunities for work, not a shovel for hard labour, he said.