KABUL -- Afghans from all segments of society are raising their voices to call for peace through an Afghan-led dialogue and political process.
During the past seven months, the Afghan High Peace Council (HPC) has held meetings and negotiations with a variety of Afghan citizens to find a consensus on the path to peace.
The meetings found that all of Afghanistan's various societal groups want the establishment of peace and that they consider peace a national necessity, HPC Chairman Mohammad Karim Khalili said at one such meeting in Kabul February 20.
Tribal elders and representatives of provincial councils from all 34 Afghan provinces, as well as former mujahideen commanders, participated in the meeting.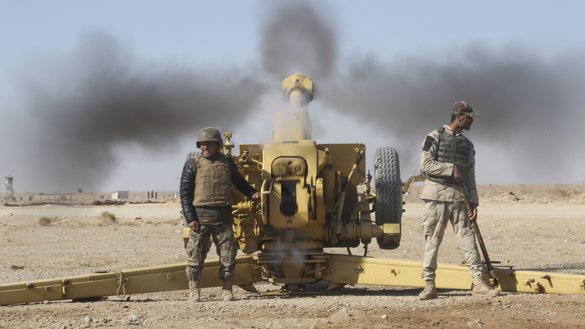 Militants on the 'wrong path'
The council also has met with politicians, civil society members, religious scholars, journalists and ordinary residents both in the capital and throughout the provinces to hear a variety of views on the best path forward, Khalili said.
"How long should our children, our women, our men, our elders and our youth be killed every day by suicide attacks and explosions? How long should Afghan youths fall on the ground?" he said.
"Foreigners are the ones who impose the war on us, but it is our Afghan youth on both sides who are falling victim," Khalili said, adding that terrorist attacks such as those on the Intercontinental Hotel and Sadarat Intersection in Kabul are part of foreign attempts to disrupt Afghanistan's peace efforts.
"I remind the insurgents that war is not the solution. You will never achieve your goals through war," he said. "If you think that you are going to reach your objectives with more suicide attacks, explosions and wars, then you have taken the wrong path."
Lasting peace on the horizon
"A lasting peace will be possible in the context of an intra-Afghan dialogue and through an Afghan agreement," Khalili said. "We are prepared for it. We respect the views of the other sides."
"In spite of the atmosphere created by suicide bombings and other explosions, we will not be discouraged in following our objectives," he said. "Let's sit down in a logical and rational way and save the country."
Khalili also praised Afghan security forces as "sources of pride for all Afghans".
"We thank them and are proud of them," he said.
Following leadership changes within the HPC, "the council has become more active than before", said HPC deputy chairwoman Habiba Sarabi.
"Council members have stepped up their efforts to provide peace," she told Salaam Times. "We hope that these efforts will bear fruit and will eventually result in peace."
The HPC is "trying to have women play a role in the peace process", she added.
"Nowadays women, including the ones who work at the council leadership level and those who are active in other categories, possess good experience," she said.
Afghans 'fed up with war'
Afghan citizens have welcomed the efforts of the HPC to reach a consensus on peace.
"We, the youth, are all fed up with wars and killings," Ahmad Baset Ahmadi, a high school graduate from Kabul, told Salaam Times. "We hope to see the day when peace arrives in this country."
"The HPC has recently held many consultative meetings," he said. "We are also optimistic that these meetings and consultations will be eventually beneficial so that we will be able to achieve peace."
"We, the people of Afghanistan, will be happy with every effort made towards peace," Yasmin Juya, a computer science student at a private university in Kabul, told Salaam Times. "Our country has been at war for 40 years, and we are all tired of it."
"Inhabitants of other countries are thinking of progress and development," she said. "Unfortunately for us, however, we become victims of war every day."
"It is now high time for the Taliban and other groups to give up fighting and to take the path of dialogue," Yasmin said.
"If power is what the Taliban are after, then the best way to gain it is through political involvement," she said. "In other words, they should participate in elections."
Peace from a position of strength
Until the militants lay down their arms and join the government on the path to peace, Afghan and coalition forces should continue to raise pressure on the battlefield, security officials and analysts say.
Afghan National Defence and Security Forces (ANDSF) operations under way in more than 10 provinces have been effective in suppressing enemy forces, Gen. Mohammad Radmanesh, a spokesman for Afghan Ministry of Defense, told Salaam Times.
"We are prepared for all kinds of threats, and we use all of our capabilities," he said. "We are hopeful about next year, and we are looking forward to a better situation for Afghanistan."
The military should not reduce pressure on the militants, said Farooq Bashar, a former professor of law and political science at the University of Kabul.
"Peace is achieved from a position of strength," he told Salaam Times. "That is, peace can be achieved when either the government or enemy forces become weak."
Currently, the Afghan government has the upper hand as ANDSF and US forces are increasing pressure on Taliban networks and drug labs, a huge source of funding for the militants, he said.
"With this position taken by the United States and the seriousness of the Afghan government, we are witnessing the growth of peace-seeking movements in Afghanistan and Pakistan," Bashar said.
Bashir Bijan, a former Afghan journalist turned political affairs analyst in Kabul, welcomed the HPC's consultative meetings while urging a continuation of the fight.
"The war to crack down on terrorist groups should not be stopped for any reason, until the foe is forced to accept peace," he told Salaam Times.