KABUL -- Eleven suspects have been detained in connection to a spate of deadly attacks in Afghanistan, President Ashraf Ghani said Friday (February 2), as he vowed to take revenge for the bloodshed.
The government is under growing public pressure to improve security in Kabul after three major attacks in the past two weeks.
Atrocities by the Taliban, ISIS
Since January 20 in Kabul alone, militants have stormed the Intercontinental Hotel, bombed a crowded street near Jamhuriat Hospital with an ambulance packed with explosives and raided a military compound, killing more than 130 people in the three terrorist acts.
An office of Save the Children in Jalalabad was also attacked. Five people were killed, said officials.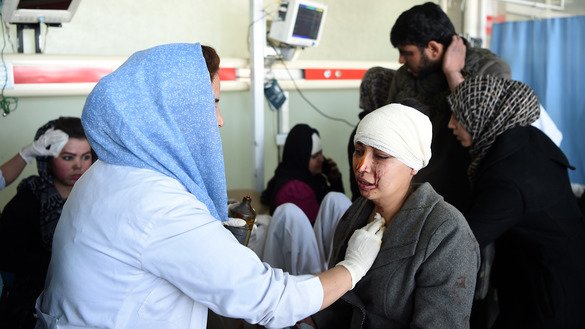 The Taliban claimed responsibility for the January 20 attack on the Intercontinental Hotel and the January 27 ambulance bombing. The "Islamic State of Iraq and Syria" (ISIS) claimed the January 24 attack on Save the Children and the January 29 raid on the military compound.
Never forget
"People will not forget. Even if it takes a hundred years, the Afghans will take their revenge," Ghani said in a televised address to the nation after Friday prayers. He gave no further details about the 11 detained.
Officials will submit a new security plan for Kabul Sunday (February 4), Ghani said, speaking inside the heavily fortified presidential palace.
Afghans "demand" peace and want "practical actions", he added.
His remarks came a day after Afghan officials said they had handed "undeniable" evidence to Pakistan that they claimed showed the recent attacks were planned on Pakistani soil.
The Pakistani embassy in Kabul said the information was "being examined for its authenticity".
Afghanistan has long accused Pakistan of providing safe havens to leaders of the Taliban and other militant groups.
Pakistan denies the charges, insisting it has eradicated safe havens in the tribal region along the border with Afghanistan.