KABUL -- Condemnation is pouring in on the Taliban after six of its members went on a 12-hour murder spree at Kabul's International Hotel starting Saturday night, killing at least 19 people and setting fire to parts of the six-story building.
The attack ended Sunday (January 21) with all six attackers killed by Afghan forces, aided by Norwegian troops, said officials.
The Taliban claimed responsibility for the assault via email.
Terrified hotel guests climbed down bedsheets tied to balconies to escape the gunmen rampaging through the hilltop hotel overlooking Kabul, and television footage showed black smoke and flames billowing from the hotel.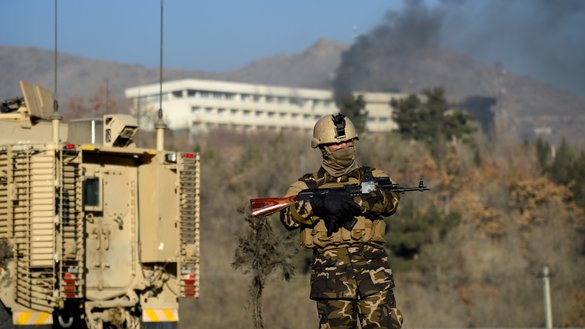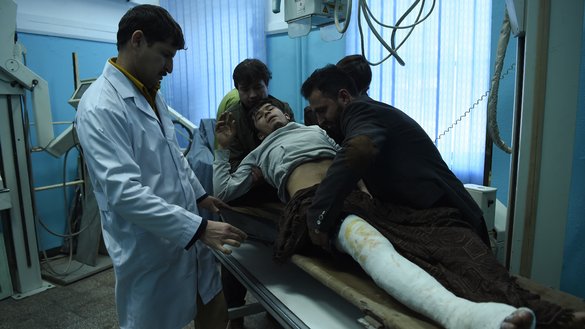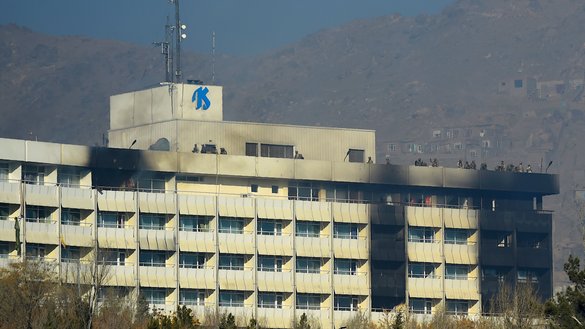 Special forces were lowered by helicopters during the night onto the roof of the landmark 1960s building.
Interior Ministry spokesman Nasrat Rahimi said an investigation was ongoing into the attack. Speculation is surrounding how militants breached security, which a private company began providing three weeks ago.
Counting the dead, wounded
At least 14 foreigners and five Afghan citizens were among the dead, with more than 160 people rescued, Najib Danish, another Interior Ministry spokesman, told Salaam Times Monday.
The Taliban-linked Haqqani Network was behind the attack, insisted Danish.
Twenty-two bodies were taken to Kabul hospitals, Health Ministry spokesman Waheed Majroh said Monday. "Some of the bodies [are] burned badly and need DNA tests," he said.
Some reports suggested more than 40 lives were lost.
Eleven workers from Afghan airline Kam Air, including 7 Ukrainians, were among the dead, according to Danish. The company's CEO, Capt. Samad Usman Samadi, earlier said 42 of its personnel had been at the hotel during the attack.
Senior Afghan diplomat Abdullah Poyan was killed, a Foreign Ministry official told AFP.
Mufti Ahmad Farzan, a member of Afghanistan's High Peace Council who was responsible for reconciliation efforts with militants, was also killed, said Danish.
'Kill the foreigners'
The attackers burst into the hotel Saturday night, opening fire and taking dozens of hostages, said officials.
Afghan Telecom regional director Aziz Tayeb, who was one of dozens of hotel guests attending an IT conference, said he saw the attackers enter.
"Everything became chaotic in a moment," he told AFP. "I hid behind a pillar, and I saw people who were enjoying themselves a second ago screaming and fleeing like crazy, and some of them falling down, hit by bullets."
A hotel employee said he saw two "fashionably dressed" gunmen in the hotel restaurant before the assault began.
"It was around 8.30pm... They were sitting in the corner of the hotel, and they immediately started spraying bullets," the 20-year-old employee, who gave his name as Hasibullah, told AFP from his hospital bed.
He ran to a fifth floor room and locked himself inside, though not before seeing "many" bodies on the ground.
The gunmen went from door to door opening them "with daggers and shooting everyone". They were searching for foreigners, according to Hasibullah, though Afghans were not spared. "They were saying 'kill the foreigners'," he said.
He leapt from a window. "I fell on people lying in blood... it was horrific."
Knocked unconscious, he awoke in a hospital with a broken leg and other wounds.
'Enemy of humanity'
The Taliban attack has been widely condemned by both Afghans and the international community.
President Ashraf Ghani condemned it and praised the Afghan National Defence and Security Forces (ANDSF) -- in particular a special police unit -- for preventing many casualties, said a Sunday statement from his office.
"Attacking public spaces and murdering innocents are not allowed in any religion. Whoever carries out such attacks is seriously violating Islamic orders and is considered an enemy of humanity," Mohammad Salem Hasani, a Kabul-based Afghan religious scholar, told Salaam Times.
"We fiercely condemn this attack on the Intercontinental Hotel that killed and wounded a number of civilians. We call on militants not to target civilians or public institutions and areas. They shouldn't commit more crimes and violate human rights," Bilal Sediqi, spokesperson for the Afghan Independent Human Rights Commission (AIHRC), told Salaam Times.
Pakistan's Foreign Ministry also issued a statement Sunday expressing "deep grief and sorrow at the loss of precious human lives and the injuring of many others in this terrorist act".
"We reiterate our strong condemnation of terrorism in all its forms and manifestations," the ministry said.
The United States remains "firmly committed to supporting Afghan efforts to achieve peace, security, and prosperity for their country. Violence like what we witnessed yesterday has no place in Afghanistan, or anywhere else in the world," said US Secretary of State Rex Tillerson in a statement Saturday.
"We have seen the Taliban's claim of responsibility and condemn terrorist groups for their violent campaign against Afghan and foreign personnel working to improve Afghanistan," he said.
Taliban assaults intensify
The attack followed security warnings in recent days to avoid hotels and other locations frequented by foreigners in Kabul.
The attack on the Intercontinental was just one of several bloody assaults Sunday carried out by the Taliban, which is receiving support from Iran and Russia.
In a village in Balkh Province, Taliban militants went from house to house in the middle of the night, pulling police from their homes and shooting them dead.
At least 18 officers were killed, deputy police chief Abdul Raziq Qaderi told AFP.
In Herat Province, at least eight civilians were killed when a car hit a Taliban-planted roadside mine, officials there said.
[Sulaiman from Kabul contributed to this report.]