KABUL -- One of the most senior figures in Afghanistan's Taliban government hailed the sacrifices of suicide bombers during a meeting in Kabul following some of the bloodiest weeks of terrorist attacks in the country.
Interior Minister Sirajuddin Haqqani, himself a designated terrorist with a $10 million (900 million AFN) bounty for his arrest, gave the remarks Monday (October 18) at the Intercontinental Hotel, which Taliban gunmen stormed in 2018, killing at least 19 people and taking dozens of hostages.
Pro-Taliban social media accounts and local media on Tuesday published images of the minister praying and embracing men said to be family members of former Taliban suicide bombers.
"Haqqani praised the jihad and sacrifice of the martyrs and mujahideen," calling them the "heroes of Islam and the country", Afghan state broadcaster RTA reported.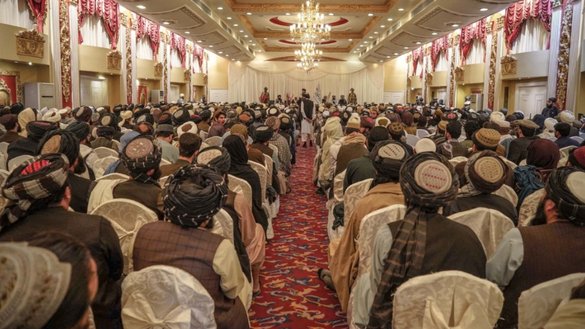 It said Haqqani "stressed that we must refrain from any betrayal of the aspirations of the martyrs", and promised $125 (11,000 AFN) and a plot of land for each family.
Formed by Sirajuddin's father, Jalaluddin, the Haqqani Network is the most violent faction of the Taliban, blamed for some of the deadliest attacks in Afghanistan during the last two decades.
Thanks to its financial and military strength -- and a reputation for ruthlessness -- the network is considered semi-autonomous while remaining within the Taliban fold.
Haqqani terror links
In February, the former Afghan government arrested members of a terror cell comprised of members of the Haqqani Network and ISIS-K.
Former National Directorate of Security (NDS) spokesman Haris Jebran said at the time that "the Haqqani Network takes care of planning and providing resources, while ISIS launches the attacks and takes responsibility".
Also in February, Sirajuddin Haqqani's son, Saifuddin, was reported to be operating with Osama bin Laden's grandson, Nasruddin, in Badghis province amid growing evidence of persistent ties between the Taliban and al-Qaeda.
The Taliban are now battling the Khorasan branch of the "Islamic State of Iraq and Syria" (ISIS-K), which has carried out a string of devastating suicide bombings in Afghanistan in recent weeks.
On October 15, ISIS suicide bombers attacked the Fatemiyyeh mosque in Kandahar, killing at least 33 people and injuring 74 others.
Another attack on October 8 in which an ISIS-K suicide bomber hit a mosque in Kunduz, killing at least 100 people, has been seen as a warning to the Taliban over its ties with China.