KABUL -- As the Taliban forge ahead to build an alliance with China, the risk to Afghanistan's security and stability is compounding, analysts warn.
Last week's blast at a Shia mosque in Kunduz is an example of the risks of leaning on China for support, they say.
The "Islamic State of Iraq and Syria" Khorasan branch (ISIS-K) claimed responsibility for the October 8 explosion, saying the suicide bomber "was from the Uighurs, whose expulsion the Taliban have pledged to achieve in response to China's demands and in service of China's anti-Muslim policies [in Xinjiang]".
The blast killed about 100 Shia Muslims and injured scores, according to locals, the latest in a string of attacks on Afghanistan's minority community, considered heretics by Sunni Muslim extremists like ISIS, al-Qaeda and the Taliban.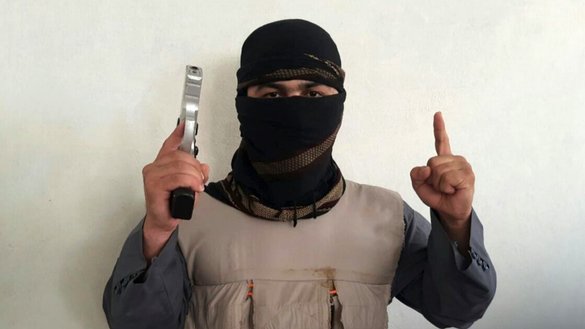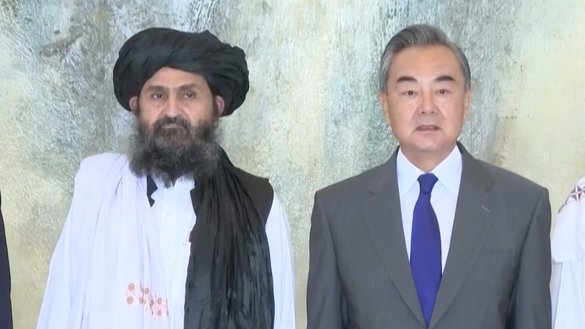 The Uighur connection
The Taliban allowed Uighur groups to operate in Afghanistan during their rule in the 1990s, but recently the Taliban have been moving Uighur militants away from an area near Afghanistan's border with China, Radio Free Europe/Radio Liberty (RFE/RL) reported October 5.
The move signals growing co-ordination between Beijing and the Taliban, who want to assuage China's security concerns, analysts say.
Beijing fears Afghanistan being used as a staging ground for Uighur separatists from the Xinjiang region. Of particular concern to China are the Taliban's ties with the East Turkestan Islamic Movement (ETIM) and its successor, the Turkestan Islamic Party (TIP).
Beijing has used the existence of the ETIM and TIP to justify its crackdown in Xinjiang, although no significant terrorist incidents have been reported in the region since 2017.
Chinese authorities have imprisoned more than one million Uighurs and other Turkic Muslims -- including ethnic Kazakhs and Kyrgyz -- in hundreds of "political education" camps, pretrial detention centres and prisons in Xinjiang.
Beijing defends the facilities as "vocational training centres" aimed at stamping out terrorism and improving employment opportunities.
These facilities, however, are widely reported to be involuntary detention centres that some have likened to "concentration camps" where horrific abuses occur.
Taliban seeking power, wealth
The Taliban profess to be safeguarding Islam, but recent actions demonstrate they are neither fighting to save Islam nor to liberate Afghanistan but for power and wealth, said Afghan political analyst Farid Munir.
"The expulsion of Uighur Muslims from their homes is an undeniable action by the Taliban to gain political support and legitimacy from the Chinese government," he said.
"While on one hand the Taliban claim to safeguard Islamic values and create an Islamic system," Munir said, "on the other hand, contrary to their slogans, they have orchestrated a plan with the Chinese government to suppress Uighur Muslims living in Afghanistan to ensure China's political and economic interests."
Unfortunately, he said, the Taliban's co-operation with China in suppressing the Uighurs will certainly arouse their anger toward and hatred of the Taliban, and they will launch more attacks like the Kunduz suicide bombing.
China oppresses Uighur Muslims in various ways, including putting their men and women behind bars and committing brutal torture and oppression, said Sayed Rafiullah, 35, a pharmacy owner in Kabul.
"Unfortunately, the Taliban has allied with Beijing to annihilate Uighur militant fighters in Afghanistan in order to serve the Chinese government's agenda," he said.
If the Taliban continue to maintain ties with the Chinese government and to suppress the Uighurs and other Chinese opposition at Beijing's behest, the Uighurs will continue their reprisals, Rafiullah said.
"In such circumstances, the Taliban will be responsible for killing of many more innocent Afghans."
Exporting China's war to Afghanistan
China is deeply concerned about any geographic expansion of Uighurs and the ETIM and is trying to build a strong relationship with the Taliban in order to contain them, said Azizuddin Maharej, an Afghan political analyst based in London.
"While Uighurs have forged an amicable relationship with [ISIS], the Taliban and China call Uighurs their common enemy," he said, adding that China expects the Taliban to destroy Uighur hideouts in border zones.
Afghans must be vigilant because China wants to drag its internal war into Afghanistan by using the Taliban to suppress the Uighurs, thereby trapping Afghans into yet another vicious cycle of violence, he said.
"Any Taliban commitment to China must take into account Afghanistan's national interests because repression of the Uighurs makes the situation in the country more volatile and unstable," Maharej said.
Afghanistan must not be used to fight others' proxy wars, said Wasiqullah Hekmat, a political science professor at a private university in Kabul.
"Afghanistan must be an independent country because historically Afghanistan's dependence on other countries has always been to our detriment," he said.
If the Taliban do whatever Beijing wants them to do, violence will escalate further, he said.
"China has never helped the Afghans," Hekmat said. "If it has pledged to support the Taliban, in return it has asked the Taliban to suppress the Uighurs in Afghanistan."
The deadly mosque bombing in Kunduz is an example of the kind of violence Uighur militants and ISIS are capable of, he said.
Allies with dangerous consequences
The Chinese regime is using the Taliban as a pawn to achieve its political, security and economic goals in Afghanistan and beyond, said Habib Stankezai, an international affairs student at a private university in Kabul.
The Taliban, desperate for legitimacy, have backed Beijing at any cost -- even by targeting their Uighur Muslim brothers, he said.
"Over the past 20 years, hundreds of thousands of Afghans have been killed or wounded in the ongoing conflict," Stankezai said. "But, China, as a member of the United Nations Security Council, has never taken any bold step to push for an end to the fighting or to condemn the killing of Afghans."
"The Taliban's disproportionate relations with China are not in our country's interest whatsoever," he said, adding that Beijing is pursuing only its own interests and does not care if the Uighurs carry out suicide attacks outside China or join forces with ISIS.
"The Taliban building close ties with China will have dangerous consequences for Afghanistan," Stankezai said.