KUNDUZ -- Afghans are expressing grave concerns about an increase in "Islamic State of Iraq and Syria" (ISIS) activity in their country following the Taliban's return to power.
While Taliban spokesman Zabiullah Mujahid has downplayed the ISIS threat, residents and commanders on the ground do not dismiss it so lightly.
Two members of the movement's intelligence services told Reuters this month that investigations of recent attacks in Jalalabad, Nangarhar province, have shown that ISIS's Khorasan branch (ISIS-K) remains a danger, even if it does not have enough fighters and resources to seize territory.
ISIS-K militants have been using the same tactics that the Taliban have used to target government officials and civil society figures: magnetic bombs usually stuck to the underside of cars, also known as sticky bombs.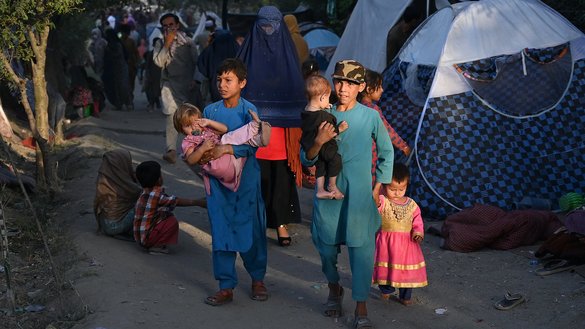 But now these attacks are targeting the Taliban themselves.
"We are worried about these sticky bombs that once we used to apply to target our enemies in Kabul," one of the Taliban intelligence officials told Reuters. "We are concerned about our leadership as they could target them if not controlled them [sic] successfully."
The latest estimates of ISIS-K's strength vary from 500 active fighters to as high as several thousand, according to a United Nations report in July.
However, a spree of prison breaks by the Taliban during their summer offensive freed many ISIS militants.
Deadly attacks on the rise
ISIS-K has been responsible for some of the deadliest attacks in Afghanistan in recent years, massacring civilians at mosques, shrines, public squares and even in hospitals.
The group claimed responsibility for a devastating suicide bombing near Kabul airport on August 26 that killed more than 100 Afghans and 13 US soldiers.
ISIS-K also claimed a "bomb attack" on "a Taliban vehicle" in Jalalabad on September 19, and "three separate bomb attacks" targeting three "Taliban vehicles" the previous day, AFP reported.
Witnesses told local media that several wounded Taliban fighters were taken to hospital and at least two people were killed in the string of explosions.
ISIS-K carried out three more attacks against the Taliban in Jalalabad last Wednesday and Thursday (September 22 and 23), killing six Taliban personnel, according to the group's Amaq propaganda outlet.
Three civilians were killed, said local media.
The reports could not be independently verified.
Meanwhile in Kunduz, residents say ISIS-K has launched covert operations in collaboration with the banned group Hizb ut-Tahrir in the districts of Khanabad, Dasht-i-Archi, Imam Sahib, Qala-e-Zal and Chahar Dara, as well as on the outskirts of Kunduz city.
A Taliban-owned pick-up truck was targeted by a sticky bomb in the centre of the district on September 2, said Mir Haidar Khaliqi, a tribal elder in Khanabad.
Four Taliban fighters were killed and another three injured in the attack, which Khaliqi blamed on ISIS-K.
On September 14, ISIS-K militants attacked a convoy of Taliban fighters in Tolaka locality in Kunduz city's 6th district, according to resident Sayed Wali Mirzazada.
"Based on credible information, ISIS-K militants ambushed the convoy as it was on its way to Kunduz city," he said, adding that during the ensuing heavy clashes, ISIS-K killed three Taliban fighters and seized their weapons.
Killings and kidnappings of Taliban fighters, well-known tribal elders and former government officials have been on the rise in several areas of Kunduz, including Zakhil Qadim, Zakhail Khadam, Ali Khel and Seh Darak.
Distrust among Taliban ranks
The Taliban have repeatedly declared that they will not allow any group to use Afghan soil to foment unrest in the country or to carry out attacks on other countries.
But some analysts say the return of the group to power has invigorated extremist groups like ISIS-K and al-Qaeda, which made Afghanistan its base when the Taliban last ruled the country in 1996-2001.
Kunduz residents say there is a climate of distrust in the Taliban's ranks since signs of ISIS-K activity started emerging in the province.
The Taliban have become distrustful of some members of their own group, suspecting them of establishing ties with ISIS-K, said civil society activist Ghulam Rasoul Muhammadi.
"The presence of ISIS is a wake-up call for the Taliban," he said, adding that it appears that senior Taliban leaders have been trying to identify those they suspect of cosying up to ISIS-K and removing them from their ranks.
ISIS-K is a "global threat" and the Taliban need help from the international community to eliminate the group's bases and hideouts, said Kunduz resident Muhammad Saber Zahiri.
The threat of extremism and terrorism spreading throughout Afghanistan all the way to Tajikistan and other Central Asian countries is real, according to political analyst Hazratullah Omari.
It is a threat that the international community and the Taliban should not underestimate, he said, adding that ISIS-K is attempting to jeopardise the Taliban's legitimacy.
Many Afghans are also worried that ISIS-K and the Taliban will destroy all the achievements that Afghans have made over the past two decades.
"Unfortunately, women have always been the first victims of religious extremism," said Aseela Rahimi, a resident of Kunduz city. "If, God forbid, ISIS makes inroads in Afghanistan, especially in Kunduz, it will make life hard for women even inside their own homes."