KABUL -- Afghanistan's National Directorate of Security (NDS) on Sunday (February 21) announced the arrest of a terror cell comprised of members of the Taliban-linked Haqqani Network and the "Islamic State of Iraq and Syria" (ISIS).
NDS special forces arrested the five-member cell in Kabul's police district 17, accusing it of maintaining, transferring and launching rockets in different parts of Kabul city and attacking a ceremony commemorating the slain Hazara leader Abdul Ali Mazari last year.
The recent arrests add to a growing body of evidence that ISIS and the Haqqani Network jointly plan and execute terror acts in Afghanistan, Afghan intelligence officials and political analysts said.
ISIS and the Haqqani Network seek to benefit from each other's experience, NDS chief Ahmad Zia Saraj said during a February 13 news conference in Kabul.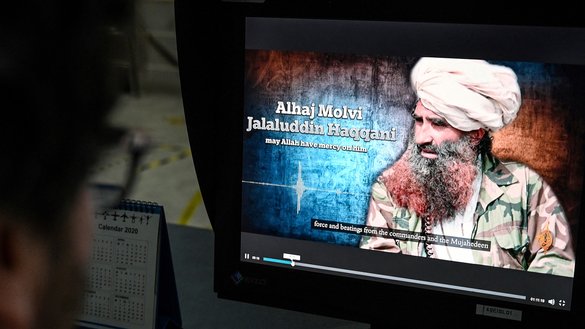 A joint terror group
There is an active terror group comprised of ISIS elements and former members of the Haqqani Network, said NDS spokesman Haris Jebran.
This partnership -- formed against the backdrop of the US-Taliban agreement -- is intended as a smokescreen, with which the Taliban and Haqqani Network seek to shield themselves from "national and international accusations", Jebran said.
Both groups aim to distance the Afghan people from the government and damage their trust in government, he said.
As for the partnership's modus operandi, he said, "the Haqqani Network takes care of planning and providing resources, while ISIS launches the attacks and takes responsibility".
Most of the plotters and perpetrators of complex terror attacks previously worked for the Haqqani Network, said Jebran.
In a few instances, he said, biometric data revealed these individuals had been imprisoned in the past as members of the Haqqani Network.
In many instances, detainees confess they are ISIS elements who have pledged allegiance to "a specific group", he said, but investigations reveal they are linked to the second and third ranks of the Haqqani Network.
"But the fighters themselves have no idea [about this], and they think that they fight for the Khorasan branch of ISIS [ISIS-K]," he said.
Cell members confess
The NDS on February 9 announced it had arrested a cell in Kabul that included members of both ISIS and the Haqqani Network.
The cell was behind magnetic-bomb attacks and assassinations, the NDS said, noting that according to its findings, elements of the Taliban, the Haqqani Network and ISIS "jointly execute terrorist attacks".
The Taliban and Haqqani Network carry out terror acts, especially in major cities, it said, while ISIS takes responsibility, issuing vague statements to deceive the public
One detainee (identified as Zahidullah or "Abdullah") confessed to plots to launch missiles targeting the Khedar base, and placing a land mine on Khedar road "to blow up security forces".
In a video that the NDS released to the media, another detainee (identified as Abdul Baseeer or "Bilal") -- a suspected member of the ISIS–Haqqani cell -- confessed to binding the legs of a kidnapped police officer and laying him on the ground.
The police officer asked Baseer to let him pray, he said, but he did not allow him to pray and killed him.
Detained members of the ISIS–Haqqani cell were involved in rocket attacks on Kabul city, including February 11 attacks on Hamid Karzai International Airport and Bagram Air Base, said the NDS.
The NDS detained members of another cell comprised of ISIS and Haqqani Network members last May 6 in Kabul city.
That cell was accused of involvement in firing missiles at the presidential inauguration ceremony and at Bagram Air Base, as well as attacking a Sikh gurdwara and the Mazari commemoration ceremony.
Global ambitions
"When ISIS was established, it had no links with the Haqqani Network," said political affairs analyst Ahmad Sayeedi.
"But these days, and since the intra-Afghan peace talks began, ISIS and the Haqqani Network -- both of which are against peace and stability in Afghanistan -- have forged links and executed joint terrorist activities to disrupt the peace process," he said.
"In addition to the close links established between ISIS and the Haqqani Network, some other terrorist groups have joined these two," he said.
"ISIS, al-Qaeda and some other global terrorist groups have come together and plan to establish a global organisation ... that will be led by the Haqqani Network," Sayeedi added.
"Shared interests have brought terrorist groups such as ISIS, the Haqqani Network, al-Qaeda and the Taliban together to pursue a joint goal," said military affairs analyst Zahir Azimi of Kabul, a retired military officer.
These goals include "forcing the withdrawal of international forces, weakening and toppling the Afghan government, gaining control over the country, creating rifts among Afghans and increasing public pressure on the Afghan government".
The group that operates under the name of ISIS is part of the Haqqani Network, said Arif Kayani, a political and military affairs analyst in Kabul.
This group is waiting to fill the power vacuum that it hopes will appear when the Taliban's political representatives join the reconciliation process, he said, which is why it has "escalated terrorist attacks and assassinations".
ISIS has claimed recent terrorist attacks, bombings and assassinations, said Zalmai Afghanyar of Kabul, a political analyst.
But documents and evidence provided by Afghan security forces show the Haqqani Network and the Taliban were actually behind these terror acts, he said.