Beijing is making swift progress on its five-year plan to make Muslims and other minorities more "Chinese" by demolishing symbols of Islamic architecture and ordering political education in mosques, reports show.
As part of the 2018-2022 "sinicisation" plan, Chinese Communist Party (CCP) authorities have been removing mosque domes, minarets and other symbols of Islamic architecture, and banning mosques from playing the adhan (call to prayer) on loudspeakers.
The plan is being actively implemented throughout China, and not just in the majority-Muslim Xinjiang region.
A British diplomat recently called attention to the removal of mosque domes and minarets in Qinghai province.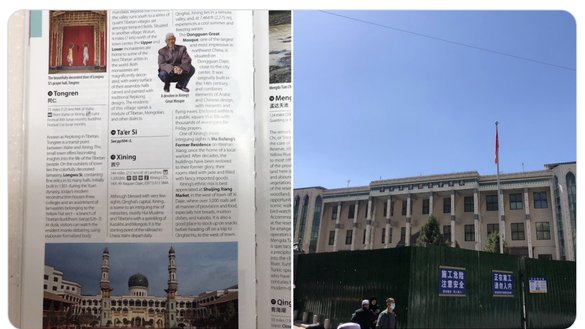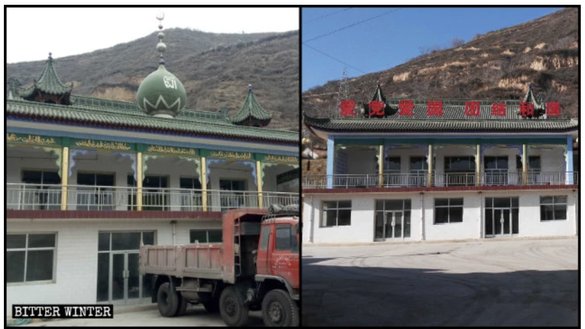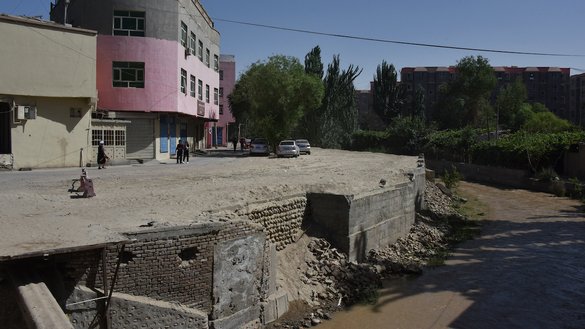 Dongguan Mosque in Xining city was built in the 1300s during the Ming dynasty.
"My (4 yr old) guide book getting out of date," British Deputy Head of Mission in Beijing Christina Scott posted on Twitter September 13. "Go to the Dongguan Great Mosque, it advises. So I do. Closed for renovations (which seem to have included removing the dome and minarets...)"
She posted a picture of the mosque from her guidebook, which shows a large central green dome and two towering minarets, alongside one she took herself showing the building without the Islamic adornments and with a Chinese flag flying outside.
One Twitter user replied saying the minarets were still visible in July.
Scott also posted photographs of the nearby Nanguan Mosque that showed scaffolding around the mosque's white dome and the crescents removed from the dome and minarets.
'Unity and harmony'
The tear-downs are happening all over China.
Authorities removed the domes and star-and-crescent symbols from least five mosques in Henan province, Bitter Winter, an Italy-based magazine on religious liberty and human rights in China, reported in April 2020.
In December 2019, at least 16 mosques in Pingliang city, Gansu province, had their Islamic symbols removed.
In at least one case, workers demolished a mosque's dome and crescent moon and replaced them with the slogan "Love the Party and love the country. Unity and harmony."
Mosques' loudspeakers are also being demolished, with authorities claiming the sound of adhan was "disturbing people".
In November 2019, the Religious Affairs Bureau of Guan county in Liaocheng ordered mosques to play the Chinese national anthem rather than the adhan.
"The government's claim is just an excuse," a local imam told Bitter Winter. "People play music everywhere while dancing. Doesn't that disturb others? Why does the government turn a blind eye on it?"
While many imams and other Chinese Muslims oppose the changes, they say they are powerless to resist the CCP's sinicisation campaign.
"The government is afraid that Muslims will unite with foreigners, so they order us to convert Islamic structures into Chinese style," an imam from Xinyang said. "If we disobey, they might arrest us and disqualify us as imams."
'We don't dare disobey'
Ali, a farmer selling pomegranates near Dongguan Mosque, explained the difficulty local imams face.
"The government says they want us to sinify our mosques so they look more like Beijing's Tiananmen Square," he told NPR in an interview broadcast Tuesday (September 28).
"I think the mosque looks good either way," he said of the structural changes. "But what say do we have anyways? Our imam and our mosque director had no choice in the matter. They were detained and forced to sign in favour of the dome removal."
Dongguan's prayer hall can accommodate up to 3,000 worshippers, and the mosque used to have one of the largest congregations throughout China. It also serves as an education centre and an institution for higher learning in Islamic studies.
With the changes, however, many local Muslims are turning elsewhere.
Since the appointment of the CCP-chosen imam Ma Yuexiang in 2018, "most believers stopped attending prayer services in Dongguan Mosque because the new imam's words contradict the Koran, and most Muslims refuse to accept that," one local Muslim told Bitter Winter in 2019.
Rather than teaching Islamic theology, imams are teaching courses on "Political and Ideological Education" and "Chinese History".
"We didn't have courses like 'Politics' and 'Chinese History' before," an elderly Muslim told the magazine. "Only after Ma Yuexiang was appointed did they arrange these courses for the recruited mawlas [mullahs]."
"If we don't obey, the government will mobilise the armed police to punish us," he said. "We common people don't dare to disobey."
Some imams have resisted the changes, Bitter Winter reported, so authorities organised a visit to Guyuan city in Ningxia Hui Autonomous Region to show how mosques there had been "sinicised".
The visit intended "to break their will by demonstrating the unstoppable implementation of the policy all over the country", the magazine reported.
Genocide in Xinjiang
President Xi Jinping has been pushing for "sinicisation" for years.
In a speech in August, Xi said religious and ethnic groups should "hold high the banner of Chinese unity".
This policy has especially gained notoriety in Xinjiang region, where Chinese authorities have imprisoned more than one million Uighurs and other Turkic Muslims -- including ethnic Kazakhs and Kyrgyz -- in as many as 400 detention facilities that include "political education" camps, pretrial detention centres and prisons.
Millions more live under tight supervision and control.
Beijing defends the facilities as "vocational training centres" aimed at stamping out terrorism and improving employment opportunities.
These facilities, however, are widely reported to be involuntary detention centres that some have likened to "concentration camps".
The United States and other Western governments say that Beijing is carrying out genocide against Uighurs and other mostly Muslim Turkic people in Xinjiang.
Independent investigations and interviews with former inmates indicate physical and psychological torture, brainwashing, systematic rape, forced sterilisation of Muslim women, forced organ harvesting, sexual abuse and other horrors.
Other crimes committed in Xinjiang by Chinese authorities include the arbitrary detention of more than 1,000 imams and religious figures in the region and the destruction or damage of about 16,000 mosques.
An AFP investigation in 2019 found dozens of cemeteries had been destroyed in the region, leaving human remains and bricks from broken tombs scattered across the land.