BEIJING -- In the small village of Nagu, Yunnan province, in the mountains of southwestern China, local Muslims are protesting the government's plan to demolish parts of their mosque.
The Najiaying Mosque is the pride of the Muslim Hui ethnic minority that lives in the town.
Originally built in 1370, the mosque has been expanded several times. In 2001, workers constructed a new mosque building. The towering white structure includes five floors, a hall that occupies an area of 10,000 square metres, four minarets more than 72 metres tall and a green dome.
Now the mosque is the target of Chinese President Xi Jinping's "sinicisation" campaign.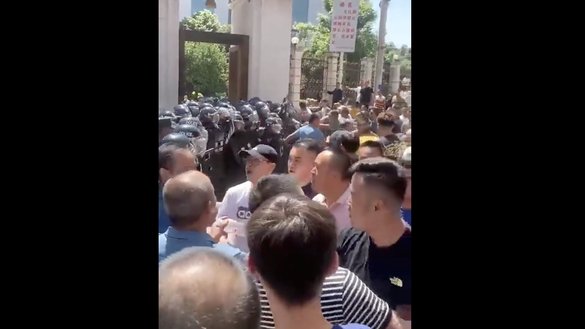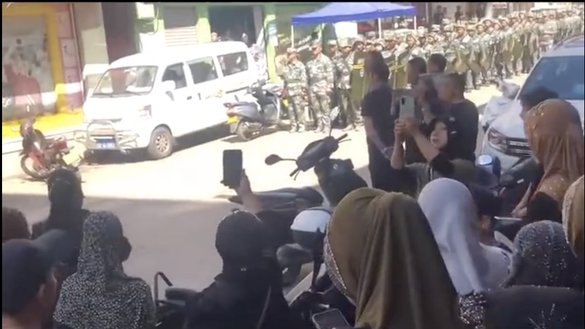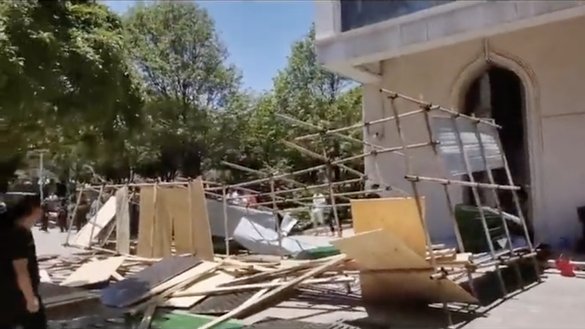 "The [Chinese Communist Party (CCP)] has systematically closed, demolished or forcibly redesigned mosques in Hui enclaves across the country, condemning Arabic architectural features, such as domes and minarets, as proof of unwanted foreign influence over Islam in China," The New York Times (NYT) reported June 8.
The Najiaying Mosque and the Grand Mosque of Shadian, also in Yunnan, are among the last major ones with such architecture still standing in China.
China has sought to more tightly control religion since Xi came to power a decade ago, and in its crackdown on Muslims, Beijing claims it is working to combat terrorism and extremist thought.
An estimated one million Uighurs, Hui and other Muslim minorities have been detained in the western Xinjiang region since 2017 under a government campaign that the international community has called a genocide.
Reports, investigations and revelations have detailed widespread torture, arbitrary detention and violations of religious and reproductive rights of Muslims.
Accusations include forced labour, compulsory sterilisation, systematic rape and the destruction of Uighur cultural and Islamic sites.
Fighting back
While the impact on communities outside Xinjiang has been milder, many have seen their mosques demolished or "coercively renovated" to match official notions of Chinese aesthetics, said David Stroup, a scholar of the Hui at the University of Manchester in England.
The CCP's "sinicisation" campaign reached Nagu in 2021, the NYT reported.
"Government officials began visiting homes, sometimes on a daily basis, to coax residents to support changes to the mosque," it said. "A town billboard shows a rendering of the government's plan: the dome gone, the minarets decorated with pagoda-like tiers."
Similar efforts have been made in Shadian as well. Officials have gone door-to-door to rally support, and a large red sign in front of the Grand Mosque -- which is modelled after the Prophet's Mosque in Medina, Saudi Arabia -- reads "Adhere to Sinicising Islam".
"Because of the sheer authority these places occupy in the imagination" of local Muslims, "they had to leave these two mosques to the very end," Ruslan Yusupov, a scholar of China and Islam at Harvard University, told the NYT.
But residents are fighting back.
On the morning of May 27, workers with construction cranes, scaffolding and bulldozers entered the area of Najiaying Mosque in Nagu -- accompanied by approximately 400 riot police, according to local witnesses and video posted online.
The deployment of such a robust police force indicates protests were expected.
Thousands of local residents resisted in a violent clash with police, forcing the officers to retreat and return the next day with even more armed security personnel, the religious freedom magazine Bitter Winter reported, citing social media reports.
According to some sources, as many as 5,000 police and military officers were deployed to the town.
Dozens of officers wielding truncheons and riot shields repelled the crowd outside the mosque that was hurling objects at them, videos circulating on social media and the witness said.
"They want to proceed with forced demolitions, so the people here went to stop them," a local woman who asked not to be identified told AFP on May 27.
"The mosque is home for Muslims like us," she said. "If they try to knock it down, we certainly won't let them."
"Buildings are just buildings -- they do no harm to people or society. Why do they have to destroy them?"
The bottom line
A notice issued May 28 by the Tonghai government -- which administers Nagu -- said it had opened an investigation into "a case that severely disrupted social management and order".
The notice ordered those involved to "immediately stop all illegal and criminal acts", vowing to "severely punish" anyone who refuses to turn themselves in.
Those who voluntarily surrender before June 6 will be treated with leniency, the notice added.
Police have made an unspecified number of arrests over the incident and several hundred officers remained in the town as of May 30, two witnesses said.
Residents of areas around the mosque had struggled intermittently with internet outages and other connectivity issues since the clashes, they added.
Contacted by AFP on May 31, an official in Tonghai's publicity department denied the internet outages but declined to comment further.
A week later, when the NYT visited Nagu, construction cranes still sat in the mosque courtyard. Security remained tight, and a drone was flying over the mosque. Plainclothes police officers approached the reporter and had her driven out of the town.
The demolition is likely inevitable, said Mr. Na, a Hui resident in his 30s, who asked to be identified only by his last name for fear of government retaliation.
However, he expressed hope that residents would be allowed to hold on to other freedoms that they were not willing to compromise, including the right to pass their religion to their children.
"If you can't guard your bottom line, then others will see you as someone without a bottom line," he said, "and they'll trample over it again and again."