BEIJING -- Allegations of torture, human rights abuses and crimes against humanity amid Beijing's security crackdown in the Xinjiang region are "credible", the United Nations (UN) said in a report published late Wednesday (August 31).
The long-awaited report detailed a string of violations of the rights of Uighurs and other Muslim minorities in the far-western region, bringing the UN seal to many of the allegations long brought by activist groups, Western nations and the Uighur community in exile.
"The extent of arbitrary and discriminatory detention of members of Uyghur and other predominantly Muslim groups... may constitute international crimes, in particular crimes against humanity," the report said, using an alternate spelling of Uighur.
The world must pay "urgent attention" to the human rights situation in Xinjiang, it said.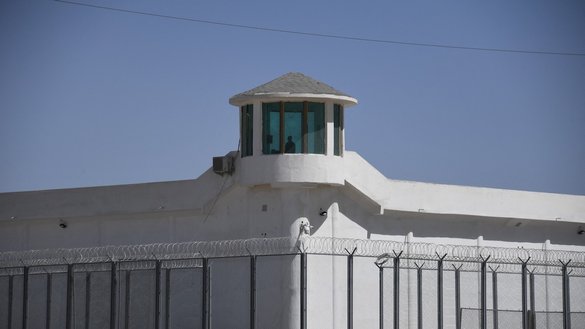 Beijing is accused of detaining more than one million Uighurs and other mostly Muslim, Turkic-speaking inhabitants of the far-western region in a secretive network of detention centres and prisons as part of a years-long crackdown on extremism.
Accusations include mass incarceration, forced labour, compulsory sterilisation, systematic rape and the destruction of Uighur cultural and Islamic sites.
China is committing "genocide" of Muslim minority groups, the United States and other Western countries have said.
A full assessment was needed of the situation inside the Xinjiang Uyghur Autonomous Region (XUAR), outgoing UN human rights chief Michelle Bachelet decided.
The report was in the making for about a year, and its release was bitterly opposed by China.
Bachelet was determined to release it before her four-year term as the UN High Commissioner for Human Rights expired at the end of August -- and did so with 13 minutes to spare at 11.47pm in Geneva, Switzerland.
"I said that I would publish it before my mandate ended and I have," Bachelet said in an email sent to AFP on Thursday.
"The politicisation of these serious human rights issues by some states did not help."
Torture allegations 'credible'
Beijing has vehemently rejected the claims, insisting it is running vocational centres in Xinjiang designed to curb extremism.
"Serious human rights violations have been committed in XUAR in the context of the government's application of counter-terrorism and counter-'extremism' strategies," the UN report said.
The assessment raised concerns about the treatment of people held in China's so-called Vocational Education and Training Centres (VETCs).
"Allegations of patterns of torture or ill-treatment, including forced medical treatment and adverse conditions of detention, are credible, as are allegations of individual incidents of sexual and gender-based violence," the report said.
The UN Human Rights Office could not confirm how many people were affected by the VETCs but concluded that the system operated on a "wide scale" across the entire region.
The number in the VETCs, at least between 2017 and 2019, "was very significant, comprising a substantial proportion of the Uyghur and other predominantly Muslim minority populations".
The report also cited "credible indications of violations of reproductive rights through the coercive enforcement of family planning policies".
China's mission in Geneva rejected the report's findings and maintained its firm opposition to its release, sharing a defensive 121-page document from the Xinjiang provincial government.
"People of all ethnic groups in Xinjiang are living a happy life in peace and contentment," the Chinese mission claimed, denouncing alleged "disinformation and lies".
'A game-changer'
The report should act as a launchpad for further action, said non-governmental organisations and campaign groups.
The response from the Uighur activist community was mixed, with some groups praising its work while others wishing it had gone further it its condemnation of Beijing's actions in Xinjiang.
"This is a game-changer for the international response to the Uighur crisis," said Uyghur Human Rights Project executive director Omer Kanat.
"Despite the Chinese government's strenuous denials, the UN has now officially recognised that horrific crimes are occurring."
The report paved the way for "meaningful and tangible action" by countries, businesses and the UN, said World Uyghur Congress president Dolkun Isa.
"Accountability starts now," he added.
The "damning" findings of sweeping rights abuses showed why Beijing "fought tooth and nail" to prevent its publication, said Sophie Richardson, Human Rights Watch (HRW)'s China director.
Strong human rights movements have the power to uncover the "ugly reality" of authoritarian regimes' repression of citizens' rights, outgoing HRW chief Kenneth Roth said last week.
"Governments are always tempted to violate human rights," he said, citing China's repression of Uighurs, Russia's invasion of Ukraine, and regions he says receive less attention, such as Tigray in Ethiopia, and Yemen.
But thanks to stronger activism, "it's virtually impossible for governments to hide their abuses, particularly in an era of social media where everybody has a smartphone".
"And by spotlighting that discrepancy between the pretence and the ugly reality, we do generate pressure," he said.