HERAT -- An Afghan man residing in Ukraine has recently joined Ukrainian forces, commanding a group of soldiers in the fight against the Russian invasion.
Jalal Noori, who is fighting near Kyiv, told BBC Persian on April 4 that he has been living in Ukraine since 1988 and the country has become his second home.
He was a teenager when he moved to Ukraine. He is now an Afghan-Ukrainian dual citizen.
Noori said he had no choice but to flee his native land. But this time, his conscience did not allow him to leave his adopted home.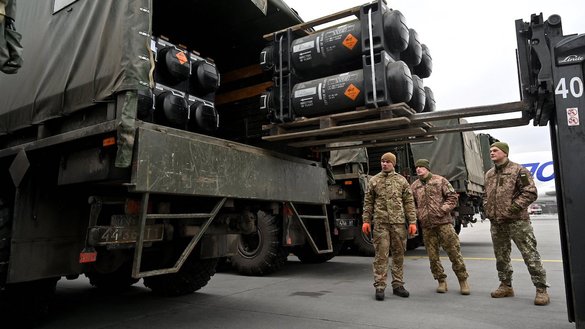 "How long are we to run away from Russians? Where should we go? Wherever we flee, conflict follows us," he said.
Noori, who owns a security company, previously fought in the 2014 war to defend Crimea, which Russia illegally annexed.
Ukrainians, similar to Afghans, are united in defending their country, and morale is high, he said.
"There is ethnic tension among us Afghans, but we are allied against foreign aggression," he said. "Ukrainians, too, disagree on politics but are courageous and united in defending their country."
"Every day, about 1,000 volunteers would report to the military base near Kyiv, where I was stationed, ready to go to war. Keeping up with the demand, the base ran out of weapons," Noori said.
"Even disabled individuals helped; they cooked, brought bread and filled up sacks with gravel. Everyone was trying hard, and no one chose to stay home."
Welcoming fight against Russian tyranny
Many Afghans have welcomed Noori's decision to join Ukrainian forces on the frontline.
Anyone who contributes to the fight against the Russian invaders is joining the war against tyranny and oppression, Herat resident Wakil Ahmad Sawrosh said.
"Russia's invasion of Ukraine is an unjust war, and any free man can stand up against aggression and not allow cruelty to prevail," he said.
"Afghans also made great sacrifices in fighting the Soviet dictatorship and atrocities ... and finally defeated them," added Wakil.
Fighting the Russian invasion is indeed jihad, said Nazar Mohammad Haqdost, another Herat resident.
"I feel very happy that the Russians have been ... forced to retreat with heavy casualties from Ukraine," he said, referring to the Russians' failed attempt to conquer the capital Kyiv. "We are proud of an Afghan's presence in the fight against them."
"With the participation of Afghans alongside other forces to defend Ukraine's democracy and independence, Russians will be defeated in the same way the Soviets were defeated in Afghanistan," he said.
"The pain of the Ukrainian people is the same as Afghans' when it comes to Russians' aggression and crimes," Haqdost said. "The atrocities and destruction that the Russians are committing in Ukraine these days are the same they committed in Afghanistan nearly 50 years ago."
Russians 'must pay' for their crimes
Afghans say they will never forget the pain and anguish Russians brought on them during the Soviet invasion.
Mohammad Karim Ghafoory, a resident of Qala-e-Naw, the capital of Badghis province, said almost every Afghan family grieved the loss of a loved one during the Soviet invasion.
"Russians massacred hundreds of thousands of Afghans, disabled millions and destroyed Afghanistan's infrastructure," he said.
No international organisation has questioned Russia for its crimes, devastation and massacre in Afghanistan, he added.
"The pain and grief that Russians brought to the Afghans will never be forgotten, and the enmity will last forever," Ghafoory said.
The destruction inflicted during the Soviet invasion is still visible across Firoz Koh, said Mansour Kazimi, a resident of the Ghor provincial capital.
"Russians must pay the price for all the crimes they have committed in our country," he said. "They must compensate the family of every Afghan who was martyred and pay for every single piece of land that was destroyed during their occupation."
"I wish we could get an opportunity against Russia to avenge the blood of our martyrs," Kazimi said.
[Omar from Herat contributed to this report.]