HERAT -- Russia's unprovoked invasion of Ukraine and unprecedented aggression against the Ukrainian people are destined to end badly for the Russian army, a former Soviet soldier living in Herat province told Salaam Times.
Abdullah Khakimov, whose father is from Moscow and mother is from Kyiv, Ukraine, was an intelligence officer in the Soviet army during its 1979–1989 invasion of Afghanistan. He was captured wounded by Afghans in Shindand district, Herat.
Now 58, he married an Afghan woman and changed his name to Abdullah after converting to Islam. He lives in Herat with his family.
Shame on Russia, especially on Russian President Vladimir Putin, for attacking the helpless nation of Ukraine and using so much force and firepower against it, Khakimov said.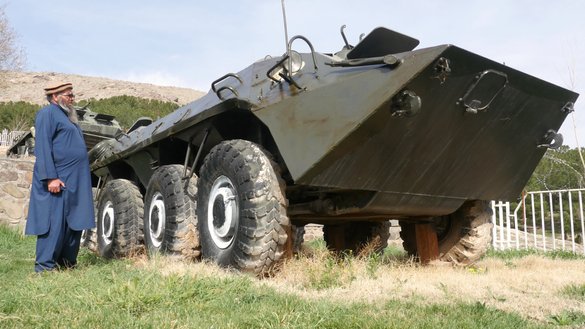 "Ukrainians are fighting the Russian aggression alongside their government, while Russians do not support Putin and are strongly opposed to the Ukrainian invasion," he said.
Khakimov called Russia's attack on Ukraine a great and historic mistake and a crime against humanity, adding that he is confident Ukrainians will defeat Putin's troops.
"I would have taken up arms and fought the Russian aggression alongside Ukrainians had it been feasible for me and had my health allowed," he said.
"Despite Russia bombing Ukrainian airfields and cities and denying Ukrainian planes the chance to operate properly, Russian forces have so far failed to achieve any success," he added.
Lessons from Afghanistan
Similar to the fate of the former Soviet Union in Afghanistan, Russia's invasion of Ukraine will fail and push Russia into global isolation, Khakimov said.
"Ukraine will be victorious even if it loses this uneven war, while Russia will be the loser even if it wins the battle," he said.
Ukraine has a population of just more than 44 million, compared to Russia's 144 million. "Even if Russia had a billion-person population, it wouldn't have been able to defeat Ukraine," Khakimov said.
The Soviet Union's defeat in Afghanistan helped bring about its collapse, allowing 14 countries under Moscow's occupation to gain their independence. The 15th post-Soviet state is Russia itself.
During the former Soviet Union's invasion of Afghanistan from 1979-1989, more than 15,000 Soviet soldiers were killed and more than 35,000 wounded.
The Soviet army lost 350 warplanes, 400 helicopters, and thousands of tanks and armoured vehicles.
The Russian government should have learned from history and never invaded Ukraine, said Mohammad Hassan, 67, who fought against the Soviet army in Herat.
"Emboldened by their weapons and planes, the Russians are bombing the Ukrainians day and night," he said. "The Soviets invaded Afghanistan with the same arrogance but faced an embarrassing defeat."
"The Ukrainian people are fighting against Russian troops similar to how Afghans fought against the Soviet army," he said.
The mobilisation of the Ukrainian people against Putin's troops means these invading forces will be defeated, Hassan said.
Still, Afghanistan suffered staggering losses in throwing back the invader.
In the nine-year Soviet occupation of Afghanistan, more than one million Afghans died, more than three million were wounded and disabled, and more than five million were displaced to neighbouring countries.
The Soviet army destroyed Afghanistan's infrastructure and left the country in ruins.
Brutal occupier
Russia turns whatever it steps on into ruins, said Hamza Baloch, a political analyst based in Nimroz province.
The Russian military has deliberately attacked and destroyed civilian buildings, residential areas, roads, bridges, airfields and nuclear facilities in Ukraine, he said.
"The Russians are applying very brutal tactics in Ukraine. They spare no one and nowhere," he said. "The Soviet army used the same tactics in Afghanistan."
"The world must mobilise against Russian oppression and take necessary actions as soon as possible," Baloch said. "Silence in the face of this oppression will further embolden Putin and his soldiers."
Putin's arrogance and flawed policies threaten world security, he said.
"No animal will commit the kind of brutality against another animal" that the Soviet troops committed in Afghanistan and Russians are committing in Ukraine, said Javed Nayab, a resident of Herat city.
"In a clip, I watched a Russian tank deliberately driving over a civilian car in the Ukrainian capital," he said. "The Soviets did exactly the same in Afghanistan."
"If the Soviet invasion of Afghanistan had been filmed the way the Russian invasion of Ukraine is filmed now, it would have shown that every day of its occupation was full of horrors and crimes against humanity," he said.
No oppression can last forever, and like the former Soviet Union, Russia will soon be defeated, Nayab said.