HERAT -- A photo exhibit on the former Soviet Union's crimes and atrocities in Afghanistan has reignited anger toward Moscow and highlighted its continued meddling in Afghan affairs.
The exhibit with 100 black-and-white photos was open to the public on August 20-22 in Allama Saljuqi hall in Herat city.
The goal of the exhibition was to showcase Soviet crimes in Afghanistan and raise the awareness of youth about the Soviet invasion of 1979-1989, which killed more than 1 million Afghans.
Russian President Vladimir Putin is behind his country's current expansionist approach in Afghanistan, said Tariq Nabi, the organiser of the event.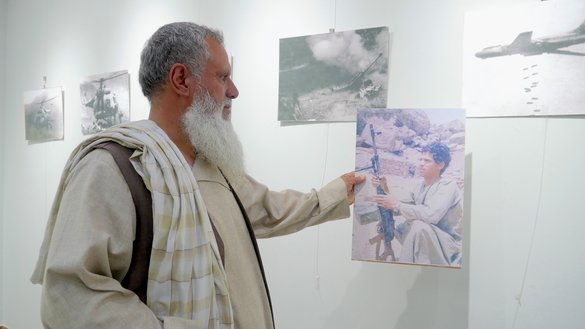 "Russia provides money and weapons to the Taliban, trying to escalate the war that results in the killing of Afghans and the destruction of Afghanistan," he added. "Russia should learn a lesson from history and not repeat its past."
"Russian crimes will never be forgiven in Afghanistan as they have been recorded in history," said Nabi. "Soviet atrocities and their killing of ordinary Afghans have been recorded in history as taints on humanity and as a dark era, and they will remain in our memories."
Crimes showcased at this exhibition are the real face of the Russian regime, as it has always committed atrocities and massacres for no apparent reason in many countries, said Abdullah Karimi, a resident of Herat city.
"We Afghans will never forget Russia's crimes," he added. "This country killed and handicapped millions of our countrymen and destroyed our infrastructure."
"Russia invaded Afghanistan for no justifiable reason and killed hundreds of thousands of innocent humans. Our hatred of Russia won't decrease, and we will never forgive this brutal country," he said.
Condemning Russia's meddling
"Russia is interested in interfering in Afghanistan's internal matters, but Afghans won't allow this country to interfere and repeat history," said Herat Governor Sayed Wahid Qatali.
"The time of supporting terrorists has passed, and such meaningless interference must stop," he said. "Many countries have a tendency to meddle in Afghanistan, but these efforts are being blocked."
If the Russian regime tries once again to destroy the values of the Afghan people, Afghans will stand against it as they did three decades ago, and they will not allow it to achieve their goals, said Qatali.
The Soviet invasion of the country dishonoured the national and religious values of Afghans, and it resulted in a shameful defeat, he said.
Russian leaders and politicians should learn from the past and stop their efforts to interfere in Afghanistan, said Maulawi Abdul Ghani Jamshidi, deputy director of the Herat Department of Hajj and Religious Affairs.
"When [the Soviet Union] invaded Afghanistan and destroyed the country, it faced the resistance of Afghans and subsequently a defeat, and it shamefully left Afghanistan," he added. "Its defeat in Afghanistan must remain a lesson for Russia's leaders and the next generation so that they don't interfere in Afghanistan again.
Russian support for the Taliban and other terrorist groups is a repetition of the mistakes that the current generation's fathers made, he said.
"Those who help Russia achieve their goals in Afghanistan are just like those who supported Russia when it invaded our country, and they won't see anything other than shame and defeat," Jamshidi added.
"Every group or party that supports Russia's goals in Afghanistan will face a defeat just like those who shamefully withdrew from Afghanistan three decades ago," he said.
War compensation
Russian soldiers had no mercy and buried hundreds of Afghans alive, said Muhammad Ghaus Ahrari, a former mujahid who fought against Russia and lost family members in the war.
"We call for the convening of fair international trials that can precisely assess Russia's crimes in Afghanistan and put pressure on this country to compensate Afghans for the crimes it committed in Afghanistan," he said.
"Russia is afraid that Afghanistan will one day ask it for compensation; therefore, Russia doesn't allow Afghanistan to have a strong government, and it weakens the government by providing weapons to anti-government elements to keep the war going," Ahrari said.
The Russian regime should give compensation for the blood of 1.5 million innocent Afghans and rehabilitate the infrastructure it ruined, said Muhammad Yaqob, a former member of the mujahideen.
"If there is justice and the international community seeks it, Russia should give compensation for the crimes it committed in Afghanistan," he said.
"History shows that Afghans didn't want to fight as they are peace-loving people," he added.
"It was the Russians who invaded Afghanistan and forced Afghans to defend their country. Russians killed innocent Afghans and turned our country into ruins," Yaqob said.