HERAT -- Three decades after the defeat and withdrawal of Soviet forces from Afghanistan, Afghans continue to pay a heavy toll for the invasion.
Land mines and unexploded ordnance left by Soviet troops have killed 588 people and wounded 887 in the past 10 years in Afghanistan, according to the Mine Action Co-ordination Centre of Afghanistan (MACCA).
In the western area of the country, more than 200 people were killed or injured in 2019 alone from leftover explosives, said Abdul Jalil Sadeq, MACCA chief for the western region.
"In Badghis Province, five people were killed and nine were injured," he added. "In Farah Province, 42 civilians lost their lives and 54 were hurt. In Ghor, 22 people were killed and 16 more wounded, and in Herat Province, 42 people were killed and 49 injured."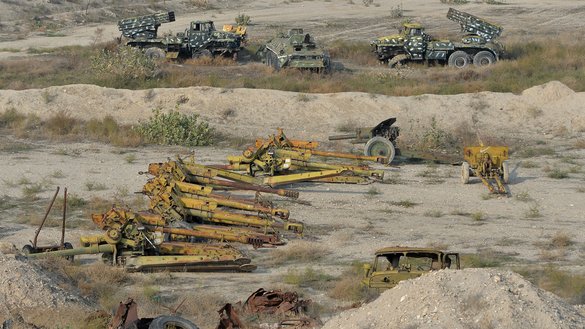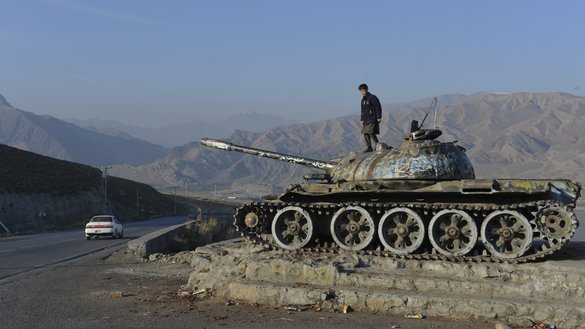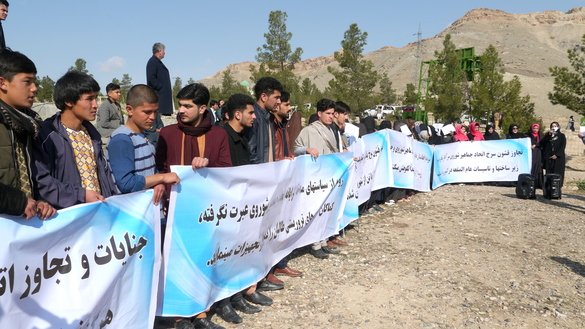 "Since 1990, 267 sq. km of area have been cleared of land mines and unexploded ordnance in the western region," added Sadeq. "In areas that have been cleared, 30,725 anti-personnel mines, 2,366 anti-tank mines and around 2 million pieces of unexploded ordnance have been identified and neutralised."
Since 1990, authorities have recorded about 3,000 incidents related to mine and other old ordnance explosions in the western region. All these mines and unexploded ordnance remained from when the Soviet Union invaded Afghanistan, he said.
Work to clear remaining land mines is 80% complete in the western region, Sadeq said.
Still, land mines that remain undetected threaten innocent civilians, including children, he added.
Paying compensation
More than 200 residents of Herat Province, including women and youth, gathered at the Shuhadai Gumnam area north of Herat city on February 15, where they chanted slogans against Russia and called on Moscow to provide compensation to the families of Afghans who were killed during the Soviet invasion of 1979-1989.
Shuhadai Gumnam is a memorial site for victims of the war.
The Russians killed, injured and disabled millions of Afghans; therefore, they must provide compensation to the families of victims for their crimes, said Azita Salimmshahi, a resident of Herat city.
"For almost 10 years, Russians killed innocent Afghans; some they buried alive," she said. "We demand that Russia provide compensation."
The Russian regime still harms Afghans today, as it supports and gives weapons to terrorist groups who kill innocent civilians, she added.
"We call on the international community and the United Nations not to turn a blind eye to the crimes of Russia, and they have to revisit the case in Afghanistan and investigate it, because Russia killed and disabled millions of Afghans and made them flee [their country]," said Feroz Ahmad Behzad, a resident of Herat city.
"Russians buried two of our relatives -- my uncles -- alive," he said. "Thousands of families like us lost their loved ones in the war with Russia, but no one has to date has asked Russia why it ... massacred innocent civilians."
The blood shed by millions of Afghans should not be overlooked, and Moscow must be held accountable, he said.
The Russian regime must compensate Afghans for the crimes its predecessor committed, said Herat Governor Abdul Qayum Rahimi February 15 while laying a wreath at Shuhadai Gumnam.
"Russia has not only massacred and disabled millions of Afghans, but it also destroyed the country's infrastructure and turned Afghanistan into ruins."
Stoking instability in Afghanistan
In addition, Moscow has been behind the instability and insecurity in Afghanistan for the past 40 years, Rahimi said.
Following its defeat and withdrawal from Afghanistan, the Soviet Union left the country in ruins, killed, injured and handicapped millions of Afghans and inflicted destruction and a painful war on the country, he added.
"The war in Afghanistan is a result of the Russian invasion, and this country [Russia] is the main perpetrator behind the four decades of war in Afghanistan," said Rahimi. "By invading Afghanistan, Russians caused the start of bloody wars in the country that still kill Afghans."
Remnants of ordnance and land mines from the Soviet occupation still kill innocent civilians including women and children, he added.
He accused Russians of planting land mines in cities, villages, deserts and mountains.
"The government of Russia must learn from the former Soviet Union, and it should never interfere with Afghanistan's matters," he added.
"The government of Russia should help the Afghan people and Afghan government instead of supporting terrorism, so that it can compensate for some of the crimes it has committed in the country," he said. "The Afghan people will, with the help of the international community, one day hold accountable those who have inflicted destruction on their country."
Even 31 years after the Soviet defeat and withdrawal from Afghanistan, the sound of old bombs and ordnance belatedly exploding can be heard in the villages and deserts, said Muhammad Ismail Khan, a former mujahideen leader and former Afghan minister of energy and water.
The Russians left a horrific legacy by scattering land mines throughout Afghanistan, he said in Herat city at the event marking the 31st anniversary of the Soviet Union's defeat.
"Russians faced a defeat and withdrew in humiliation, but they expanded the war globally," he added. "The collapse of the World Trade Centre in New York [caused by the hijackers of September 11, 2001], the heart of the United States, was a result of the Russian invasion of Afghanistan and the war that followed."
The main perpetrator behind the imposed wars in Afghanistan is Russia, and it still has not ended its interference, Khan said.