HERAT -- Following the controversial meeting between Taliban representatives and Afghan opposition politicians in Moscow earlier this month, public calls for Russia to stop interfering in Afghanistan's internal affairs are growing.
Now, some Afghan leaders and civil society activists are demanding compensation from Russia for the USSR's invasion of Afghanistan 40 years ago.
Calls for indemnity
The former Soviet Union killed and injured millions of Afghans, and Russia -- the successor state to the USSR -- should pay compensation for the brutality that Soviet troops inflicted on Afghans, Herat Provincial Governor Abdul Qayum Rahimi said February 15 during an annual ceremony marking the defeat and expulsion of the USSR from Afghanistan.
The talks in Moscow February 5-6 were a reminder of unhealed wounds, he said.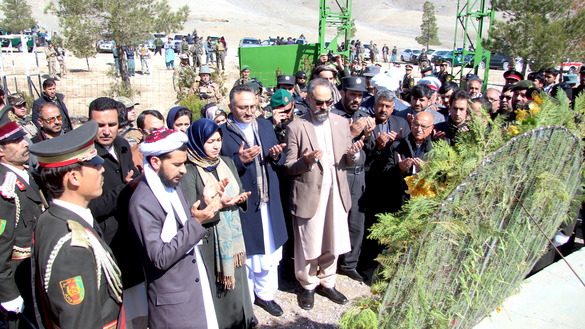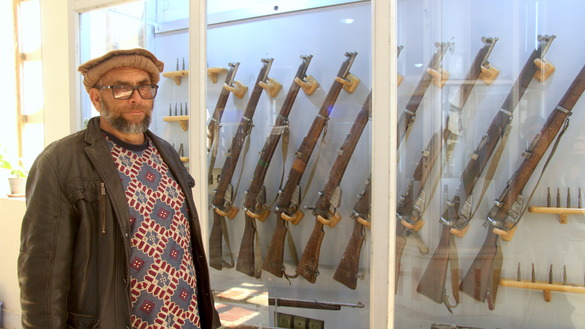 "Those who go to Moscow to take Afghanistan back to the dark days must know that the Russians haven't paid compensation for the war they imposed on Afghanistan, and the pain and distress they caused haven't been healed yet," he told Salaam Times.
"Those who hold their discussions in Moscow should know that they have no place in Afghanistan or among the Afghan public," he said. "We say the Russian Federation ought to talk to the Afghan people -- 1 million of whom they killed and another 1 million whom they injured and disabled -- instead of embracing the terrorists."
"Russia had better build a road or a university for us instead of arming" the Taliban "to destroy Afghanistan," Rahimi said.
The governor's calls for compensation are shared by others who suffered during the Soviet invasion of Afghanistan.
"We have to enter a discussion and arrive at a consensus to seek war compensation from Russia," said Herat-based political analyst Abdul Qader Kamel.
"The Afghan government should forward this request to the UN [United Nations] Security Council through political and diplomatic channels that can help restore our rights," he told Salaam Times.
"As an elected institution, the Afghan government should make a decision about receiving war compensation from Russia," he said. "The public and the parliament should also act on this matter."
"If Russia rejects Afghanistan's solicitation of indemnity, the Afghan government must submit an official complaint about the matter to the UN Security Council," Kamel said.
Russian 'brutalities' against Afghans
Russia is behind the miseries that have occurred in Afghanistan in the past 40 years, said Sibghatullah Habibi, a resident of Zindajan District, Herat Province, whose uncle was killed in the war with the former Soviet Union.
"The Soviet Union inflicted every brutality on Afghans," he told Salaam Times. "Soviet soldiers smashed women, men and children with their jets and tanks", and Afghan society "won't forget those atrocities".
"In our village, dozens of youths, men and women were massacred by Soviet forces, and their families lost their parents," he said, referring to the adults whom the Soviets killed. "The Afghan government and the international community must ask Russia why they killed innocent Afghans."
"There are signs of Russian atrocities everywhere in Afghanistan," said Mohsen Karimi, 29, a resident of Herat city.
"The cause behind war and destruction in Afghanistan is Russia," he told Salaam Times. "This war has continued since the invasion by the Soviet Union."
It is "a shame" for former mujahideen to "seek peace from our killer", he said, referring to the Moscow meeting.
Repeating past mistakes
The invasion of Afghanistan was "a mistake", said Khakimov, 56, a former Soviet soldier wounded and captured by the mujahideen 33 years ago in Herat.
"I was born in Moscow and served against the mujahideen in Afghanistan for three years," he told Salaam Times, adding that he gathered intelligence and fought on the battlefield.
He later converted to Islam and now guards the Jihad Museum in Herat city, where he still lives.
"The Soviet invasion of Afghanistan was a mistake, and I wish they hadn't come," he told Salaam Times. "Now Russia is trying to bring peace to Afghanistan because of its own interests and needs to ensure security on its borders."
Russia has had "bitter experiences in Afghanistan, but because of its competition with the United States, it wants to interfere in certain matters through its circles in Afghanistan," said Herat-based political analyst Muhammad Rafiq Sahir.
"There is very little chance that Russia can achieve its political goals in Afghanistan," he told Salaam Times. "Russia doesn't have a positive image in Afghanistan, so it won't be able to play a prominent role."
For Sayed Ashraf Sadaat, a civil society activist in Herat, "recent moves by Russia reveal its obvious interference in Afghan matters."
"Russia is trying to rebuild the Soviet Union, and it meddles in the future of our country and people," he told Salaam Times. "It does whatever it can to destroy the interests of the United States and the West in Afghanistan."