HERAT -- Taliban co-founder and prison official Mullah Nooruddin Turabi's recent pronouncement that his group will once again carry out executions and amputate hands has elicited fear in Afghanistan and international outrage.
While the international community continues to pressure the Taliban to avoid enacting policies like amputations and public executions, Turabi dismissed outrage over previous executions in an interview with the Associated Press.
Turabi, who is under United Nations sanctions, along with several other Taliban leaders, served in the Taliban's previous government (1996-2001) as justice minister and headed the Ministry of Promotion of Virtue and Prevention of Vice.
Though he said his group would not carry out public executions or hand amputations this time around, the Taliban Saturday (September 25) shot four accused kidnappers in a gun battle and hung their bodies in the heart of Herat.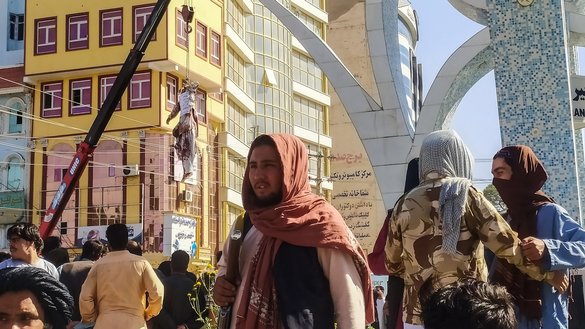 The sight of bloody corpses strung up in the city centre horrified Herat residents, many of whom cried out in distress as they passed by the scene.
The Taliban should follow international and Afghan laws and avoid public executions in sports stadiums and the amputation of hands, said Herat city resident Ahmad Jawed Azimi.
"We urge the Taliban leaders to act like other Islamic countries and not once again turn Afghanistan into the darkest country in the world," Azimi said, referring to the group's previous rule.
The public strongly opposes the return of public executions and the severing of hands, said Mohammad Sarwar Qasimi, a resident of the Ghor provincial capital of Firoz Koh.
Lingering trauma
The public hangings in the city centre had a deep impact on the residents of Herat, including women and children, said Herat city resident Noorullah Afghan.
"Almost everybody who saw the scenes was shocked and traumatised," he said.
"During the Taliban's previous rule, they hanged several people in the city of Herat, and I, as a child, witnessed the scene," he said. "Nearly 20 years later, that image is still in my mind and it bothers me at night."
"Like me, dozens of children who have seen hanging bodies in the city will be depleted and deprived of the joys of life for decades to come," Afghan said.
Killing untried suspects and displaying their bodies in public go against the principles of Islam, said Qutratullah Sekandari, who resides in the Badghis provincial capital of Qala-e-Naw.
It is terrifying to see bloody corpses hanging in public in the middle of a cultural capital like Herat, he said, and the sight could cause widespread and prolonged psychological distress.
"Executing people without holding a fair and just trial will not only cause the spread of depression and anxiety but might force youth to distance themselves from Islam," he said.
Arbitrary killings
Killing suspected criminals without court orders or strong criminal evidence clearly violates the human rights of the accused, activists say.
The punishment of criminals has a framework and principles that law enforcement must follow, based on Islamic ethics and local and international laws, said Hasan Hakimi, a civil society activist in Ghor.
Police-conducted killings without a proper judicial process where the accused has the right to defend and exercise his legal privileges are considered a crime against humanity, he said.
"Only a judge has the authority to rule on defendants and criminals, and no one has the right to arbitrarily kill or execute them," Hakimi said.
The Taliban's shooting of suspects without an authorised court ruling goes against human rights principles, he said.
The Taliban's recent public display of the bodies of the four men they killed in Herat city clearly violated human rights, because no court or authority had allowed it, said Nimroz activist Hasibullah Nadery.
It is not yet clear what crimes these men had committed, he said, or who was affected by their criminal actions.
Executions and amputations cannot reduce the crime rate, Nadery said, because poverty and unemployment have risen to unprecedented levels in Afghanistan since the Taliban seized power, and the crime rate has risen with it.
If the Taliban want to establish a sustainable security environment, he said, they should refrain from executions and amputations and instead provide jobs, so that Afghans do not resort to crime in order to feed their families.