NANGARHAR -- Clashes between "Islamic State of Iraq and Syria" (ISIS) and Taliban insurgents have been continuing for more than a month in Laghman Province, with up to 40 militants killed and dozens of others injured so far, according to local officials.
Taking advantage of the feuding between the two militant groups, Afghan National Defence and Security Forces (ANDSF) have launched operations to eliminate both.
Destroying terrorist hideouts
ANDSF operations against ISIS and the Taliban started in the Sangar Valley of Alingar District on February 16, according to Laghman provincial officials.
"Afghan special forces along with other Afghan forces launched operations in Sangar Valley, and they killed up to 10 Taliban members," Sarhadi Zwak, spokesman for the Laghman provincial governor, told Salaam Times.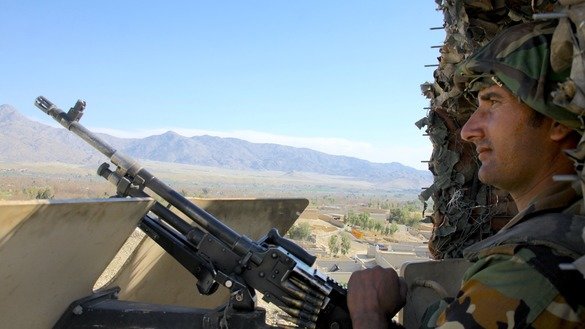 "The government seized one of the Taliban's prisons during this operation," he said. "Thirty Afghans were imprisoned, and all of them were freed. The prisoners also included small boys who were freed and returned back to their homes."
Those imprisoned were civilians who had no affiliation with the government but were falsely accused of spying, he said.
Afghan forces expanded the operations to destroy ISIS in the upper areas of the Sangar Valley, according to Zwak. ANDSF troops on the ground are receiving air support from the Afghan air force, which bombed terrorists' hideouts and caves.
"[ANDSF] are standing against every enemy," Lt. Col. Sherin Aqa Faqiri, a spokesman for the 201st Silab Corps in eastern Afghanistan, told Salaam Times.
"ISIS and the Taliban are crushed in Laghman Province, and a search operation is under way for the rest of them," he told Salaam Times. "Other [militants] will be eliminated very soon."
Afghan security forces "are equipped with powerful weapons and [support from the] air force, and the enemy cannot fight them," he said. "We will continue these operations until we crush ISIS and the Taliban in Alingar and in other districts."
'Civilians are suffering'
"ISIS and the Taliban started fighting each other in the Noorlam Valley of Alingar District in mid-January, and so far some 40 combatants have been killed and 60 others injured from the two terrorist groups," said Zwak.
"Before, this area was under the control of the Taliban, but later, ISIS came and [they] attacked each other," he said.
"Both of them are our enemies. Both are terrorist groups, and they have been killing civilians, so they should be destroyed," Zwak said.
"Civilians are suffering," said Sayed Rauf, 32, a resident of the Lukar area of Alingar District. "Some of the residents migrated, and others cannot leave their homes at all."
"At first there were the Taliban. Later, the black flag owners [ISIS] came," he told Salaam Times. "They caused may casualties to each other, and they are still fighting."
"They have closed the schools, they have stopped vaccinations and they have started committing atrocities," he said.
"Both of these groups are causing losses to the nation because they fight against our government," Ajmal Wafa, a Laghman Provincial Council member, told Salaam Times. "Now the government has surrounded them and launched an operation against them that is progressing successfully."