KABUL -- Afghan National Army commandos have killed more than 800 "Islamic State of Iraq and Syria" (ISIS) and Taliban militants over the past two months across Afghanistan, officials say.
"Since the beginning of Qaws [November 22, 2017], Afghan commandos of the Special Operations Corps have conducted hundreds of operations as well as military activities in 15 provinces," Col. Abdul Qayum Nuristani, a spokesperson for the corps, told Salaam Times on January 25.
"During these operations, 836 terrorists, including members of [ISIS] and the Taliban, have been killed, 379 injured and 167 others were arrested," he said.
Afghan Special Forces also destroyed two factories used to make suicide vests and 25 "terrorist hubs", and confiscated 620 light weapons and 265 heavy weapons that belonged to the militants, according to Nuristani.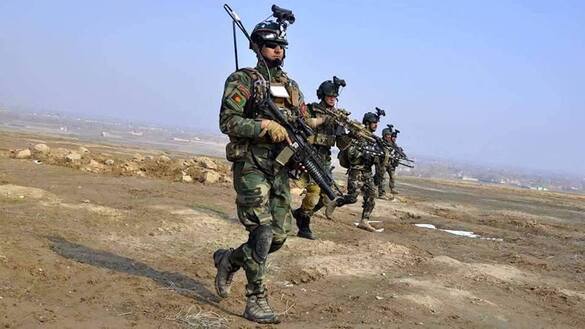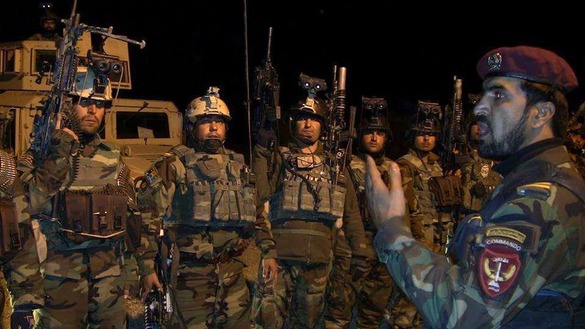 Success against terrorism
Gen. Bismillah Waziri, commander of the Special Operations Corps, shared his unit's broader achievements over the past nine months in a news conference on January 8 in Kabul.
"Special Forces have permanent bases in 14 provinces, from where they carry out operations in all provinces of Afghanistan," he told reporters.
In the first nine months of the solar year, which began on March 21, "there have been 147 special operations, 477 planned operations and 2,120 operational movements against terrorists in all 34 provinces of the country", he said.
During that time, "6,011 enemy fighters, including ISIS fighters, were killed, 3,285 were wounded and 443 others were arrested as a result of operations conducted by Special Forces", Waziri said.
"In these operations, 15 administrative and strategic centres from which the terrorists [conducted] group and suicide attacks ... as well as 352 of their smaller sites were destroyed," he said.
Security forces also found and defused 2,871 land mines that had been planted by terrorists, he said.
"From the beginning of year 2017 the districts of Kot, Achin and Nazian in Nangarhar Province, as well as 352 other areas across Afghanistan have been cleared of ISIS and Taliban militants," Waziri said.
Afghanistan's most powerful military force
Afghanistan's Special Operations Corps was first established as a battalion within the Afghan National Army. It was converted to a brigade, and then later a division.
As part of a four-year security plan, the unit was enlarged in August 2017 to a corps made up of four brigades, ten commando battalions and four armored battalions, all equipped with advanced combat vehicles and equipment.
"We are currently recruiting new members in order to double the number of these forces," said Gen. Mohammad Radmanesh, deputy spokesman for the Ministry of Defence.
"These forces possess great physical and mental capabilities," Radmanesh told Salaam Times. "Their combat capacities and capabilities are far beyond those of other forces and they carry out operations day and night in all conditions and in all areas of Afghanistan."
"Thanks to the excellent and intensive training I have undergone, I have gained special military and combat skills," Capt. Shukrullah, a Special Operations Corps officer, told Salaam Times. "I assure the Afghan people that I will suppress the terrorists and ensure public security."
Ehsanullah, another member of the unit, said he "joined the commando forces to serve my country".
"We are the children and also the guardians of this country," he told Salaam Times. "We will not allow anyone to attack our homeland or to bring insecurity to it."
A force to be reckoned with
Military analysts and Afghan lawmakers consider the Special Operations Corps to be the most successful and best equipped counter-terrorism force.
"The level of training Special Forces have undergone is similar to that of NATO forces," Gen. (ret.) Atiqullah Amarkhil, a military analyst based in Kabul, told Salaam Times. "They have completed military training in specialised warfare, and their combat capability is very high."
"Moreover, these forces are the biggest factor in causing casualties and bringing defeat to terrorist groups," he said.
"Special Forces or commandos can perform operations in any and all situations, including in hot and cold weather, in mountains and forests, and during the night and day," Amarkhil said.
"Despite being small in number, the army's Special Forces have had the greatest achievements in fighting terrorist groups," said Muhammad Dawood Kalkani, a member of Afghan parliament representing Kabul.
"Through conducting special operations at the strategic centres of terrorist groups, the Special Forces have thwarted most of the terrorists' destructive plans and killed their key commanders," he told Salaam Times.
"Should the number of these forces increase and should they be strengthened ... terrorist groups will become weaker and their casualties will be much higher," Kalkani said.